FREE STANDING DISPLAYS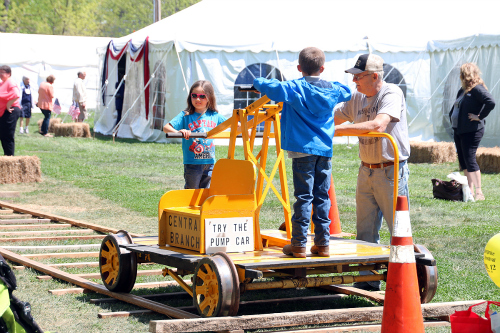 You will find lots to do in these "pop up" areas of the festival. You can pump yourself down a small section of railroad track at the Marshall County Railroad exhibit, interact with the "All Wether Marching Band" (the largest group of pack goats in the U.S.), see two of the largest "Mammoth" Donkeys around, watch artists create pottery and have your own pot raku fired and take home your creation the same day! Find out how to become a member of the Kansas Explorers Club, meet Marci Penner at "The Stump" and much, much more!
---
Bowker Arts, Arkansas City

- Paintings, drawings, and sketches of Kansas' great scenery.
CateBow Creations, Winfield

- demonstrating how to throw pottery using a pottery wheel.
Fell Arts 3D Creations, Winfield

- Buy pre-made Raku pottery and glaze it on the spot. Your pot will be fired in portable trash-can kilns on site. The finished pottery will be ready to pick up in approximately 1 hour.
Four Winds of the Past / Kansas Muzzleloaders, Wamego

- Depicts the pre-1840s lifestyle of mountain men, buck skinners and Indian tribes, through the historic re-creation of a primitive camp, clothing and supplies.
Fulton Valley Farms Dash*Away Reindeer, Towanda

- Live reindeer

Indescribubble, Manhattan

- Bubble

performers and a bubble machine for children's entertainment.
K & O Steam & Gas Engine Club, Winfield

- Antique tractors and farm equipment on display, demonstrations.
Kansas Explorers Club, Inman

- Find out about the Kansas Sampler Foundation, how to join the Kansas Explorer's Club, learn about the 8 Wonders of Kansas, We Kan Support;

purchase the new

Kansas Guidebook for Explorers 2

, t-shirts and other "explorer" merchandise. The Stump, featuring Marci Penner, will be located next to the Explorers Club tent. The Stump is a four time a day question and answer game that gets lively and fast, with a chance to win great prizes donated by participating exhibitors.

Krystle Cole Fine Art

- A pop up art gallery of colorful paintings by Krystle Cole of

Wichita

.

Marshall County Railroad Historical Society, Waterville

- Visit with representatives from Waterville and the MCRHS about what there is to see and do there and jump on a free standing track and pump car and take a little ride.
McNally Metal Design, Hardtner

- Blacksmithing demonstrations and selling hand made metal items.

Paradise Ranch Pack Goats, Council Grove -

Pack goats and mammoth donkeys. See, learn, pet and appreciate these amazing animals.

Play Kansas DGC (Disc Golf Courses), Wichita -

Learn the sport of disc golf and find out which cities in Kansas have disc golf courses.
Stone House Woodworks LLC., Winfield

– Cedar furniture
The Tin Shed Fabrications & Designs, Clay Center -

Recycle old farm metals found in Kansas and turn them into art and lighting.



Walnut Valley Quilters' Guild, Winfield

– Quilts on display and for sale
978 Arapaho Rd. Inman, KS 67546
Phone: 620-585-2374