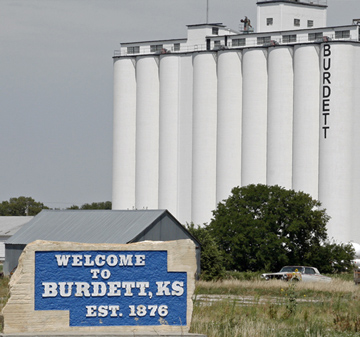 Burdett, population 247, is in Pawnee County. The town was first named Brown's Grove but in 1887 was changed to Burdett after author and humorist Robert J. Burdette.
Agriculture is king in Burdett. The co-op and grain elevators are where the action is. You can even seen grain bins on main street.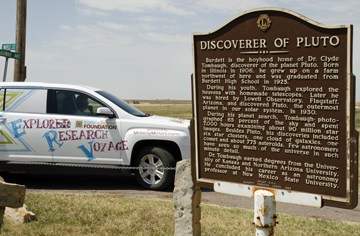 Clyde Tombaugh is the town's most famous native son. He graduated from Burdett High School in 1925 and in 1930 he was credited with discovering what was thought to be our ninth planet at the time, Pluto. Since then planet status has been stripped from Pluto but Tombaugh's efforts were still remarkable.


When we drove into town we saw the local cafe on the highway. It's called Moosettes. The parking lot was filled with farm trucks, oil trucks and I could just imagine the place packed with guys. What kind of a name is that, anyway? I knew we'd get stared at if we dared enter. So we didn't. Not yet. After all, we had just been to Rozel and knew we wanted to go back there and eat.

Our plan was to "do" the town and then we'd pop our heads in at Moosettes later just to see what it looked like.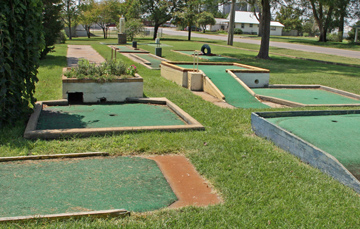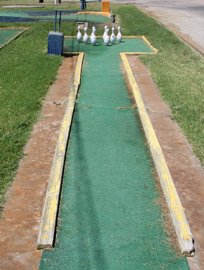 We found a miniature golf course in the park on Elm Street. It appeared to be just another piece of playground equipment!
A shuffleboard was right beside it.
It wasn't in tip top shape but it was still pretty cool to have available for anyone at anytime.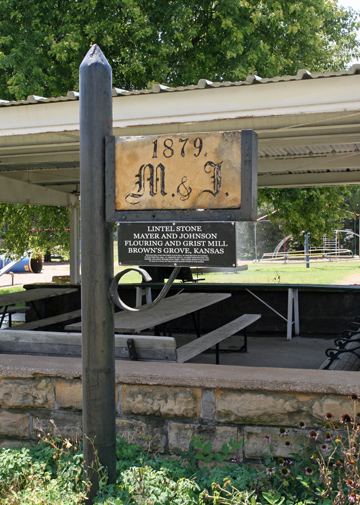 Right beside the miniature golf course was the stone park shelter house.

The sign stated that the stone came from the Mayer and Johnson Flouring and Grist Mill of Brown's Grove Kansas. The print below says that this flour mill was the first in this section of Kansas and was used until 1893. After that a Mr. Brown and a Mr. Palmer bought the stone of the grist mill building and used it to build their own houses. When the Palmer house was razed in 1973, this lintel stone from the old gristmill was found in a wall.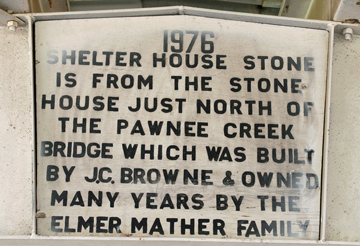 The sign let people know that the stone used for the shelter house came from Mr. Browne's house.

Pretty neat to have these signs. It makes the shelter house mean even more.








WenDee has an affection for these old-fashioned water fountains and she found another in this city park. At first we thought they were pretty rare but working ones are everywhere!

After finding all these gems at the city park, we decided to stop at the Farm Store to see what we could learn. The woman who came to the front was very friendly and raved about Moosettes. We asked where the name came from and she said that the cafe owner's husband's nickname is "Moose" so she decided to call the cafe, Moosettes.



We stopped at the city office but before we went in we were examining the one-of-a-kind city sign above the library door. The words looked like a series of punches on tin -- or else someone with a BB gun was very accurate. As we were taking pictures of the sign, Linda the city clerk, walked up the sidewalk and greeted us. Within a minute we were inside her office to get the scoop on the miniature golf course and Moosettes.

She raved about Moosettes. Said we had to go and should order the Moosette burger. We also found out that Moose worked for the city, and drove the ambulance, and was the grave digger! We actually had pulled over for the ambulance on on our way to Burdett so know knew that had been Moose driving.




She told us about this little purplish pink wooden box at the shelter house that has all the golf clubs and balls or shuffle board sticks? that one would need. (We went back and found it and WenDee actually played a few holes!)

We were still chatting with Linda when who should walk in the door but Moose himself! What a great guy with a friendly smile. He, of course, recommended Moosettes. By now, we were anxious to get there.
FINALLY, we walked into Moosettes, 204 Broadway (K-156) and it was as nice as could be. Booths and tables with a little space at the counter. We were there around 1 p.m. so there were just a couple of guys. We were soon visiting with everyone in the place, including "Mrs. Moose, "Moosette." And then Moose walked in!
Open Monday-Friday 7 a.m.-7:30 p.m.; Saturday 7 a.m.-2 p.m.
The Moosette burger was terrific. Fresh meat for the hamburger plus an onion ring and bacon and tomato. The menu was fun. It reminded us to make the moose out of life!

That's what they're doing in Burdett -- making the moose out of who they are and what they have.

Written by Marci Penner. We're going to every town in the state to research for a guidebook. We want to share some information with you now! This is a project of the Kansas Sampler Foundation.