It was our day to mix with the buffalo! ERV's first stop of the day was Maxwell Wildlife Refuge, 6 miles north of Canton on 27th Avenue, then 1 1/4 miles west on Pueblo.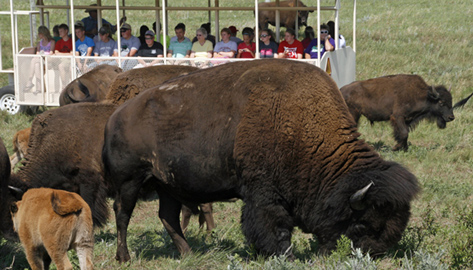 We were in the bed of a pickup truck and when the buffalo weren't bumping into it, we snapped pictures. It's a rush to have 300 buffalo running towards you (for the feed truck) and to then be surrounded by the awesome and shaggy beasts!
When the initial rush is over, most of the herd calm down. Somewhat. Grazing ensues. Babies stick close to Moms.
To have your turn with the state animal, call 620.628.4455 to make a
reservation for a tram ride
. You'll learn interesting facts about buffalo, the prairie, and the story of this amazing place that started in 1951. Maxwell Wildlife Refuge is one of the
8 Wonders of Kansas Geography
.
Betty, on the right, along with some other volunteers has joined Owen and Della in making the tram rides and other events possible. Owen and Della have been doing this dating back to 1993. Cliff Peterson is the KDWP manager of Maxwell Wildlife Refuge. Additional guides help make it all work.
One of my favorite places at the Refuge is the observation tower! It's just a short distance west of the visitor center. The beautiful Smoky Hills valley is a picturesque sight from this vantage point. Sometime the buffalo herd will be visible.
McPherson State Fishing Lake is just another mile down the road. It's a beautiful, small fishing lake, complete with hking trails. And, there is a
KDWP cabin you can rent!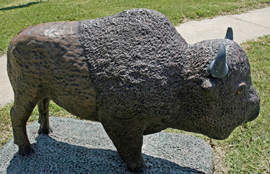 Back in town, miniature buffalo mark street corners. You can reach out and touch these -- or even get on one for a picture.
The water towers were part of a prank that dates back to the early 1960s. Kids crawled to the top and painted Hot. The city decided to embrace the idea so they painted Cold on top of the other one! The city was wise to leave them labeled making them one of only two cities in the state with "hot" and "cold" water towers. Pratt is the other town that attracts attention for this bit of fun.
Soda N' Suds, 116 S. Main, has an operating soda fountain thus making it part of the
8 Wonders of Kansas Customs
group entry (38 soda fountains in the state). The food is also a feature in this small cafe. Come early on Thursday. It's pan-fried chicken day and they only make 50 plates. You'll want one!
Open Monday 11 a.m.-2 p.m.; Tuesday-Friday 11 a.m.-8 p.m.; Saturday 11 a.m.-5 p.m.
The Carnegie Library in Canton (203 N. Main), built in 1921, was the last one built in Kansas.

There are two explorer-y features in the library. One is the basement bathrooms. You take three steps up to get to where you're going! Look at the bottom of the door pictured on the right. See the little door? That's where you return your books when the library is closed!
Three Sisters Victorian Tea Room and Treasures Gift Boutique, 105 N. Main, is full of decor and fineries. The shop is open Tuesday-Saturday 10 a.m.-4 p.m. To experience the tea room with your group, contact Cheryl at 620.628.4484 to plan a special outing.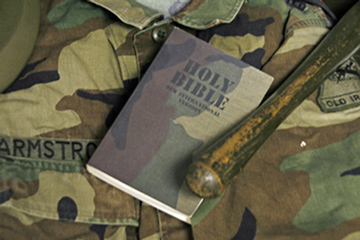 With donations from Bob McMurry and many others, Canton can be proud of their Stars and Stripes Military Museum. If Cheryl is your guide, you'll learn lots of information and personal stories. Even the Bibles are issued in camouflage!
When you're ready to head out of town, hit the 56-mle
Prairie Trail Scenic Byway
from Canton to Mushroom Rock State Park in Ellsworth County! It's so much fun to find the explorer-y attractions in our small communities.
Canton, you've got some good ones!
Written by Marci Penner. We're going to every town in the state to research for a guidebook. We want to share some information with you now! This is a project of the Kansas Sampler Foundation.