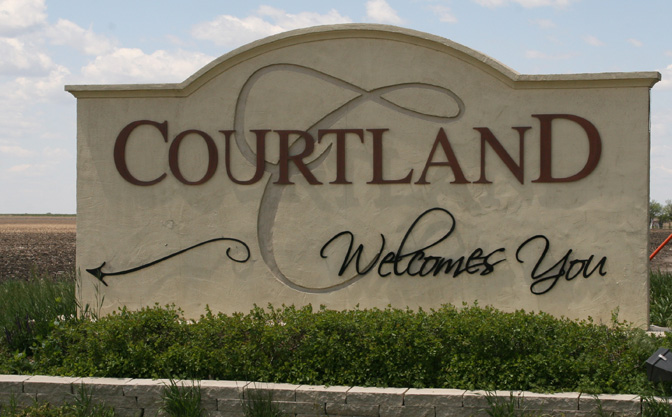 Courtland is a small town of just under 300. It's located just south of U.S. 36 on the west end of Republic County.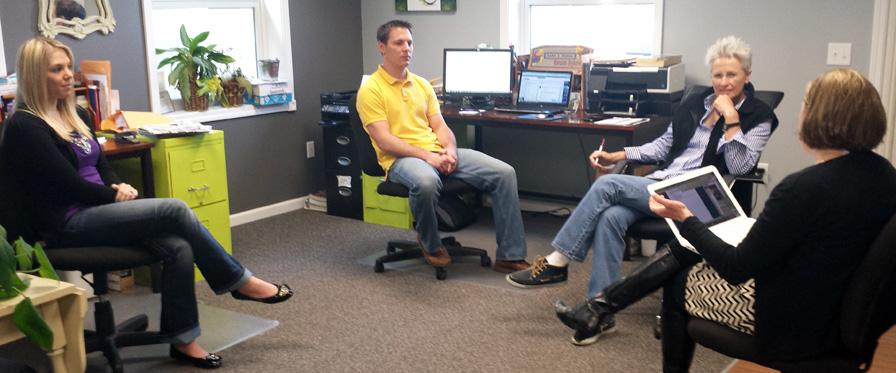 On May 13, we had a meeting at 9 a.m. with Jenny, Luke and Cheyenne. Halfway through the meeting the senior class of the local high school entered wearing caps and gowns.


They were headed to every business in town to thank them for their support. How cool is that? Then they posed outside with the Rural by Choice sign!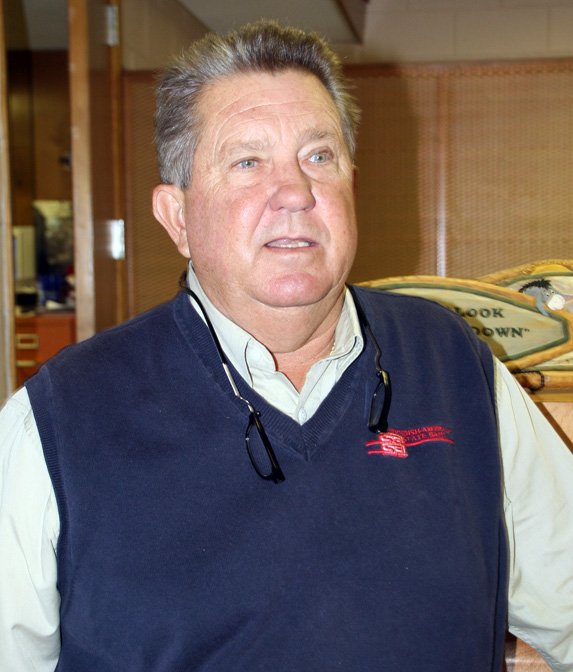 Luke was going to take us to see the art center but first we had to go get the key at the Swedish-American State Bank. We met the bank president, Mike, who took time to visit with us. What a support he and his family have been to the town, especially with the arts.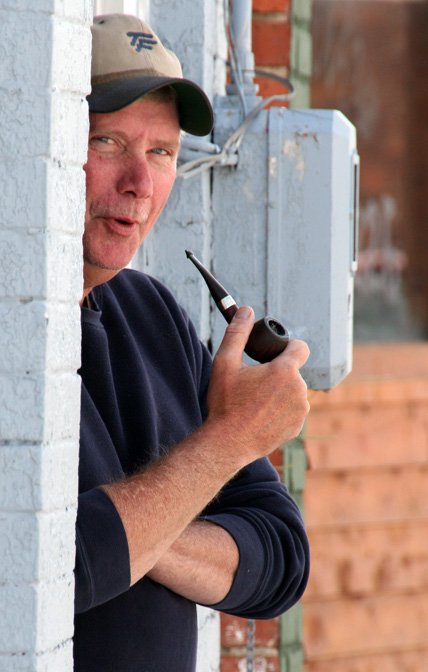 On the way to the art center we spied Tim, the mayor. He started being mayor in his late twenties or early thirties and has been in office ever since. Word on the street is that he doesn't create road blocks for people or new business ideas. He makes executive decisions that are good for the town and doesn't look for credit. Sounds like the perfect small town mayor.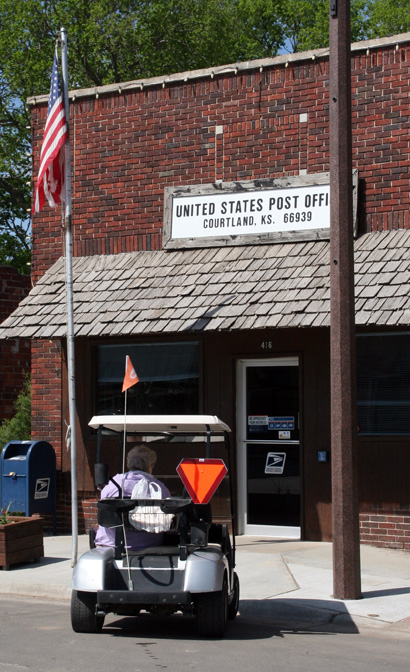 We had only taken another step or two down the street when we saw Luke's grandma coming down main street in her golf cart. We talked to her awhile in the middle of the street and then she pulled into a parking stall at the post office. In Courtland it's OK to ride your golf cart around town, and plenty of people do. You just need a sanctioned flag and the orange reflective triangle.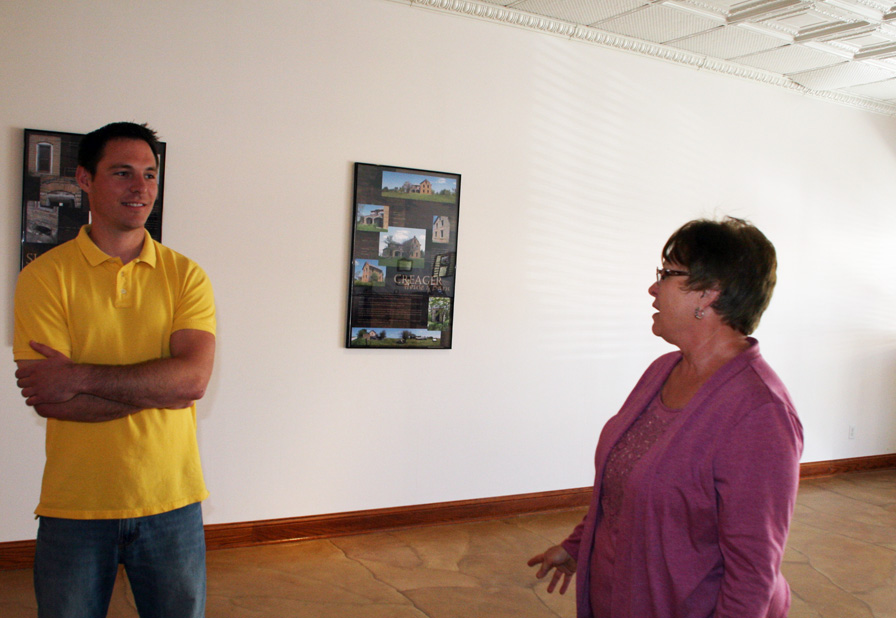 Finally at the art center, just two blocks from the bank, we met Peggy. Just another one of those great volunteers -- and a bank employee.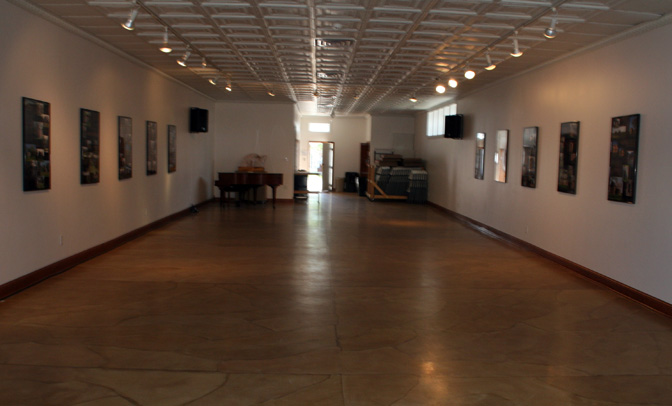 It's pretty cool that a small town has such a space. Note the beautifully restored tin-pressed metal ceiling. The display on the walls featured T
he Forgotten Architecture of Republic County
. Another recent photo display featured regular life inside people's homes. A great idea and way to record everyday life in a small town.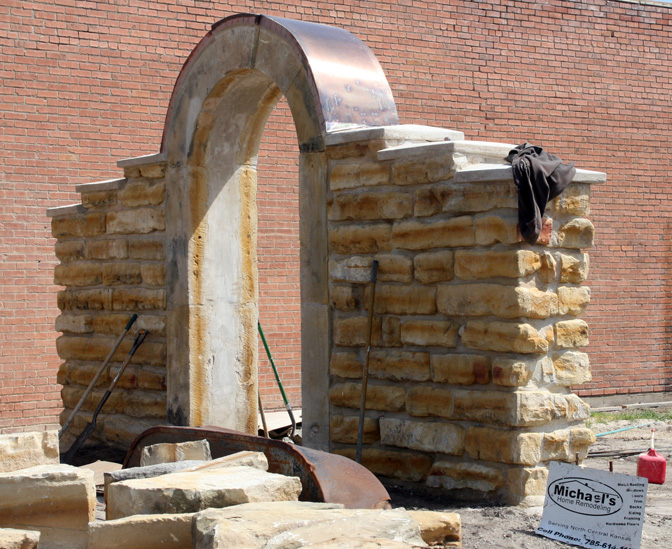 Workers were making progress on the arch that is being relocated from an area barn to an empty lot right beside the art center. Landscaping plans will result in a showcase spot in town.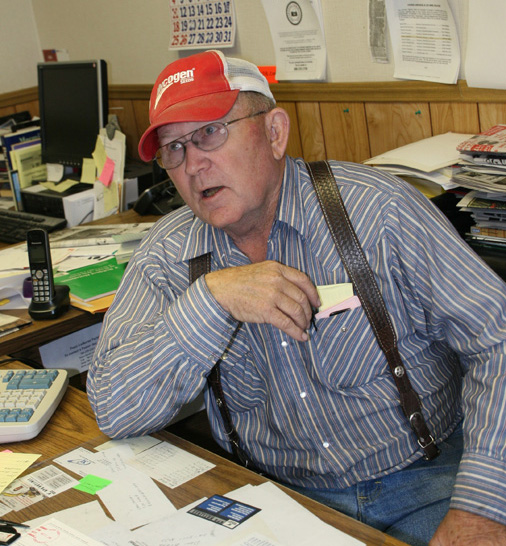 We stopped in at the newspaper, the
Courtland Journal
, to say hey to owner Bob.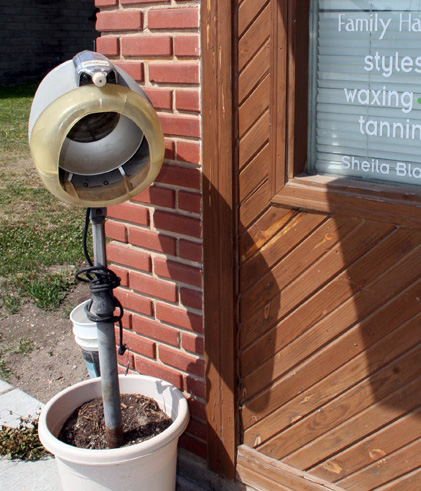 Then we found this -- a perfect option for those who don't have a green thumb. It's a hair dryer plant placed in front of the Main Street Cuts beauty salon.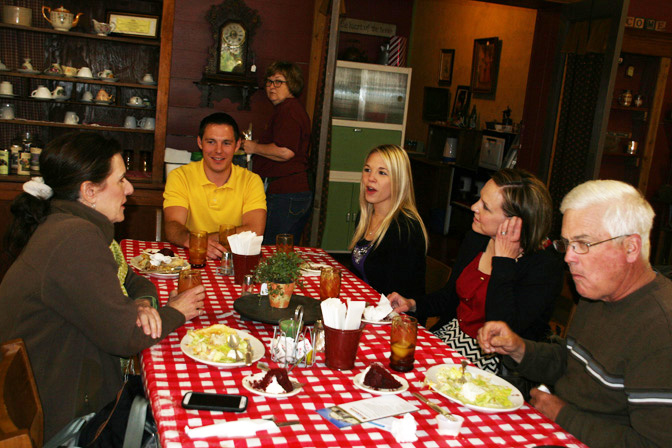 Since we had eaten a Pinky's Bar and Grill previously, we decided to eat at Anteaques. It's an antique consignment shop on one side and a lunch spot on the other. You have two lunch choices daily in this neighborly environment. While we were waiting for our salads and pork chops, we were joined by Dan Kuhn, owner of the Depot Market. He had heard we were in town. Later we were lost out in the country and pulled into an interesting looking yard. It was Dan's place! We were given perfect directions and after a tour of the greenhouses and movable chicken house, we were on our way.


There is something about a small town that makes the people the very best attraction. Once you get past hello, they'll visit with you or guide you and help you see the town in a way that you never expected. Courtland has those kind of people and that's what makes it a great town.

Marci Penner and WenDee LaPlant are with the Kansas Sampler Foundation and are going to every town in the state to research for the next Kansas Guidebook for Explorers.