PRETTY BOY FLOYD's
Facebook page
210 N. Douglas, Ellsworth
Thursday-Saturday 5-9 p.m.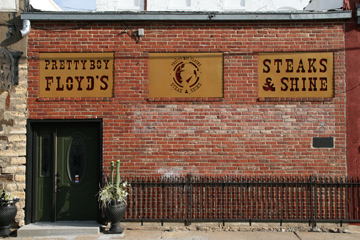 Pretty Boy Floyd was a gangster in the 1930s. And, the middle name of the man, Mark Roehrman, who is responsible for cleaning out this historic underground space and converting it into a restaurant is Floyd.
It all feels a bit mysterious from the alley entrance...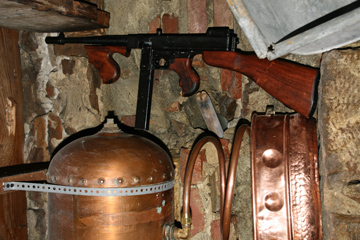 ...to the downstairs entryway, the decor, the stone walls. When we went, Josie had it all decorated for Halloween.
Check out the ceiling joists and the rugged bar made by Mark.
The back dining room is in the old underground bowling alley. The other part of the dining room has booths and provides a more intimate setting.
The hand-cut rib-eye was served with a sweet potato, a side of stuffed crab, mixed vegetables, and herb butter that you just wanted to keep lathering on to the warm rolls.
Even the silverware was impressive -- heavy and monogrammed!
The chicken-fried steak is hand-battered and the white cheddar mashed potatoes were made from scratch.
The presentation of the chocolate lava cake made it even more tantalizing!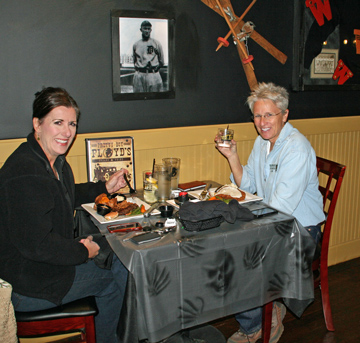 Laura made sure we had everything we needed for a terrific experience. Mark and Josie, you've done a great job!
Hopefully you can go to Pretty Boy Floyd's soon! KE #2, Marci
We're going to every town in the state to research for our next guidebook. It will come out late in 2015 but we couldn't wait to share what we're finding! We hope this blog will encourage you to get out on the road and explore Kansas! This is a project of the Kansas Sampler Foundation.