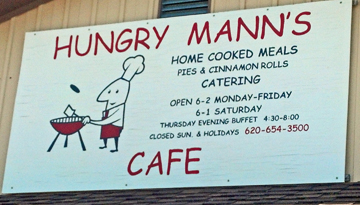 There's something about this little town of Galva. It sneaks up on you when you least expect it. In the past few years we've driven by on our way to other places and always notice lots, and I mean LOTS of cars at the local cafe on the north side of Hwy. 56, and that there's an antique store across from the cafe and on the edge of town on the south side a snazzy business that customizes motorcycles.
But then, as an explorer/researcher, you take that turn north into the heart of town and almost do a wolf whistle because you notice there's definitely been some pride put into the care of the homes, the downtown, the new streets and a whole new residential area that's quickly making this little town a bedroom community for McPherson.
When we arrived we pulled over to get a picture of 'ol ERV (he's already got over 4,000 miles on him!) a chance to be seen on Facebook with the Welcome to Galva sign.
We drive up Main Street and park in front of the Home Communications building so we can visit Carla who works there and get some information on what's new in town. We barely set foot out of ERV when Joye Walker runs across the street to let us know to be sure and see the new Sunflower Santa Fe Trail, a rail bed bicycle trail on the west side of town. It's all been done by volunteers and a big celebration to officially open the trail is happening July 4. From the looks of the trail there has been a lot of hard work put into it and we're looking forward to getting our two-wheelers out for a spin to try it out.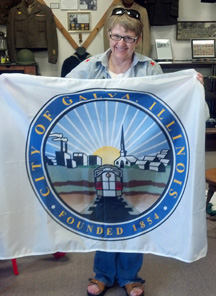 What I love about small communities is that no one lives very far away so if you want to see the local museum, you just call Naomi Ford, one of the volunteers (her husband has been the mayor since 1972!) and she'll meet you at the front door in less than five minutes.

These rural museums always have something to surprise and delight me and the Galva Historical Association Museum is no different. They do a good job exhibiting some of the collection in miniature vignettes and tell the story of farming in some unique ways. One we noticed was a mural backdrop with a line of farm trucks beginning from the 1900s to present.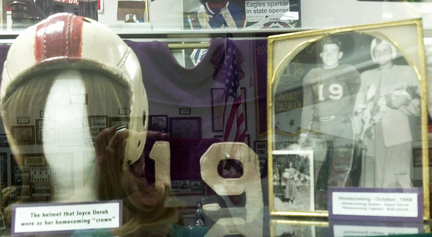 Another aha moment was when we spied a photograph of a homecoming queen wearing a football helmet instead of a glitzy tiara. It was a tradition for quite some time for the queen to wear the helmet but at some point was no longer done. But you can still see the "homecoming queen helmet" on display at the museum. Is that a hoot or what?!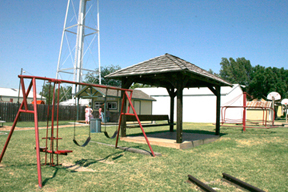 One of our last stops after touring the town and oohing and ahhing over the tidy yards, gorgeous flowers, newly paved streets and extremely clean downtown we spied a Sno Cone shack tucked in the corner of a little park beneath the shining silver water tower. Being 105 degrees we thought it would be a good idea to try one out. (It took me half an hour to decide what to have. The picture to the left shows only half of the different flavors!)
Stepping up to the window we were warmly greeted by the owner, a confident young lady who took our order and two other charming children inside helping out. They told us that they used to be located across the street but a local woman was concerned about children running back and forth to the playground so she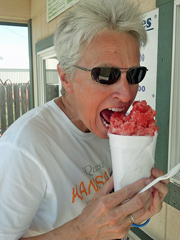 helped arrange for them to relocate to the park. A vintage swing set and merry go round flank a little wooden shelter covering a cement slab. We soon found out that the slab was actually what remained of the original bank that was built there and was in the vault room. When the city tried to dig it out it went so deep they decided to leave it and use it for the shelter floor. How nifty is that?
BTW, Marci went for the cherry flavor and I ordered the Georgia Peach (peach and strawberry flavors). Next time I think I'll try the "Frog in a Blender."
My other little thrill for the day was to discover another drinking fountain (that's three now!) on the corner of the park. I love discovering these and have started documenting and photographing their location. Even though it was broken I thought it was unique enough to make it an "official find."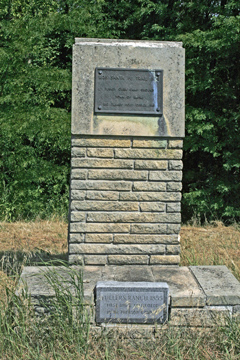 Our last stop was to find the marker indicating where the original town of Empire was located. Empire was built along the Santa Fe Trail but when the railroad laid the rails north and west so the town closed up and relocated. A town meeting was called to rename the town and it was decided to name it after Galva, Illinois where one of the town members had grown up. Today, the two towns are official sister cities.

Written by WenDee LaPlant. We're going to every town in the state to research for a guidebook. We want to share some information with you now! This is a project of the Kansas Sampler Foundation.
Written by WenDee LaPlant. We're going to every town in the state to research for a guidebook. We want to share some information with you now! This is a project of the Kansas Sampler Foundation.