Ever heard of the town, Grandview Plaza? Maybe you thought it was just an exit into Junction City.
When the 1st Division moved to Fort Riley from Fort Polk (Louisiana) in 1955, it created a need for more housing. Eventually this housing area, primarily for the military, was incorporated as Grandview Plaza in 1963 by the Geary County commissioners. Today the population is 1,560.
Best-known for Cohen's Chicken House which opened in 1951, the famous chicken eatery burned to the ground in 1993. Grandview Plaza still has two well-known eateries.
One of the best stops for breakfast and a made-from-scratch lunch on this stretch of I-70 is
Stacy's Restaurant
.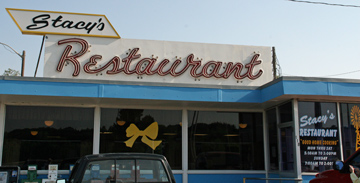 Stacy Sanders and his wife opened the restaurant in 1969 in an old Valentine Diner. Though Stacy has died, Mary, with lots of friendly help, still keeps the cafe going. She makes the homemade pies, which are terrific! Try the raisin pie, not sour cream raisin, but a two-crust raisin pie.
With counter space, booths and tables, farmers usually fill the place around 7:30 a.m. Open Monday-Saturday 5 a.m.-3 p.m.; Sunday 7 a.m.-2 p.m., it is located off I-70 at Exit 299. The address is
118 W. Flint Hills Boulevard.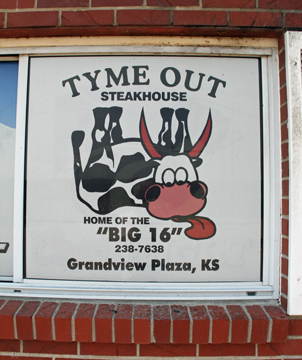 Another place to eat is the
Tyme Out Lounge Steakhouse
at 101 Continental Drive, just down from Stacy's. Opened in 1992 by Ty Glessner as a small neighborhood bar, it's now grown to have a full-size menu. An interesting feature is that the ceilings and some walls are covered with the deep blue/purple Crown Royal bags. What a sight! Whenever a Crown Royal is emptied at the lounge, another bag is added to the ceiling. There are few extra spots by now. In fact, Thursday through Saturday nights they have a whiskey special -- a double shot for $6.99.
Wrtten by Marci Penner. We're going to every town in the state to research for our next guidebook. We want to share some information with you now. This is a project of the Kansas Sampler Foundation.