ERV took a day off from the statewide journey to deliver Marci and WenDee to the Kansas Association of Retired School Personnel convention in Great Bend. Marci presented a WenDee-made power point on the 8 Wonders of Kansas.



It was exciting to see the new Jack Kilby Memorial! It's positioned in front of the 1918 Classical Eclecticism stone courthouse.
In 1958, Texas Instrument engineer Jack Kilby invented the monolithic integrated circuit, known as the microchip, which paved the way for the modern information age.

He won a Nobel Prize in Physics for the invention.

Eleven years in the making, the memorial plaza was dedicated in April 2012.
The plaza includes plaques with donor names as well as a variety of quotes.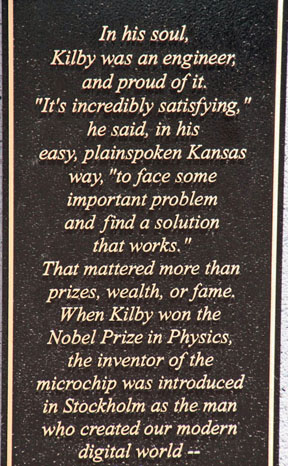 One of the plaques at the plaza reads, "How many towns could claim as their native son a man whose invention changed the world?" Jeanene (Cook) Hoover, Great Bend High School 1954.
The Barton County Historical Museum (South 281) also has some Kilby information.