My hometown of Inman is many things. It's where my ancestors settled in 1874 and where many fine people live today, all 1,377 of them.
It's the birthplace of many of the first inventors of forage cutters which led to the custom harvesting industry.
We were the last town in the U.S. to have a standing adobe German Russian church. The building was razed but many of the original adobe bricks were used in the reconstruction of the house that now stands in the Inman Museum.
It's home to a Stan Herd Mural (1986) that depicts early Inman...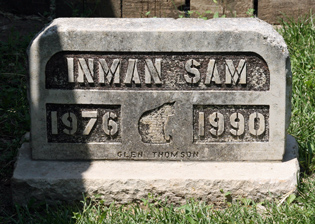 ...and at the west end is the grave of Inman Sam, a cat that hung around main street from 1976 to 1990.
The grocery store, 217 S. Main, makes their own Smoked German Sausage using a John Yoder secret recipe. A couple of weeks ago someone bought $400 worth to take back to friends in another state.
The grocery is decorated nicely with murals.
The Inman Prairie Harvest Cafe serves up of the best plates of Hot Roast Beef Sandwich anywhere. I'm sure the other food is good but I can never get past ordering this -- unless it's Thursday when ordering verenike is a no brainer!
The cafe is decorated nicely with an agriculture theme around the top of the room.
See the sewing machine iron on this iron cut out sign? You can get zippers and fabric here, shoes and sweaters, but this place is well known for having slips! Yes, slips! You can't find them just anywhere anymore.
Inman isn't so well known for their museum -- but they should be! Ralph, the curator and former educator, with support from the board, has created a really wonderful complex.
Under the roof of the metal building is a scene from early Inman main street. One vignette after another, so well done. It's so clean and well preserved that you'd like to just step in and start being the shopkeeper.
Using balloon construction, this 1876 home was typical of the time period. The museum had it moved to this location a couple of years ago from 3 miles outside of town. The inside makes you feel like it's ready to rent, for real. If it only had a bathroom. Beside it is the framework of a barn that is being erected!
All the furniture in the house and museum is well preserved -- and shiny! Hats off to the museum board for this, mostly to Ralph.
There is a telephone office and depot, too. The museum is open every Sunday 1:30-4 p.m. or by appointment (620.585.6659). Don't hesitate to call, especially if you're leading a group.
Main Street Pizza is a favorite stop for many. My favorite is the Chicken Ranch Pizza (not shown here).
We're also home to Jim's Appliances (you gotta buy Whirlpool), Neufeldt Variety, Knackie's Bear-B-Cue sauce and Vine Designs.
Stone Post Gifts is out in the country but it's a great place to buy kitchen doo dads, gadgets, and dish rags plus puzzles, clocks, books, toys,
and many other terrific gift items.
We have lots of great service businesses and repair shops, the most inexpensive car wash in the state, a city park complete with a little pond and fountain, a country park and motocross track, and, an owl that never leaves the top of the tower on top of the bank...
The Kansas Sampler Foundation is located five miles southeast of town. It's always a pleasure to drive into town for whatever reason and visit with the friendly people of Inman.
I hope you'll come visit us soon!
Written by Marci Penner. We're going to every town in the state to research for a guidebook. We want to share some information with you now! This is a project of the Kansas Sampler Foundation.