The name Kanopolis combines the Greek word for "city" (polis) with the "Kan" of Kansas.
(1)
Home to one of the state's three salt mines, Kanopolis, population 492, was also on the map for the Acme brick plant, which is now closed.
Tucked into this quiet, little town are the bones of a one-time significant fort.
Fort Harker Museum is located at 308 W. Ohio. Fort Ellsworth was established in 1864 to protect travelers going to Santa Fe or Denver City. Renamed Fort Harker in 1866, it was moved months later to the present site of Kanopolis and became a major supply post for military campaigns against the Plains Indians.
The guardhouse is now the museum. Open Saturday 10 a.m.-5 p.m. year round. Plus, November-March Sunday 1-5 p.m.; May-September Sunday and Tuesday 1-5 p.m.; April and October Tuesday-Friday 1-5 p.m.
The fort closed in 1873, but four original buildings still stand. It's amazing they lasted that long without being torn down! One is a private residence.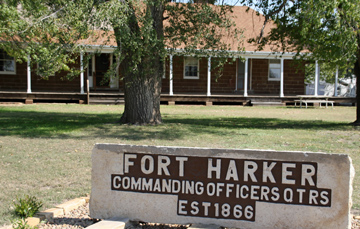 The junior officers' quarters (below) and the commanding officer's quarters (above) have been restored. The buildings were constructed with Dakota sandstone.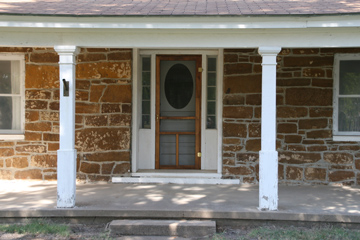 Numerous interpretive signs help you see how the post used to look and what the purpose of each building was.

There is something about the understated promotion and attention to these buildings that make it seem like you've walked into a great secret.

Now, for a switch to the 1950s...

Since 1952, people have been coming to the Kanopolis Drive-In theatre to watch movies under the stars. It was closed in 2006 but Josh and Amanda Webb re-opened it in 2011.
When the outdoor movie season arrives, check out the
schedule here
.
Another good reason to come to Kanopolis is Orozcos Portales.
The huevos rancheros are a breakfast favorite at this popular Mexican restaurant that opened here in 1989. Open Tuesday-Thursday 6 a.m.-7 p.m.; Friday-Saturday 6 a.m.-8 p.m.; Sunday 8 a.m.-2 p.m.
See you down the road, or maybe at Orozco's...
Marci, Kansas Explorer #2
(1) Source - 1001 Kansas Place Names
View Larger Map
Written by Marci Penner. We're going to every town in the state to research for a guidebook. We want to share some information with you now! This is a project of the Kansas Sampler Foundation.