As we were driving into Kingman on K-14 from the east, we thought we saw a llama standing with cattle or buffalo at the top of a hill.
We made a U-turn to look closer. Wow! Glenn Stark, you fooled us with your clever illusion. How fun!
What a great beginning to our Kingman research.
We stopped at Jeri's Cafe for lunch and almost immediately got wrapped up in the big toilet paper controversy. It's tradition to paint the town with toilet paper for homecoming but, it turns out, not everyone appreciates the artwork.
A sophomore even waved at us from their the Homecoming parade float!
See the building with an airplane mural on the side? Stan Herd's mural of Kingman County native Clyde Cessna's early plane now graces the north side of the Kingman County Museum. Built in 1882, this red-bricked structure first housed city hall, the jail and the fire department. Attached to it is one of the most iconic landmarks in Kingman, the 80-foot tall cotton-hose drying tower, one of the only such towers remaining in the state.

We found the museum entrance on the southeast side and, since it was Friday, they were open. It was time to do more research about this octagonal tower.

I had never actually seen the drying tower from the inside. Luckily I knew one of the museum volunteers and before we knew it, we were walking through the storage room to the tower. On the way we even passed one of the old cotton water hoses, still on the cart that horses pulled to fires!

One of the old 50-foot water hoses was hanging from the top of the tower. This was how they dried the hoses, which was necessary to keep them from getting moldy.
I was finally satisfied about that functional yet handsome tower.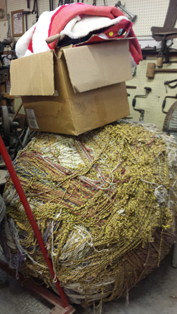 While in the storage room we came across yet another Kansas ball of twine. At another spot in the room we found the origin of this roll. "This ball of twine was collected at the Spivey Cafe. Fresh meat was delivered daily to the cafe wrapped in brown paper and tied with heavy twine. The cafe owner, Alfred Manjoet, saved the twine and displayed it here." Our Kansas ball of twine count has gone up to three now (Cawker City, Columbus, Kingman).

Kingman is fortunate to have one of fifteen George Washburn-designed courthouses in the state, this one built in 1907-08. They are also fortunate to have Mark, an outstanding maintenance man.

Once inside we stooped to admire the floor tiles and before we could straighten up Mark was there to explain. Each decorative one-by-one inch tile was laid by hand. Talk about a detail that helps you appreciate. Wow! He took us to all sorts of nooks and crannies in the courthouse and finally up to the very top! THIS is what we love about ERVing.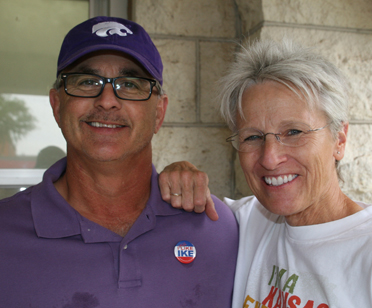 By the time we left the courthouse, this K-State Wildcat fan and I were fast friends. THIS is the best part of ERVing.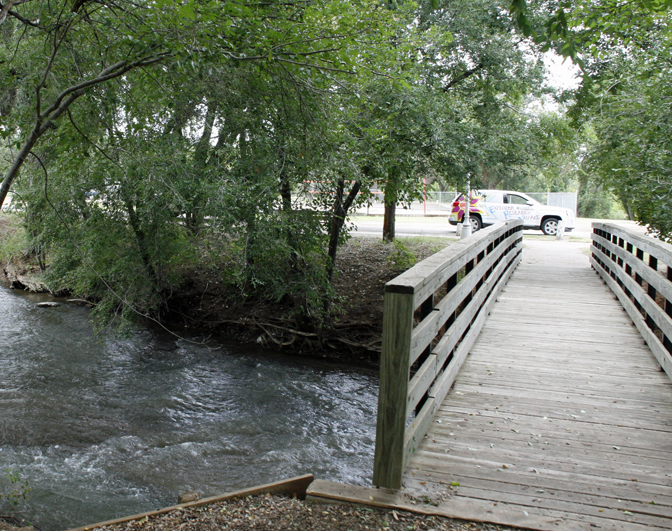 It doesn't hurt to have a car wrapped in wild colors and words to draw attention and have people ask what you're doing. But even in my first journey around the state with an unmarked car these kind of interactions happened. If you look curious, I suppose, and especially if you have a camera, people will stop to visit with you.
We were at the Mill Race Gardens bridge in Riverside Parkk when Gregg from the city parks and rec department stopped to say hi. Within minutes he let us know that the park had once been home to a half-mile oval racetrack where thousands of people came to watch sulky and quarter-horse races.

Before we knew it, Gregg had invited us to the city building to see some old pictures. THIS is what we love about ERVing.

As we were to leave town, we came across this scene. The bucking bull, it looked familiar... And then the "aha" went off in my head. It looked akin to those cattle on the east side of Kingman, the ones standing with their llama friend. It was Glenn Stark at work again. Smiles at beginning and end of our journey. Thanks for a great time, Kingman!