Larned is the county seat of Pawnee County and has a population of 4,054.
Everywhere we go we look for examples of each of the eight rural culture elements in each town. For this blog post, we'll take a look at Larned through each element!
As you can see, we couldn't wait to get out of ERV and starting learning about Pawnee County!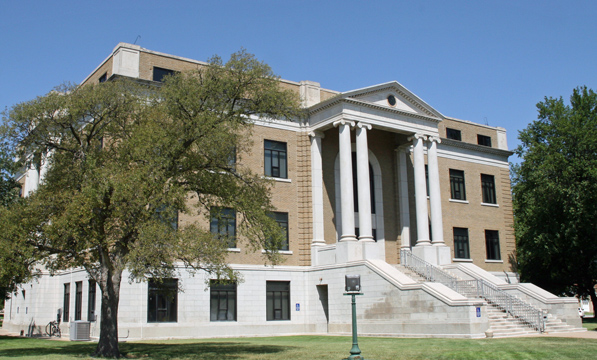 The Pawnee County Courthouse was completed in 1919. The staircase and ionic portico provide for a formidable entrance. Located at 715 Broadway, it's open Monday-Friday.
A stone building built by the National Youth Administration in 1940, located at the Larned Country Club (681 E. 14th), is now home to Grumpy's Steakhouse and Bar (
620.285.3935).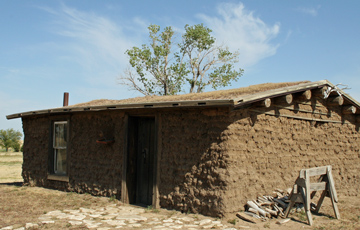 The sod house, a replica of a pioneer home, is located at the Santa Fe Trail Center.
There are several Lustron homes in Larned. One is a 841 W. 8th. A Lustron was a pre-fabricated enameled steel home built after World War II in response to the housing shortage. If one of the house panels was damaged you'd just take it to the auto body shop for repair.
ART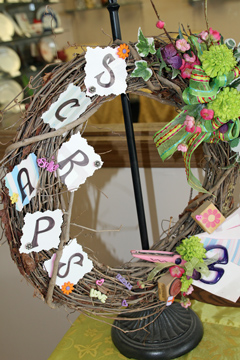 Scraps
, 612 Broadway, a scrapbook store and coffee shop is an artsy place. It's where "coffee and creativity collide!" 620.285.8977.
COMMERCE






There are lots of interesting shops in downtown Larned. Two good stories are the Dress It Up shop, 511 Broadway, that is community owned! The women of the area wanted a clothing store and did something about it! Hours?

The other is
B&B Quality Meats
at 508 Broadway. They have a processing plant on the highway but you can get the end product plus cheeses at this pleasant store. Open Monday-Friday 8 a.m.-6 p.m.; Saturday 8 a.m.-12 p.m.
CUISINE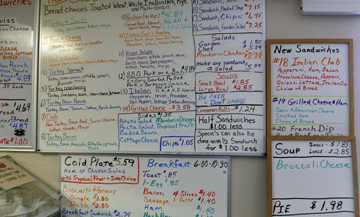 Homemade bread is a staple at Meyer Deli, 902 Broadway, making any of these sandwich choices good ones. Located in a brown-brick modern building, it's open Tuesday-Friday 6 a.m.-2 p.m.; Saturday 6 a.m.-1 p.m. In addition to a couple of coffee shops downtown, Peking Garden, 621 Edwards, and El Dos De Oros, 421 W. 14th, are other good places to eat.

CUSTOMS
Larned has wonderful customs!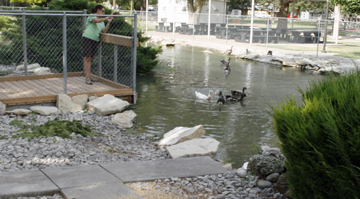 Schnack-Lowrey Park, W. First and Carroll, is named for two families who donated land for a park in the early days of the town.

Originally the town's first swimming pool in 1921, the duck pond is now complete with benches, a deck, and a fountain!

The garden club takes care of a rose garden which adds wonderful color. The modern swimming pool is across the parking lot.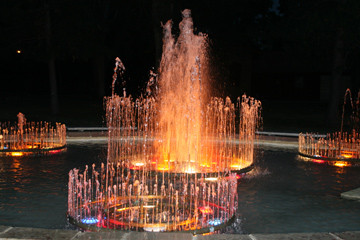 In the early afternoon we were taking pictures of this fountain that was dedicated in 1965 when a lifeguard came over and asked what we were doing. We had a delightful conversation and she told us to make sure to come back at night for the "light show!" Every night for as many years as she could remember, the fountain goes through a cycle of colors and sprays. It's like water fireworks!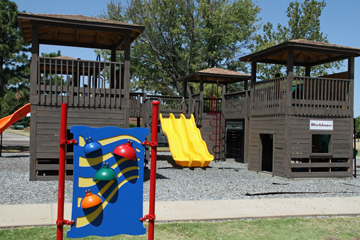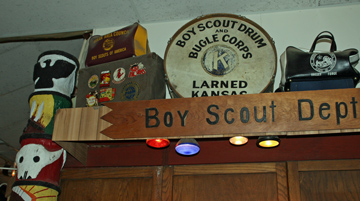 STATE THEATER: The State Theater first opened in 1929. It has now been renovated and the original marquee draws great attention to it!

PLAYGROUND: A playground featuring a Fort Larned theme, historical signs, and a spray park is found on Carroll Street at Doerr-Vernon Park, just north of 14th Street.

BOY SCOUTS: If you are a fan of Boy Scout memorabilia and don't care how it is displayed, you'll find a treasure trove at Central States Scout Museum, 815 Broadway. A Statue of Liberty replica stands in front. Open Monday-Friday 9 a.m.-9 p.m.; Sunday 11 a.m.-9 p.m. 620.285.6427.

GEOGRAPHY
The rose garden and the duck pond could be in Geography. And, these two could be in History.

It's a viewing stand for Santa Fe Trail ruts! Watch your step as you walk to the lookout as the field is also home to prairie dogs! From Fort Larned, go west on K-156 a short ways then turn south on 180th for 4 miles, one mile west on J Road, south on 190th for 1/2 mile.

At the southeast corner of the Larned Cemetery is this post to draw your attention to Santa Fe Trail ruts visible as depressions along the fence. The cemetery is one mile west of Larned on K-156, then 1/2 mile south.

HISTORY
Stop at the
Santa Fe Trail Center
first to acclimate yourself to the history of the area. Located two miles west of Larned on K-156, it's open daily 9 a.m.-5 p.m. Admission fee.

Enjoy three features here: Santa Fe Trail story, Pawnee County displays, and the outdoor complex: a church, depot, school, dugout and more. They are fun to explore and will help you get a feel of life like it was "a few years ago."

Fort Larned National Historic Site
was voted one of the
8 Wonders of Kansas History
because it is one of the best preserved authentic frontier posts in the American West!
Built by the U.S. Army in 1859, the fort evolved into having three purposes. 1) protecting the mail route along the Santa Fe Trail 2) protecting railroad workers and 3) acting as an Indian Agency.
In brief, the fort was sold at a public auction in 1884 and was in private hands, used mostly for a horse and cattle ranch, until sold to the National Park Service in 1966.
Open daily 8:30 a.m.-4:30 p.m. 620.285.6911. 1767 K-156, 6 miles west of Larned on K-156. No admission fee.


Displays in all of the buildings are so well done you almost feel like the soldiers just stepped away for a bit. Peep into the barracks, post hospital, blacksmith, commissary, quartermaster's storehouse, and officer's quarters. The fort has days featuring reenactments which are great times to bring your kids.

At Second and State streets you'll find "The Little Red House." You just have to love the effort people have made to erect these replications. This one has the dimensions of a mess hall used at Fort Larned in 1863. In 1872, the structure was transported to this site and was the first building in Larned. It was used for everything from a dance hall to courtroom.

For some reason I always love to walk around the area called the "Cliffs of Soft Rocks" by George Sibley, a government surveyor in 1825. Since then much of the rock has been quarried but the graffiti, the stone and iron staircases, and the signage are intriguing.

The new (2006) Zeb Pike Plaza recognizes that Captain Pike crossed the Pawnee River near present Larned in October 1806. The journal reports of his explorations provided information that helped open up the trade route for the Santa Fe Trail. Numerous markers at U.S. 56 and South State do a good job of telling the story of other explorers, Spanish and American, and those on the Santa Fe Trail.

PEOPLE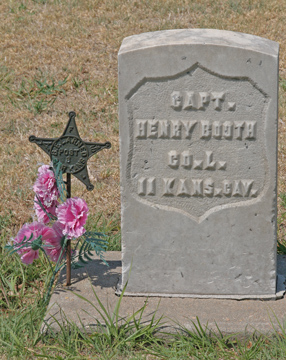 To share a street name with Main street you'd have to be pretty important. At the Larned Cemetery, in front of his simple gravestone, you'll find out that Henry Booth was many things including the main founder of Larned and Pawnee County. Turn north at the "Last Alarm" memorial to find Mr. Booth.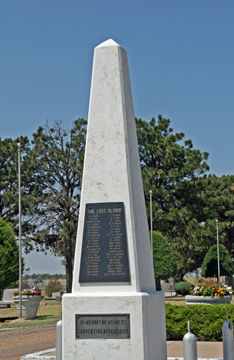 Civil War graves, veteran's memorials, interesting tombstones, plaques, and just a ton of history can be found in the Larned Cemetery, one mile west of Larned on K-156, then 1/2 mile south. "The Last Alarm" is one of the standout memorials dedicated to fallen Larned firefighters.

Written by Marci Penner. We're going to every town in the state to research for a guidebook. We want to share some information with you now! This is a project of the Kansas Sampler Foundation.