Beautiful sunsets are a wonderful backdrop to the state's largest manmade lake, Milford Reservoir, located near the town of Milford. Population 530, Milford has been around since 1868 and almost 100 years later construction on Milford Dam began in 1962.
One name put Milford on the map -- the infamous Dr. John Brinkley. In 1918 he came to Milford and opened a medical practice where he offered to restore male sexual vitality by transplanting goat glands. He also started first radio station in Kansas to help promote his product (KFKB, Kansas First Kansas Best). A run for governor in 1930 failed. Unfortunately, the museum that told about Dr. Brinkley has now closed.
Instead of goat glands, Milford is now known for a big lake, Acorns, and Tropics.
Rick took us to a place where it is always 5 o'clock! (You might not be able to read the clock numbers but they are all 5's).
The Milford Tropics -- at 103 11th in Milford. You feel like you should be in island gear when you step inside. The tropics decor and the cold brew are the feature here. A basic menu is served as well.
Open
785.463.5551
.
Outside of town and adjoining
Milford State Park and reservoir
is a resort area called
Acorns
. I can't wait to stay here or bring a small multi-day meeting here. Owner Mike Harris has a hotel and restaurant are on the drawing board.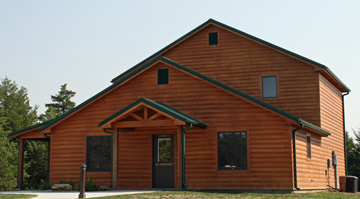 The log cabins are terrific and come in various sizes. This is one of the large ones. They also have RV campgrounds, nature trails, a beach, and you can rent kayaks, canoes, and pontoons whether you are staying here or not.
Call 785.463.4000 to make reservations for cabins or water sports.
Another place for cabins and RV camping in Milford is
Flagstop Resort and RV Park
.
Rent cabins at
Milford State Park
.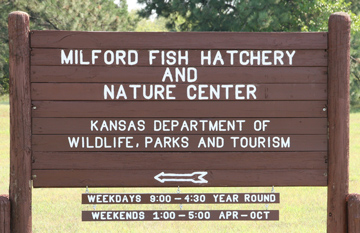 Another terrific place to stop, especially if you have kids, is the Milford Fish Hatchery and Nature Center located below Milford Dam in the Outlet Park Area (see directions below).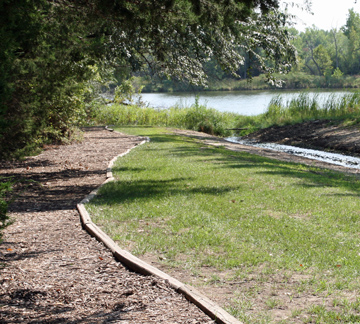 Just off the parking lot is a wonderful, Kansas-themed playground, and a short nature trail. The start of the trail leads you to the water and the end takes you through a branch fort!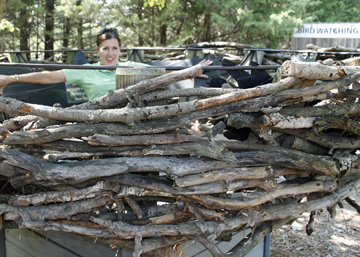 WenDee crawled up the ladder and into the play eagle's nest!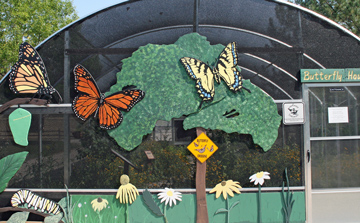 The butterfly garden is a wonderful space. A variety of butterflies fly all over the enclosure. You can see why they'd like it in here!
The inside of the nature center is also a wonderful place to learn about the fish and wildlife at Milford Lake. See live animal exhibits, touch animal pelts and see tracks. Lots of good information in here.
Open year-round Monday-Friday 9 a.m.-4:30 p.m.; April-October Saturday-Sunday 1-5 p.m. No charge. 785.238.5323.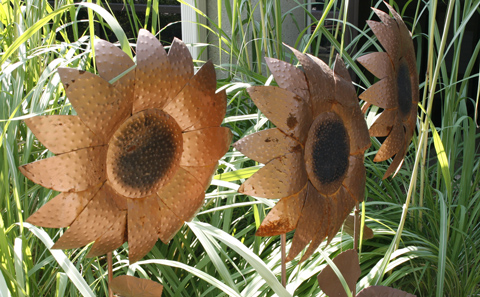 Directions to Milford Nature Center (3415 Hatchery Drive). From I-70, take exit 295 and go 5 miles north on U.S. 77 to the intersection of U.S. 77 and U.S. 57. Go west on U.S. 57 for 2 miles then follow the signs.
Written by Marci Penner. We're going to every town in the state to research for a guidebook. We want to share some information with you now! This is a project of the Kansas Sampler Foundation.