Many would say that Neosho Falls is a ghost town but after spending a couple of hours there we discovered a town still full of life. My perspective changed a lot in that short time and I admire the stamina and determination of the people that make Neosho Falls their home. This town really captivated me.
The population has dwindled to around 141 people from it's high of 2,500. It once had a power plant, button factory and many other businesses needed to support a growing town but after the railroad relocated and the devastating Flood of 1951, the town began to shrink in size.
Neosho Falls is located in Woodson County about 110 miles east of Wichita.
The falls are picturesque and we hear the fishing is good too. We saw several large carp with their fins sticking out of the water as they searched for food in the shallow stream. If only I'd had my fishing pole that day!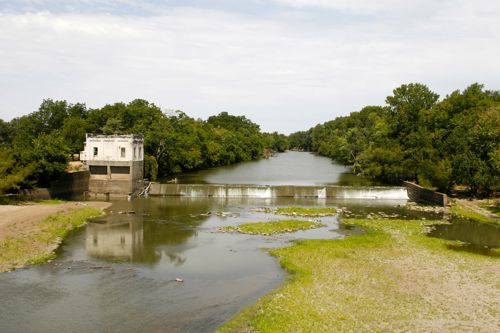 A button factory was located near the river. I'm still searching for more information about the factory but what fascinated me is that they made buttons from the mussel shells found along the river!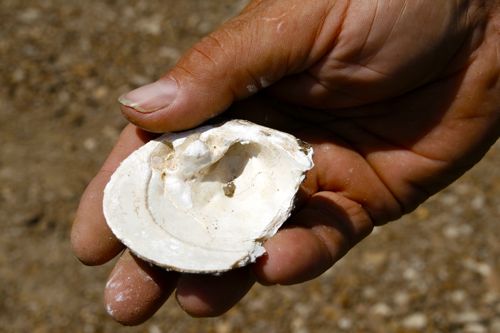 As you enter town you'll notice a tavern, post office, community building and a Methodist Church.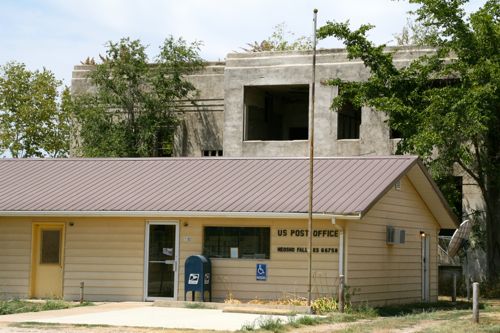 But what is that imposing concrete building behind the post office?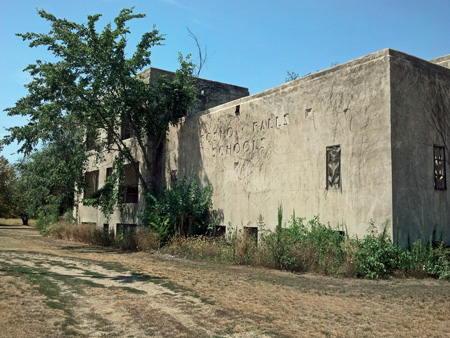 This unique Art Deco school was closed in 1971. There were plans to reuse the red brick that is found in the building. It was thought there was red brick under the concrete walls but as they began tearing it down it was discovered to be solid concrete. Demolition was discontinued due to the high cost. The building stands stripped and empty but majestic in its stark beauty.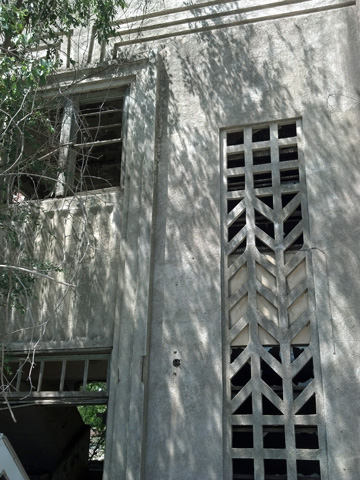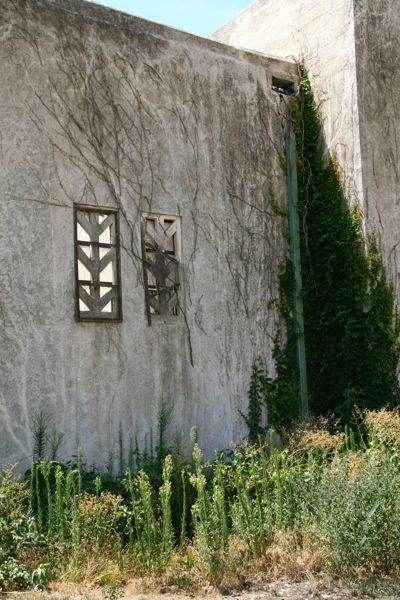 Look for long sidewalks framing empty lots and bare foundations where homes and businesses once stood. The deteriorating buildings covered with vines are a photographer and artists dream to capture on film and canvas.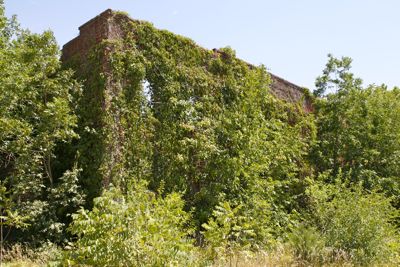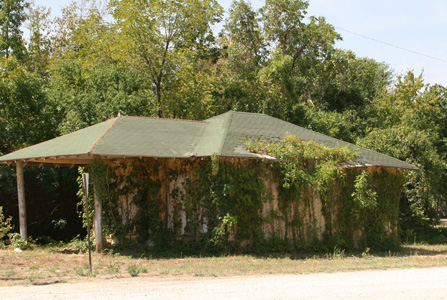 It was great to see how the town has used historic remains from the buildings, such as the art deco light from the school used on the community building and a limestone monument that encases old building remnants.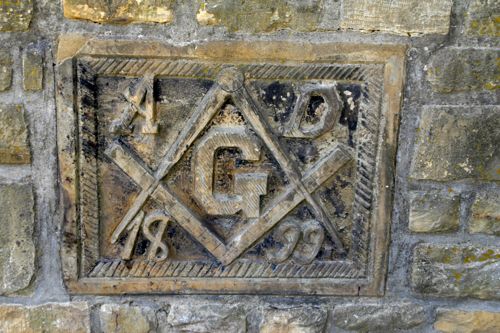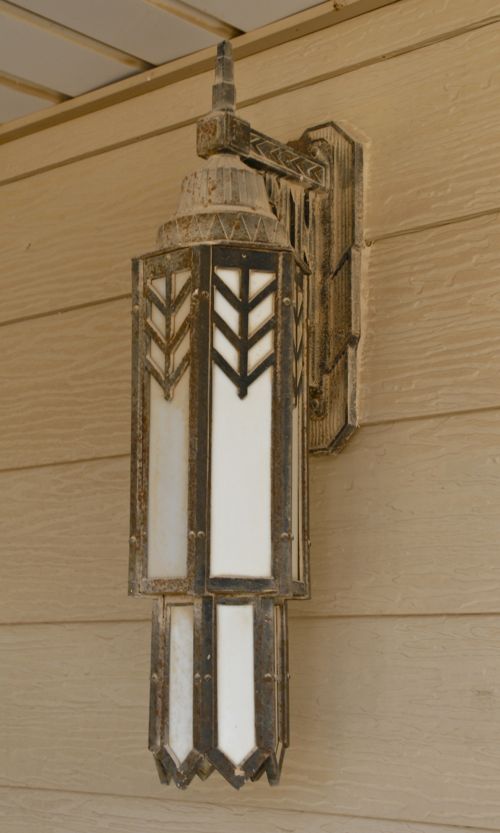 One of the prettiest stops in town is Riverside Park where President Rutherford B. Hayes enjoyed a picnic. A thick stand of towering trees create a comfortable shaded canopy. You'll find walnut, pecan and hickory trees here. You can almost hear the sound of people cheering for the horse races that used to be held in the pasture nearby.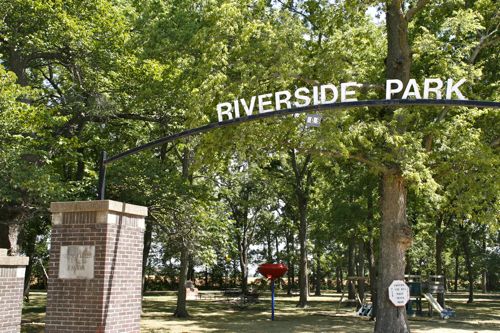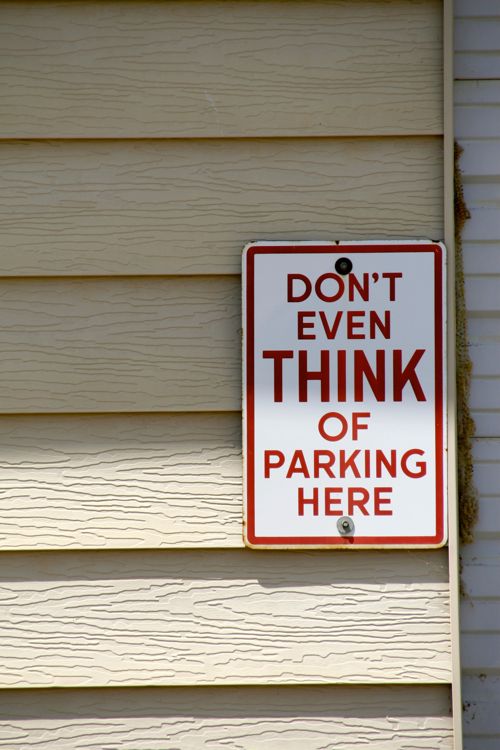 We got a kick out of this sign. If you want the fire trucks to make an emergency call you better not park here!
Our last stop was at their serene cemetery. Well, it wasn't always so calm, especially during prohibition days. One of the monuments was used as a drop off for whiskey runners! All you had to do was lean the monument back a little to find a hollowed out space below for your stash! We tried to find the actual monument the day we were there but couldn't locate it. We know where it is now and hope to go back someday to get a picture.
The cedar trees here are tremendously large and old giving off a very distinct cedar smell. It really added to the ambiance!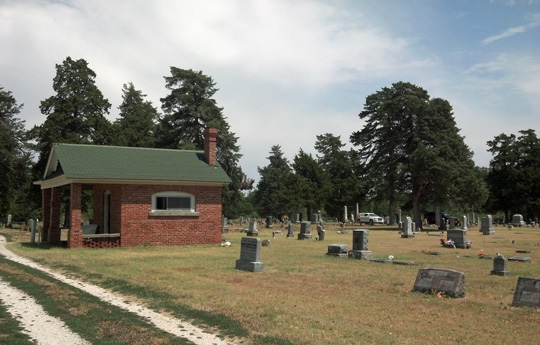 The best part of the time spent discovering this charming old town was getting to meet some of its citizens. They gather regularly at the Community Center to share meals.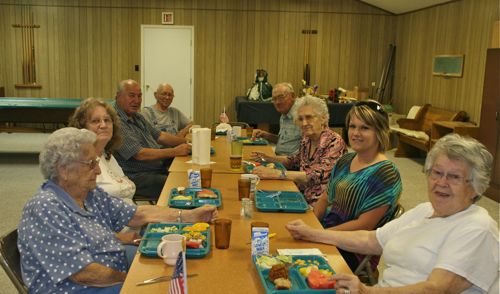 So if you're in the area and or looking for a day trip we highly suggest a visit! It will definitely change your perspective.
Written by WenDee LaPlant. We're going to every town in the state to research for a guidebook. We want to share some information with you now! This is a project of the Kansas Sampler Foundation.