Pleasanton. Sounds like such a tranquil place. It sure didn't start out that way. Read on to learn why the town has this name.
The only Civil War battle fought on Kansas soil was one of the largest cavalry engagements of the war. It took place about five miles west of the Kansas-Missouri border near what is now the town of Pleasanton in Linn County.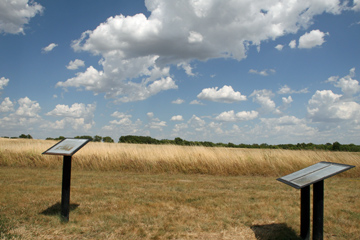 These markers are located on the battlefield and lead to a self-guided trail through what is now a peaceful prairie setting. It wasn't so peaceful on October 25, 1864, when 2,800 Union soldiers routed 8,000 Confederate troops led by General Sterling Price. More than 1000 Confederates were killed, wounded, or captured.
The Mine Creek Battlefield is now a
state historic site
. Inside are displays about the battle and the cavalrymen.
It's open April-October, Wednesday-Saturday 10 a.m.-5 p.m. September through March only the self-guided walk-through is open dawn to dusk. Located two miles south of Pleasanton on U.S. 69, 1/2 mile west on K-52, the address is 20485 K-52, Pleasanton. 913.352.8890.
General Alfred Pleasonton was in charge of Union troops at the Battle of Mine Creek. This bust, located on Main Street, is found in the town named for him.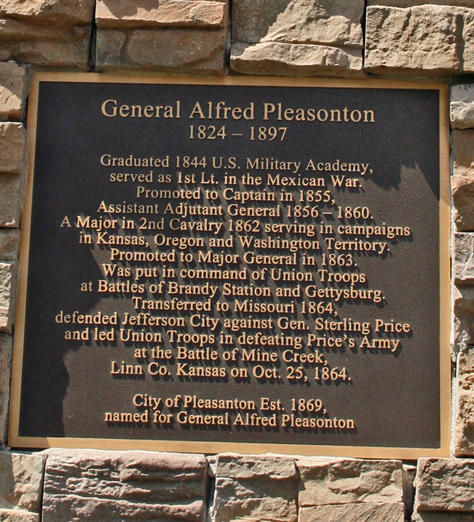 The plaque is located below the Pleasanton statue.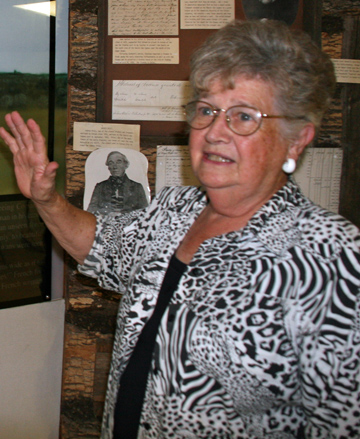 Ola Mae Ernst is the director and historian at the Linn County Historical Museum at 307 E. Park. The story of Bleeding Kansas and the Battle of Mine Creek are featured exhibits. Many long-time residents of the county have some relation who were involved in those bloody days before the Civil War and the Mine Creek battle. Ola Mae is no exception.
The museum has other county displays that range from the local lead and coal mining story to period rooms and antique cars.
The museum is open Tuesday and Thursday 9 a.m.-5 p.m.; Saturday 1-5 p.m.