This Marsh Rainbow bridge is located on Ungeheuer Road (Old U.S. 69) between Pleasanton and Prescott. The bridge arches act as the start of a long entrance into Prescott, as it is yet five miles south to town.

Prescott, population 264, is located in southeast Linn County.
C.H. Prescott was auditor and treasurer of the Missouri River, Fort Scott, and Gulf Railroad. The town was called Coal Centre when laid out in 1870; its name was changed to Prescott in 1873.
We got to Prescott about 5 p.m. and aside from the busy librarian, we didn't get to talk to anyone and feel the real pulse of Prescott. We'll hope to go back sometime. A town always looks a little different after visiting with the locals - a good thing for researchers and Explorers to remember.
Let's see what the keys to this city are!
Here are some observations: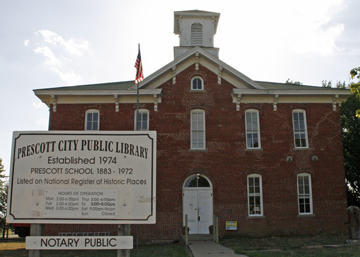 One key - people with gumption. That's what it takes to restore an 1883 building to the point where it can be functional. Way to go, Prescott. The old school is now the library! We went inside and looked around. Later we heard that we had missed seeing the upstairs museum.
Key two - a sustained effort. Another building that was restored is the 1924 school. It was converted into city hall.
It takes money and a great deal of effort to bring these old icons to life. It's so nice to have them in use!
O
nce the city hall and community center, this building now seems to be like the Prescott mall, a place where a number of businesses or activities share as home base.
A key - working together.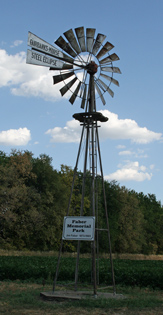 We always enjoy just driving around a town looking for something unusual -- and we almost always find something. On the south edge of town we noticed a grouping of trees, trimmed over the years with a nice stand of buffalo grass connecting them. It looked like the parks of old. We even found a number of horseshoe pits! At the edge of the park was a windmill with a sign that let us know we had found Faber Memorial Park. A key: a place for a community to come together.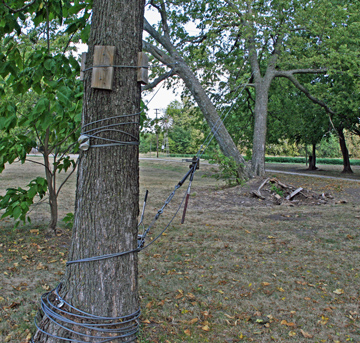 Across the road from a park was this intriguing attempt to keep a tree from falling! Look closely to see the cable system rigged up to support the other leaning tree.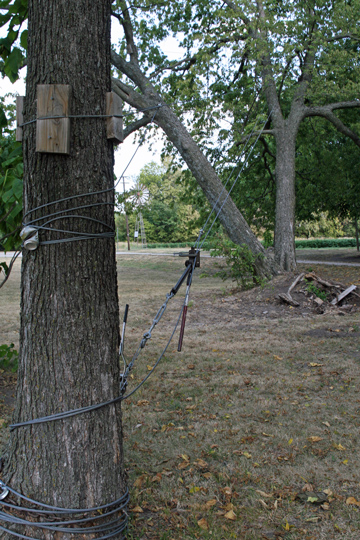 This picture seemed like a metaphor for saving a town, showing the extreme effort and motviation that is needed. We do know that Prescott has been showing "Movies on Main Street" this summer and that they have an annual celebration called Coal Centre Days. And though fewer than 500 people graduated from Prescott High School between 1923 and 1972, they have an annual All-School Reunion. You don't do these kind of things if there isn't a desire to keep a town alive. In fact, one local told me later, "I believe that Prescott is one very small town that has decided not to disappear."
Keep fighting, Prescott. We're rooting for you.
ERV blog post by Marci Penner. The ERV trip and blog is a project of the Kansas Sampler Foundation. The trip to every incorporated city in Kansas (626) will provide information and pictures for the next Kansas Guidebook for Explorers.