The best adventures are those that are unexpected. And on this day, southern Pratt County delivered.

I knew what was coming but WenDee did not. I just casually told her that there was a rock garden with some petrified wood in Coats.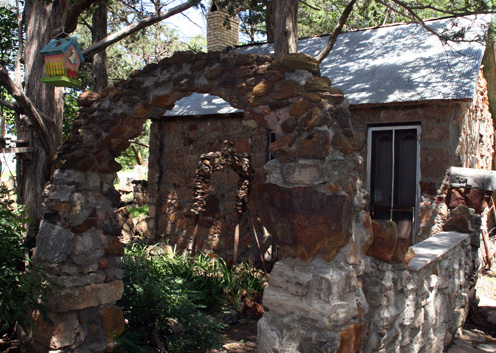 When we drove up, WenDee's jaw dropped. Not that it was weeded or in mint condition. What she saw, and what you'll see, are the possibilities of what it could look like again. What she saw was the grassroots creativity of whoever did this.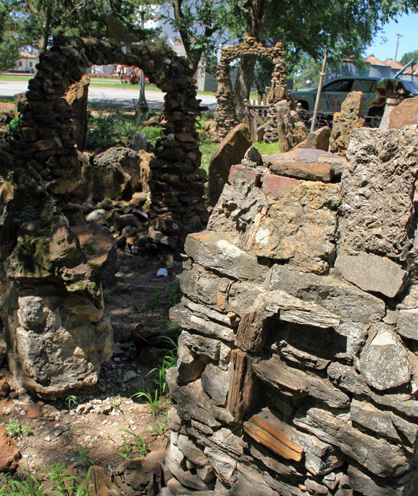 See the "E" on this rock piece? That's petrified wood.
We know that Frank Lockert brought the wood (now petrified) over from Barber County in the early 1930s. The history booklet about this garden is loaned out to someone in Colorado. By the time the guidebook comes out, we'll be able to share more of the story. Was Frank the artist?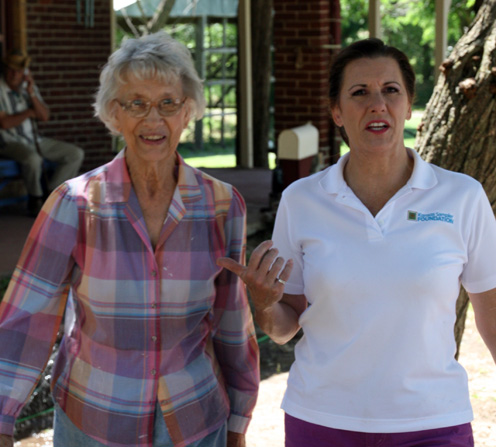 The rock garden is located at the home of Patsy and Gordon at 404 Main in Coats. There is plenty to see from the sidewalk but you're invited to knock at the door and if Patsy or Gordon are home they'll likely give you permission to take a closer look. Visiting with them is an extra bonus.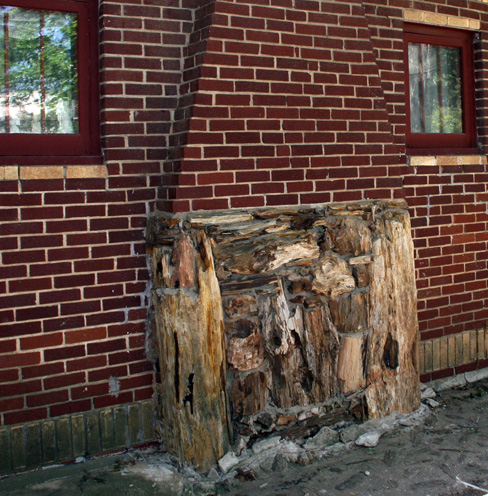 The best example of the petrified wood is on the fireplace on the outside of the house.

To find something unadvertised like this in a small town is what makes it such a gem.
Twelve miles down the road we found another great place.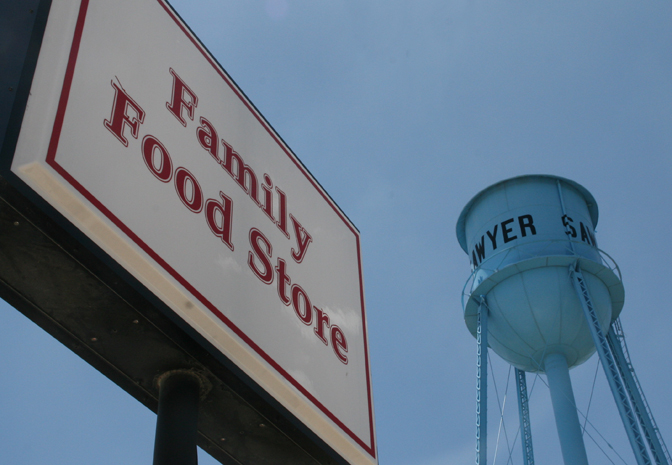 The outside of the Family Food Store in Sawyer does not portend the treasure that is found inside. Run by a German Baptist Brethren family, Greg and Ruby use the store as a learning laboratory for the five children they home school. It's open Thursday 11 a.m.-8 p.m., Friday 7 a.m.-8 p.m.; Saturday 7 a.m.-4 p.m.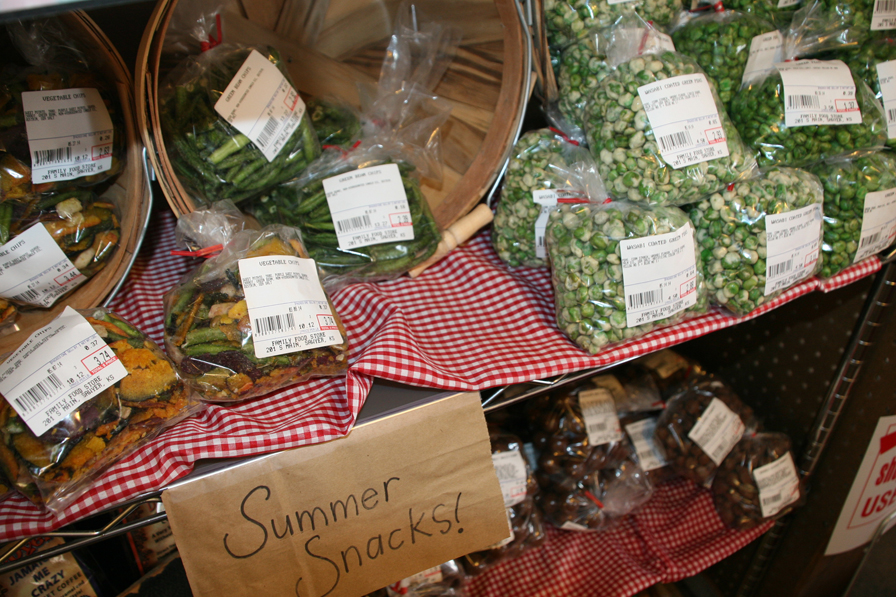 When you first step in you'll find shelves and racks of bulk foods, homegrown products from Kansas and other friendly states, and some baked goods. It is very hard not to make purchases -- so don't hold back!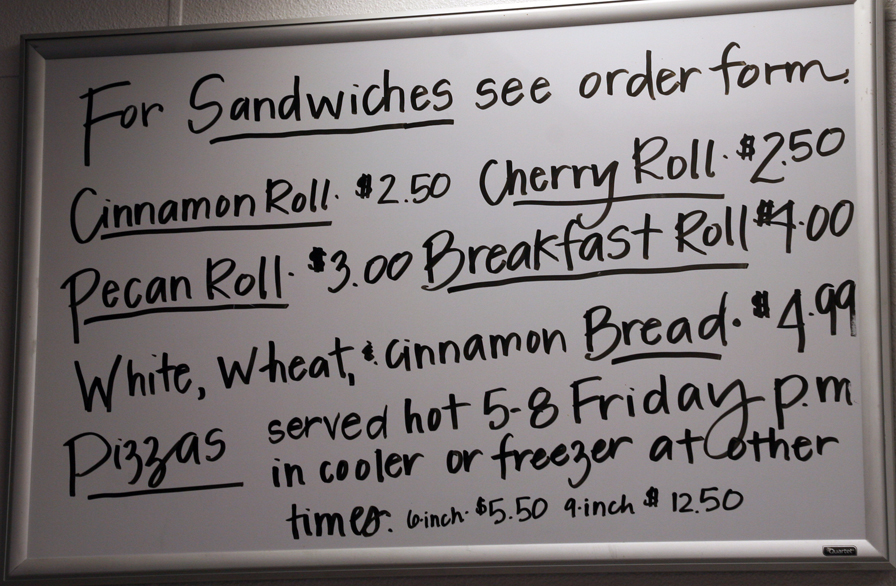 Do try to time your trip here for meal time. Order at the counter and check on an order from what kind of sandwich you'd like. I recommend the Family Favorite sandwich which consists of roast beef, turkey, bacon, cream cheese, cheddar cheese and baby Swiss cheese. It comes on a homemade hoagie bun.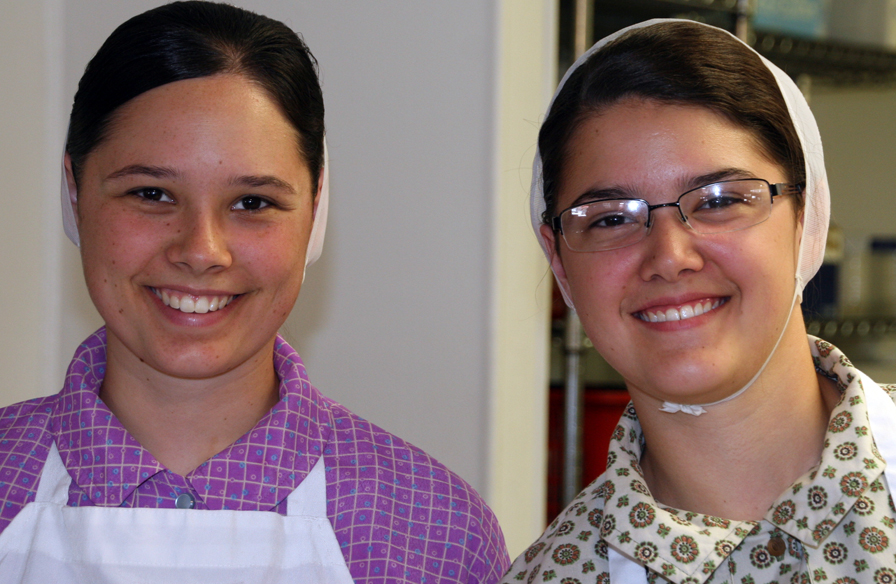 Take home a loaf of bread or a sweet roll. The cherry roll and caramel pecan roll are of the type where you can't put them down -- and there is no way to eat them gracefully as you can't eat them fast enough. These are the two daughters that have learned the baking secrets from their Mom. Oh my..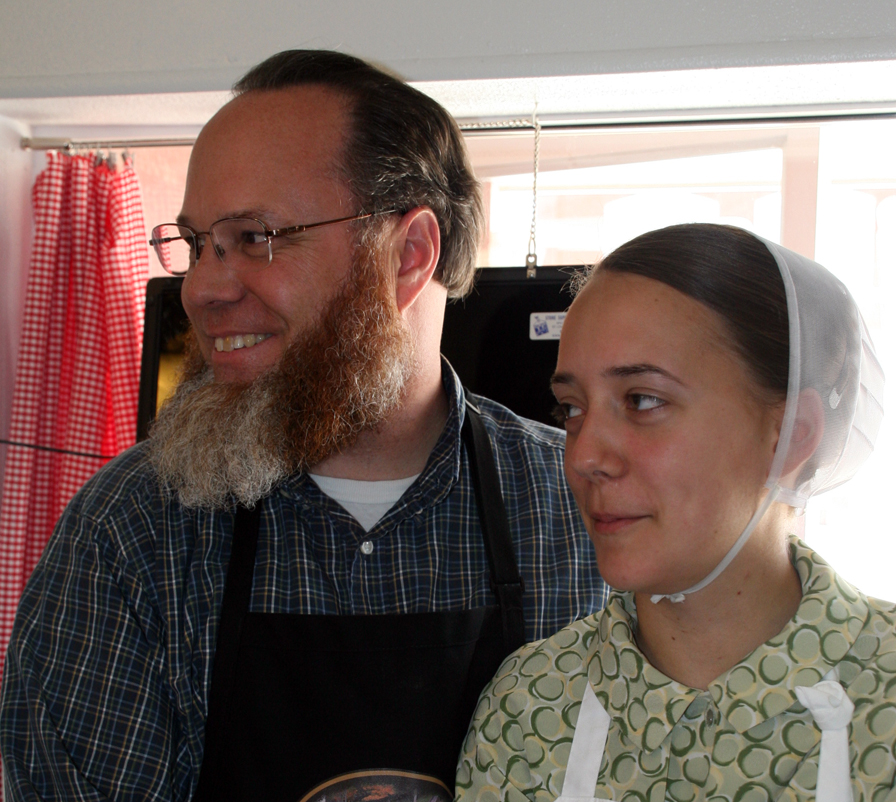 Greg, the dad, is an ag economist by trade, but he sure is doing a good job as a business teacher to his kids. And we all benefit! Hope you get to come here soon. Remember, just Thursday-Saturday.

There is one more excellent point of interest in the area.

The Thornton Adobe Barn.
To get there, it might be easiest to go to Isabel and then travel 1 mile east on K-42, then 1 1/2 miles north. You'll find the barn in the Isabel Wetland-Wildlife area. It's just sitting out in a field, always open, waiting for visitors.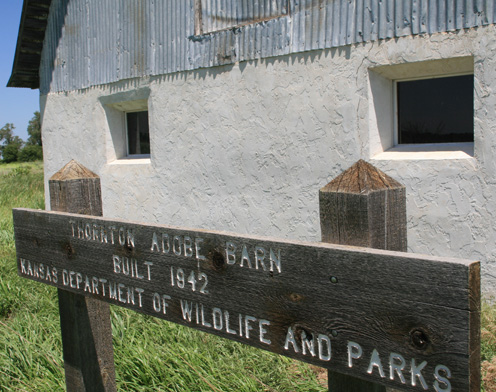 The barn was built by Ed Thornton as a dairy barn in 1942. The foundation is concrete and the haymow is wood framed, but the in-between was made from sun-dried adobe bricks and is covered with white stucco.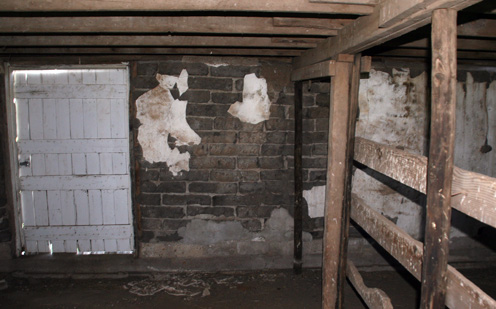 You can see exposed adobe bricks on the outside but step inside this cleaned-out barn to see the adobe bricks close up. There is useful interpretive signage inside and out.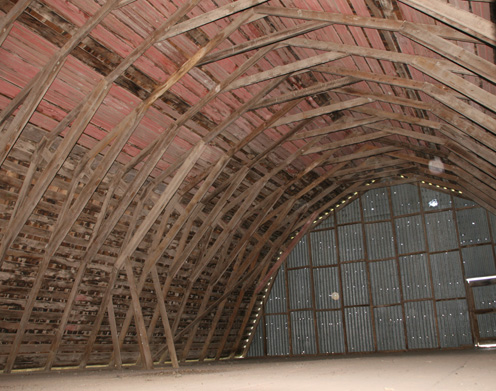 Amazing construction allowed this barn to be a self-supported roof.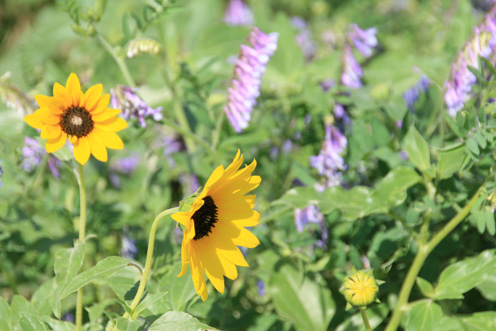 Backroads scenery made the day trip even more lovely. What a great time we had in southern Pratt County!
Marci and WenDee of the Kansas Sampler Foundation are traveling to every town in the state to find things in the nooks and crannies to share with all of you in a guidebook.