If you are

a Kansas explorer

you've no doubt seen things in almost every town that make you wonder what the story is about that object or place.
So wouldn't you love to have a Kansas guidebook that would give you some answers?
The deal is, it's really difficult to find those factual and interesting tidbits unless, that is, you have Facebook Friends that are willing to help investigate and if you've chosen the right co-author.
WenDee LaPlant is certainly the right co-author as she has proven to be a researcher deluxe and has the ability to put that information into words that will make you want to go see the place.

And, you, you our Facebook Friends have shown yourselves to be an invaluable part of the research team. Stick with us! We have a ways to go and appreciate your help.

Below are a few examples of how the research hunt for intriguing factoids in Jewell County has gone.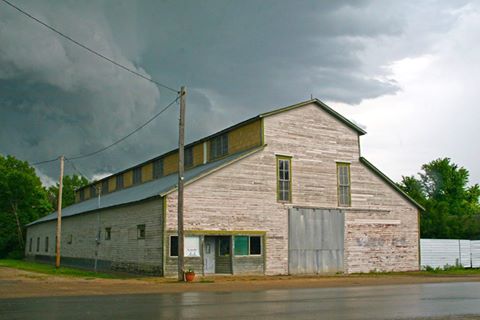 When I did the 2005 guidebook I couldn't find anyone who could confirm the origin of this building in downtown Burr Oak, so I didn't put it in the

guidebook. This time, WenDee was determined to find out the big ol' barn's story so she turned to our ERV Facebook page to see if she could find answers. She got 17,058 likes, 55 shares and almost 40
comments.
Our Facebook detectives, led her to the Sanborn Fire Insurance map that told her this building was the
Chicago Lumber and Coal Company as early as 1886. We also found out it was sold to the Burr Oak Lumber Company in 1920 and operated as a lumberyard until the late 1990s.
Cool! Now when you drive into Burr Oak (population 169), you'll know the rest of the story.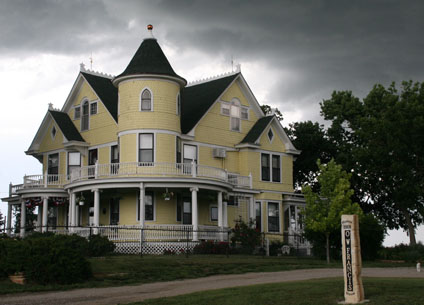 Here's another enhancing piece of information in Burr Oak.

You'll see this beautiful home on the north side of Burr Oak on K-128. In the 2005 guidebook I wrote two sentences about the architectural style of the house. But now, because of all of you and WenDee's digging, we have found out this home was part of a coffee shop contest in the early 1900s. The challenge was to see who could build the best home. Supposedly this 1909 Queen Anne home was the winner. In the guidebook you'll be pointed to two of the three other homes in the contest.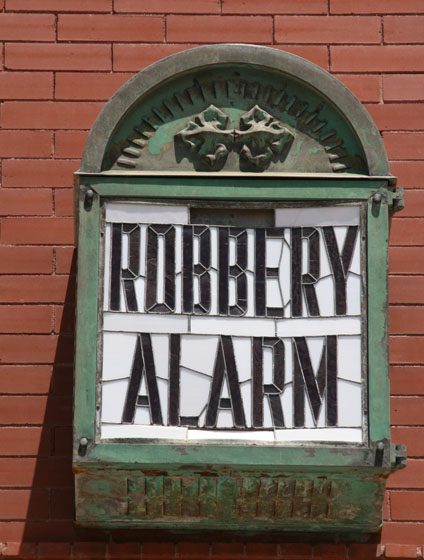 Wouldn't a guidebook explorer want to know about this robbery alarm? We thought so. It still hangs on the side of the Guaranty State Bank building in Jewell. With your help and helpful conversations with people in Jewell, we can now put in a guidebook entry the words Robbery Alarm are actually stained glass pieces. Look closely! Though the alarm no longer works we know there was a trigger attached to the bank vault door and, unless it was disarmed, the alarm would sound on this metal box when the door opened. We understand it was really loud -- and help would come running! The metal box burglar alarm came from t
he O.B. McClintock Company of Minneapolis, MN sometime in the first half of the 20th century.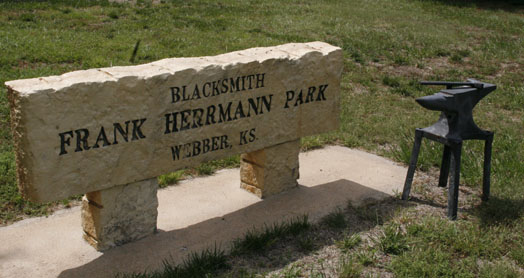 One more story. This one is about a sweet little park in Webber, population 25. In the 2005 guidebook I simply pointed out that there was a memorial sign to Frank Herrmann in the park with an anvil beside the sign. WenDee decided to dig further with the help of online documents. She found a wonderful article in the local paper that shared the story about a woman breaking a butter mold and her little boy saying, "Take it to Frank, he can fix it." Beloved by all, it was said that Frank Herrmann the blacksmith was known as a man who could fix anything, except a broken heart.
Before Frank died he donated the land to the city to be used as a park for the children of Webber. The anvil that his father brought with him as an immigrant from Germany in 1908 sits steadfastly next to the limestone park sign.
Thanks to WenDee and you all, this is going to be one heck of a guidebook.
###

Blog entries by Marci Penner, the other author, of the next Kansas Guidebook for Explorers, a project of the non-profit Inman-based Kansas Sampler Foundation. If you'd like to help support this project and be a blog sponsor contact marci@kansassampler.org.