Vitame Vas! Welcome to Wilson, a town of 780, located in the northwest corner of Ellsworth County.

Wilson is famous for it's annual
Czech Festival
. The history of the festival dates back to 1950.
A plaque, found in Lions Club Park, says "This memorial is dedicated by the sturdy Kansas Czech Pioneers who sacrificed so much that they and their sons and daughters might be free."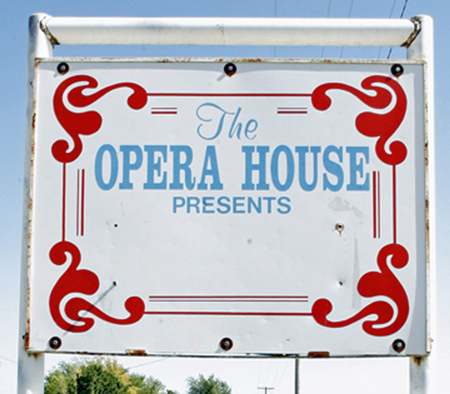 Sadly, the historic opera house, which included the museum, burned down a couple of years ago.
Wilson has the only stone round jail in the state. Built in the 1880s, it's found in an alley off Avenue E west of the new bank. The middle round structure was probably a water tower for the steam engine that once came through here. It's located beside the railroad track and tucked in among abandoned grain elevators. The third shows a 1925 wooden water tower, now refurbished. A windmill once stood beside it at a local residence and pumped water into the top of the water tower.
Abandoned grain elevators and associated
buildings signify changes in agriculture.
In honor of our soldiers, sailors, and marines of the World War, this Doughboy statue stands above a memorial to all deceased area veterans at Avenue E and 26th.
At the south edge of town at Avenue A and 27th is the local cemetery that dates back to 1870. On May 30, 1902 this sculpture of a Union solider and memorial was dedicated by the local G.A.R.
In addition to
Wilson Communication
, a locally-owned company that provides the town with great phone and internet service and community support, there are a number of unique businesses that are great for the locals and visitors.
One of them is
Kansas Originals Market
, located just north of I-70 on K-232. Since 1991, Post Rock Foundations has used this storefront to sell Kansas-made fine art, folk art, crafts, food products, and more. Marge Lawson has been in charge of the operation since its inception.
Aside from some Kansas souvenirs, everything in this store is made by Kansas artists or entrepreneurs. Open daily 9 a.m.-6 p.m.; Sunday 11 a.m.-6 p.m.
A 1950s soda fountain has been restored and is now open in Wilson! Grandma's Soda Shop, 2524 Avenue E, is open Monday-Saturday 9:30 a.m.-9 p.m.; Sunday 11:30 a.m.-9 p.m. Virginia and Jerry wanted to help keep a historic building in use and provide a place for kids. They also serve homemade pizza with a secret sauce recipe, as well as homemade soup and deli sandwiches.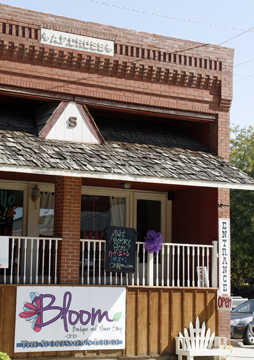 Across the street from the soda fountain is
Bloom!
(2523 Avenue E) and the
Sportsmen's Lodge
. Owner Avery uses bright colors in her paintings that are for sale and loves providing a place for people to paint their own pottery. The gift shop also includes colorful purses and jewelry. Open Monday-Friday 12-6 p.m.; Saturday 10 a.m.-1 p.m. The lodge is a great place for hunters, a family, or a group of friends.
Made From Scratch, 527 27th Street, is a popular eatery and attracts many people from I-70. A daily noon buffet is popular. A German buffet is served at noon on Saturday and Sunday is pan-fried chicken day. Everything is homemade and the chicken fried steak meets the Explorer criteria! They even have homemade ice cream. Open every day 7 a.m.-9 p.m.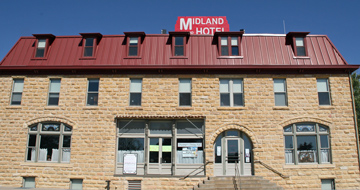 Originally built in 1899, Wilson is fortunate to still be sporting this
Midland Hotel
with 28 beautifully restored rooms. To add to the nostalgic nature, you can still hear trains go by, too. In addition to providing overnight stays, the Midland Hotel, 414 26th Street, is open Tuesday-Saturday 5-9 p.m. for a delicious evening meal. 785.6582284.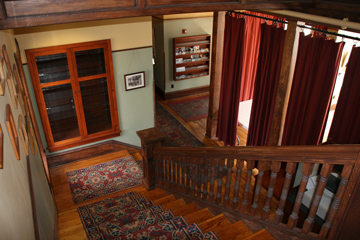 In the 1970s, many scenes from the movie
Paper Moon,
starring Ryan and Tatum O'Neal, were filmed here. Photographs line the walls up the staircase.
Wilson has a bed and breakfast, too.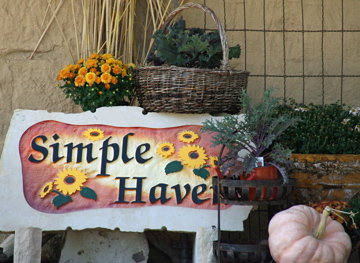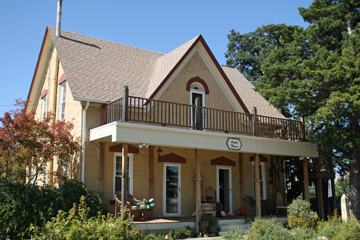 The original foot-thick stone walls of this house were erected in 1886. With additions and restoration since then,
Simple Haven Bed and Breakfast
, 615 27th Street, now provides a master suite on the first floor and four bedrooms on the second floor, each with a private bath. The owners live next door so you have privacy. The breakfast, the rooms, and the hospitality makes this a place where you'll want to return many times.
There have been some incredible Ukrainian Easter egg decorating artists from this area. It makes sense that somehow the world's largest egg landed here, maybe waiting for the Ukrainian-style treatment. Currently, it's nesting at Avenue D and 27th Street. Stay tuned to see what happens to it!


If you're looking for the only round stone jail, the world's largest egg, a historic hotel, and a Czech heritage, you can't top Wilson!

V
iew Larger Map
More information about
Wilson
contact Susan!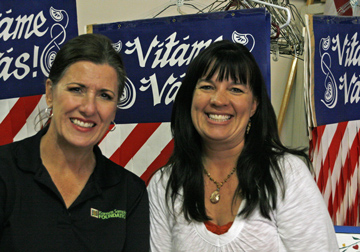 See you down the road, Kansas Explorer #2 Marci Penner

Written by Marci Penner. We're going to every town in the state to research for a guidebook. We want to share some information with you now! This is a project of the Kansas Sampler Foundation.