I can't wait! Tomorrow morning we'll head out for our first ERV journey since early November. A series of events and projects have kept us from being on the road.
I won't say where we're going yet since weather could change our direction. But if things stay as they are we'll be doing something on my Bucket List tomorrow by late morning. If you follow ERV on Facebook you'll find out where we are.
www.facebook.com/ERVoyage
.
If you're a new follower, let me catch you up.
WenDee (assistant director) and I are on a journey to every incorporated city in Kansas. We've been to every town in 52 counties and have until late November to finish the research for our next guidebook. (To see where we've been, check the list of cities under the sponsors on the right side of this page).

We call o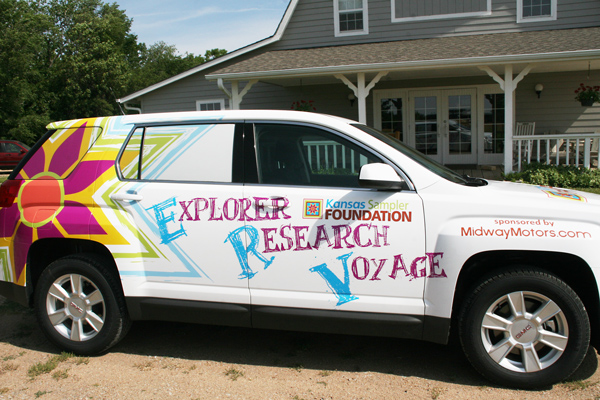 ur trip, and our car, ERV. Explorer Research Voyage. Explorer Research Vehicle. Midway Motors of McPherson has loaned us this car since our trip started in the summer of 2012.
Every city, no matter how small, has offered adventure. Some favorites experiences have been:
Standing in the empty St. Mary's Church in St. Benedict and listening to Marlene, the organist, play Bach's

Jesu Joy of Man's Desiring

.
Driving over the corrugated-tin surface on the bridge in Bazine (scary!).
Visiting the Family Food Store in Sawyer and discovering the caramel nut rolls and meeting the Wolf family.
Riding the historic Central Branch Railroad rails in the motor car out of Waterville and going over the Big Blue River railroad trestle.
Seeing Fala and Keary's exhibit in St. Francis.

The unexpected scenic beauty in the backroads of Lincoln County, Kiowa County, Ottawa County, and Meade County.
The pot pie at Al's Chickenette in Hays.
This list could be a mile long and we can't wait to get it into a guidebook and in your hands. Our hope is that will be sometime in the second half of 2016.
Well, I better stop so I can go pack and find the bird book, the book of grasses and wildflowers, the architecture book, and the hiking trails book.
If you'd like to help us pay for gas, meal, or lodging, we'd love it. Just go online to
www.kansassampler.org/supportus.php
or send a check to KSF, 978 Arapaho Road, Inman, KS 67546.
As Kansas Explorer Kelly Larson says, "If you think Kansas is boring, you're doing it wrong." We must be doing something right because in 52 counties, we haven't had one boring day yet.
See you down the road! Marci, Kansas Explorer #2