I've noticed this sign over the entrance to the hardware store on Main Street many times but until this trip I never thought to ask what it means. There isn't a Swedish word for hardware so they used a word that means "Iron Shop." Now you know too!
---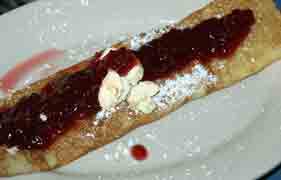 I remember the first time I visited Lindsborg I was amazed that Kansas had such a unique town in its midst. Why hadn't I known about this sooner? It was with awe that I walked up and down the Main Street peering in all the windows and going into stores that seemed to have everything Swedish you could imagine. Later visits
there found more discoveries like seeing Dala Horses hanging from virtually every house in town and coming face to face with the vibrant color palette of Birger Sandzen. On subsequent visits I savored the sweetness of a Swedish Pancake with Lingonberries, saw the inside of the flour mill (how could wood look that polished and shining after all these years), ogled the Swedish Pavilion with my mouth hanging open and watched the Lindsborg Folkdanslag perform native Swedish dances on Main Street.

Now that we have concluded a three day research voyage to Lindsborg I have discovered even more treasures...including the people. I think that is the secret to really enjoying a visit to any community. To be curious and ask questions of the locals. It adds more depth and richness to the journey and you come away filled with a knowledge and pride in your state than you could ever imagine.
Below are a few of my favorite moments and discoveries in Lindsborg. I hope you'll find these and many more on your visit to our very own Swedish village.
~ WenDee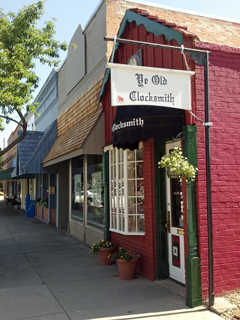 I have seen
Ye Old Clocksmith
shop many times but didn't take time to stop. Now I know that if I want my grandmother's old clock fixed that W.R. Chestnut and his son Jason may well be able to do it in one day! You can buy antique clocks here too. A beautiful Civil War clock by Seth Thomas is for sale!
The newest kid on the Main Street block is
The Good Merchant
owned by Liz Lahodny. It's located at 135 N. Main and sells a glorious array of gourmet foods, unique gifts, handmade purses and jewelry, scarves and so much more. They are "purveyors of good stuff for inspired living."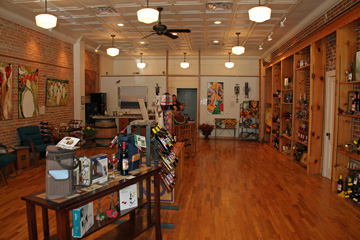 The store is open Monday- Saturday 9 a.m. - 6 p.m. and Sunday 1-4 p.m.
Want to sample some tasty Kansas wines? Then ride on into the
Wild Dala Winery
but only on Thursday, Friday and Saturday from 10 a.m. - 5:30 p.m. The store is located on Main Street and is the only outlet for Vin Vivante Winery in Wamego. You can also enjoy beautiful artwork by local artisans.
I'm not sure how or why I've missed it all these years, especially since I used to work in a museum, but I had never seen the exhibits at
Heritage Park
across from the Old Mill Museum. What a great surprise especially when I discovered they had a thresher and a tractor used to plow virgin prairie much like I had seen in the famous F.M. Steele photographs.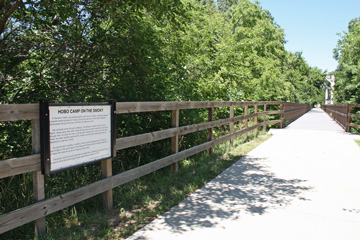 What a nice biking/walking path the city has created and it's lined with interesting signage like the one on the south end that tells the story of how hobos used to camp out in that area. Part of the path is the old railroad bed that has been revamped for this new use and a highlight was the bridge trellis overlooking the Smoky Hill river. Can't wait to take a bike ride on the
Valkommen Path
(it means "welcome" in Swedish).
One of the more popular posts we put on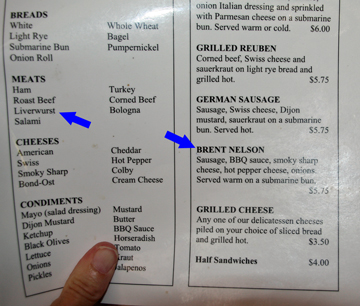 Facebook the day we stopped at the
Ol Stuga
(it means Ale Cottage) at 119 S. Main for lunch was that liverwurst was on the menu. We had no idea that it was such a popular sandwich meat until the comments started piling up! Seems like lots of people grew up eating liverwurst, or braunschweiger, and they all love it with mayonnaise and a wide variety of other condiments. You can also order the Brent Nelson sandwich made famous when it was featured on a contest on the morning news show, Good Morning America, a couple of years ago.
Written by WenDee LaPlant. We're going to every town in the state to research for a guidebook. We want to share some information with you now! This is a project of the Kansas Sampler Foundation.