Nerman Museum of Contemporary Art at
Johnson County Community College, Overland Park
Some/One, 2004, by Do-Ho Suh is an 8 Wonders of Kansas Art finalist because his sculpture combines the individual with the international and represents the diverse collection at the Nerman Museum, the largest contemporary art museum in the region.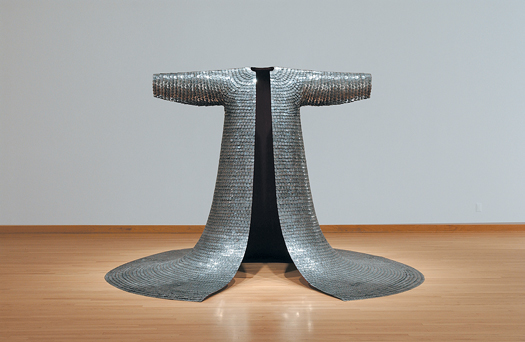 An imperial presence in the gallery, Some/One by Do Ho Suh references hundreds of anonymous individuals united in collective conformity. The military dog tags are not memorials to individual soldiers, but rather faceless troops identified with random letters and numbers imprinted in five lines of text. The hollow shell of armor reveals a blood-red velvet interior, inviting the viewer to visually step into the form and face mortality.

Suh's work combines repeated elements, alluding to South Korean norms of social order, with universal military themes into a new twist on traditional commemorative art. Like all other young men in South Korea, Suh served 2 years in the military, where he trained as a sharpshooter. This sculpture is an evolution of his Metal Jacket he created as a college student in Rhode Island; the earlier version was a U.S. military jacket liner covered with 3000 misprinted dog tags gathered from an army-navy surplus store.
Prior to moving to the United States, Suh earned an MFA and BFA in Oriental (ink) painting at Seoul National University in Korea. Suh continued his studies at the Rhode Island School of Design, Providence, earning a BFA in painting, and in 1994, he graduated from Yale University with an MFA in Sculpture. He currently lives and works in New York.

Suh was born in 1962. Some/One is made of stainless steel military dog tags, steel structure, fiberglass resin, and fabric. Collection Nerman Museum of Contemporary Art, Gift of Marti and Tony Oppenheimer and the Oppenheimer Brothers Foundation in honor of their children.
In 2007, Johnson County Community College in Overland Park enhanced its reputation as one of the cultural destinations of the region with the opening of the much anticipated Nerman Museum of Contemporary Art. The 41,000-square-foot museum is named for Jerome and Margaret Nerman and their son, Lewis, who are among the region's most prominent collectors of contemporary art. Housed in the

museum is the renowned Oppenheimer Collection, founded in 1992 by philanthropists
Marti
and
Tony
Oppenheimer
and the Oppenheimer Brothers Foundation. In 2004, the Oppenheimers began assembling a collection specifically destined for the new Nerman Museum. Works by emerging and established artists (recognized regionally, nationally and internationally) comprise the core of the museum's permanent collection.
Source of edited information: Courtesy of Nerman Museum of Contemporary Art

Photo courtesy Nerman Museum of Contemporary Art

E-mail: dlasite2@jccc.edu
Hours: Tuesday, Wednesday, Thursday, Saturday 10 a.m.-5 p.m.; Friday, 10 a.m.-9 p.m.; Sunday noon-5 p.m. Closed Mondays and JCCC holidays. (revised 6/18/12)

Admission fee: No charge.