We're the staff of the Kansas Sampler Foundation and we went on a journey to every one of the 626 incorporated cities in Kansas from 2012-2015. We were determined to not only go to every city but we also went to over 100 unincorporated spots on the map, too, to find the best "explorer-y" things that should go in the update the
Kansas Guidebook for Explorers.
The first edition came out in 2005 and was spiral-bound with 432-pages, lots of pictures, and 3,597 entries.
Now the proof of our journey is out in the form of the Kansas Guidebook 2 for Explorers. It's 480-pages, with 4,500 entries, 1,600 pictures, and more than 800 locally-owned restaurants and cafes! Our goal was to provide you with a handy dandy guide to help you navigate around the state to find your own adventures. We'll see you on the road!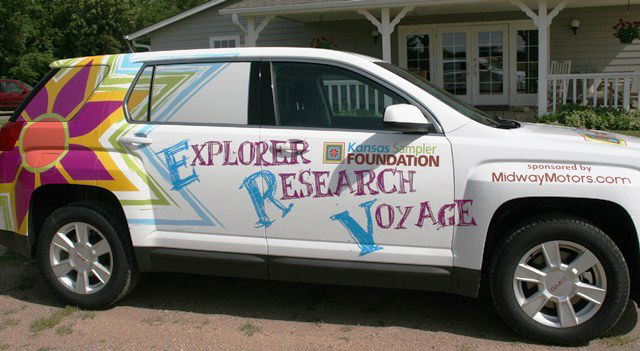 We called the journey ERV, Explorer Research Voyage and we also called our car ERV, Explorer Research Vehicle. ERV, a 2012 GMC Terrain, was loaned to us by
Midway Motors
of McPherson.