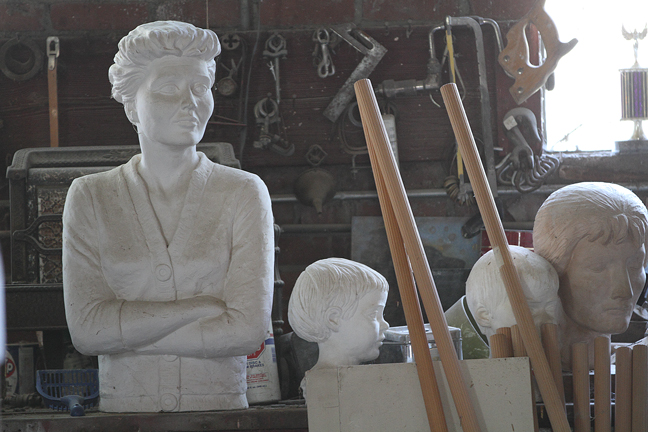 ABOUT THE ARTIST
Pete Felten has spent most of his life in Kansas. Having little exposure to art he was in his mid-20s before he learned he could sculpt. He served in the U.S. Navy from 1952 to 1956 and during this time was exposed to art museums on the east and west coasts and Hawaii. Pete attended an art league school in New York and then returned to Hays to take additional classes at what was then Fort Hays State College.

The sculptures that Pete carves are mainly out of limestone. Although our area of Kansas has plenty of limestone available for carving, Pete also uses the limestone from Indiana, which is much harder and easier to work with. Pete has been commissioned to do many works including the sculptures of the four famous Kansans (Dwight Eisenhower, Amelia Earhart, William Allen White, and Arthur Capper) that are located in the rotunda of the State Capitol building in Topeka.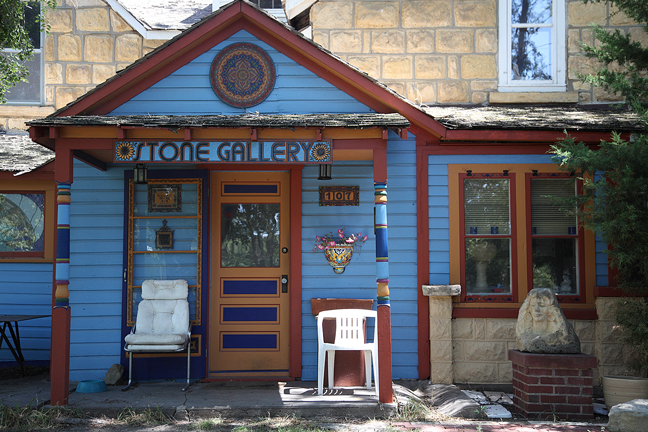 Pete also works with other varieties of stone including Carthage marble, alabaster, fence post limestone, Texas limestone, Vermont blue marble and Kansas limestone.
What has made sculpting enjoyable for Pete is that it's an outlet for interpreting his thoughts into art.
Pete works continuously on one project or another. His works of art are located throughout the Midwest with many of his works located in many Kansas communities either paying tribute to people of importance or to their history. They can often be found at hospitals, churches, libraries, and schools.
ABOUT MONARCH OF THE PLAINS
Located on the grounds of historic Fort Hays, this stone buffalo is eight-feet high and ten-feet long and stands on an eight-foot high base. It started as a 24-ton stone. This sculpture took nearly two years and was completed in 1967, Hays 100th birthday. Fort Hays State Historic Site is at 1472 Highway 183 Bypass.
Source: Stone Gallery brochure
PETE'S TOP DOZEN LIST OF HIS SCULPTURES:
Monarch of the Plains, Hays

(Another buffalo, just slightly smaller, is found at Berryton Elementary, near Topeka at 2921 SE 69th, Berryton.)

Lawman, Hays
Pioneer Family, Oberlin
Buffalo, Atwood
Volga Germans, Victoria
Four Kansans, state capitol, Topeka
Draft Horse, Stockton
Prairie Dog, Norton
Library, Ness City
Pioneer Students, at Fort Hays State campus
Eagle, WaKeeney Courthouse
Panther, Protection
For a brochure listing the site of 22 Felten sculptures in Hays call 800.569.4505.
HOURS: Pete's Stone Gallery at 107 W. 6th in Hays is open to the public daily 10 a.m.-4 p.m. Pete welcomes visitors to stop by and watch a project in progress.