Open Monday-Saturday 11 a.m.-midnight
Free State Brewing Company is one of the 8 Wonders of Kansas Cuisine because when it opened in 1989 it was the first legal brewery in Kansas since 1880 and now, along with the beer, they serve many ethnic recipes.

Being the first legal brewery in Kansas since 1880, gives the brewery part of this business clear status as number one in Kansas but the Free State Brewing Company is on this list for the duo purpose of excellent food and drink.

The name of this popular Lawrence restaurant takes one back to the pre-Civil War days of contention about whether Kansas would enter the union as a free state or a slave state.

Limestone walls, natural wood, and a two-story glass front give this college-town favorite a historical but casual feel.

Popular menu items include Chicken and Crawfish Gumbo which is full of spicy Andouille sausage, Cajun crawfish tails, stewed chicken and a dark brown roux and the Blackbean quesadillas featuring Alma cheese.

Other specials made fresh daily by top chefs include Sunflower Chicken Stir Fry, Sonoma Shrimp Fettuccine, Vella Chicken Flautas, and Artichoke Tomato Tortellini to name a few plus a fantastic array of salads, sandwiches, and appetizers.

The award-winning beers have names like Wheat State Golden, Ad Astra Ale, Stormwatch Ale, Oatmeal Stout, and Dubbel Trouble Belgian.
If you want fresh foods with healthy options and the choice of perfected beers, you can't go wrong by selecting Free State Brewing Company!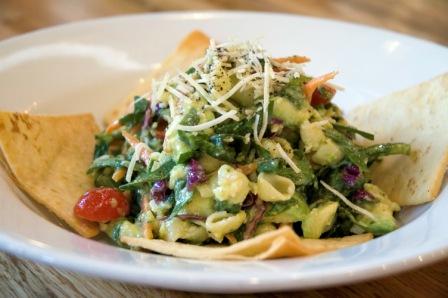 Verde Salad. Photo courtesy Free State Brewing Co.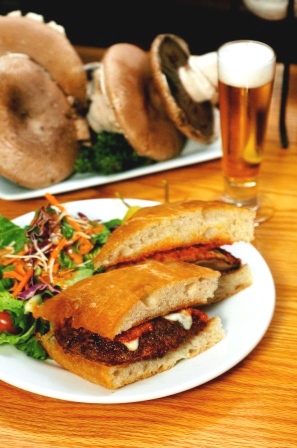 American Sandwich. Photo courtesy of Free State Brewing Co.