An 8 Wonder of Kansas Cuisine
Homer's Drive Inn, Leavenworth
Address: 1320 S. 4th, Leavenworth, KS 66048
Phone: 913.651.3500
Website:
Open Monday-Saturday 6 a.m.-9 p.m. (breakfast until 10:30 a.m.)
Sunday 6:30 a.m.-9 p.m. (breakfast until 11 a.m.)



Homer's Drive Inn is a finalist for the 8 Wonders of Kansas Cuisine because

it has been a classic drive in and car hop serving full menu breakfast, lunch, dinner, and fountain service since 1931.



Homer's is a 78-year-old institution in Leavenworth. Homer McKelvey began the tradition of serving nickel mugs of root beer from a wooden stand at the corner of Broadway and Cherokee Streets. Back then, in 1931, Homer employed men dressed in long-sleeved shirts and ties as car hops to customers driving Model Ts. Three years later Homer moved to an area just north of Fourth and Linn Streets, where he began dispensing more hot dogs, hamburgers, and root beer to more and more customers.

Homer moved again in 1938 to its present location. Homer's son D.H. (known as Mac) joined him in 1946. Mac expanded the menu and added his wife's chili recipe that is still featured today. Homer died in 1990.

Today, owners Rick & Lynette Jackson have turned operations over to long-time servers Anna Brown and Marla Bockman who continue to feature fresh hamburger, soda fountain favorites, and specials every day. The car hop service counts on a vigilant car hop rather than intercoms or buzzers. Drive into the stall and someone will be there to take your order.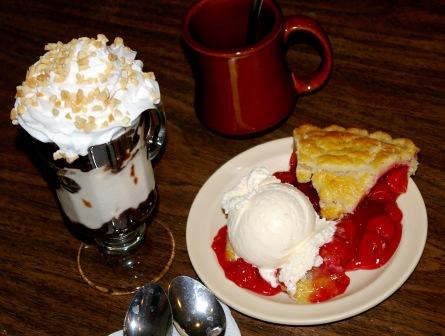 Sundae or pie ala mode? Which to choose. Photo credit Bob Topping

.


Menu options! Photo credit Bob Topping.