Mined Land Wildlife Area is a finalist because...
the land once stripped of overburden has been reclaimed and now features scenic woodlands, grasslands, and lakes that wind around the strip pits.
Click here, to hear a You Tube video about the Mined Land Wildlife Area.

EXCELLENT EXAMPLE OF A RECLAIMED MINED LAND AREA

One of the best places to see an example of the mined land wildlife areas is a place called Trout Lake, Unit 30. It is located off U.S. 400. Go south on 100th NW until NW Lawton Road, then west 1/2 mile. It's located on the south side of the road. It's a 60-foot deep strip pit, one of the bigger strip pits. A fish dock makes it a good place for viewing. There is also a boat ramp and year-round fishing. Two cabins are available. For information, 620.827.6301.

WHY DID THESE AREAS HAVE TO BE RECLAIMED?

Source: Excerpts from COAL MINING IN KANSAS on the Kansas Geological Survey site. For the whole article, click here.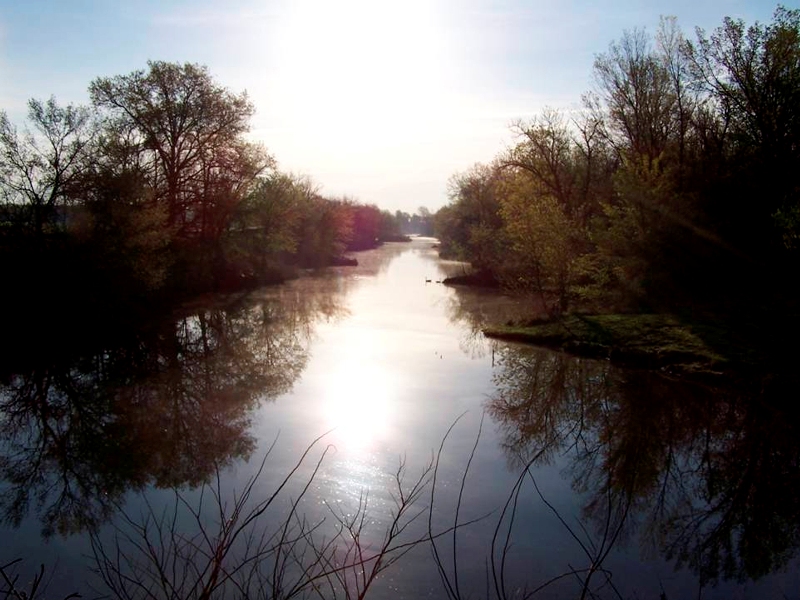 Photo courtesy KDWP
In the 1930's, strip mining (which began in Kansas in 1876) once again became the preferred method of mining coal in southeastern Kansas (though underground mining continued until 1960 in southeast Kansas and until 1964 in Osage County). Coal beds too thin to be mined underground were stripped by power shovels, some of which dug to depths of almost 100 feet. One of the world's largest power shovels, Big Brutus, was used in Cherokee County. It is now a museum with exhibits on coal mining and southeastern Kansas.
Strip mining leaves the land marked with deep ditches and high ridges. As the shovels removed the overburden, they created trenches up to 100 feet wide and as much as 100 feet deep. Before widespread land reclamation was required in 1969, this land was abandoned and left to grow back to trees and brush while the trenches filled with water.

In 1969, the Kansas Legislature passed regulations requiring coal companies to reclaim the land.
NOW, IT'S THE JOB OF KANSAS DEPARTMENT OF WILDLIFE AND PARKS TO RECLAIM THE LAND. They're doing a great job.

Source: Kansas Department of Wildlife and Parks
KDWP now owns 14,500 acres of mined land area, comprised of 1,500 acres of water and 13,000 acres of land, located in parts of Cherokee, Crawford, and Labette counties. The property was acquired primarily by donation. The first land donation was received in 1926. The largest acquisition, totaling 8,208 acres was donated by the Pittsburg and Midway Coal Company to the Kansas Department of Wildlife and Parks in 1981.

All but 2,000 acres of the property was surface mined for coal during the 1920s through 1974. The property is rugged country dotted with over 1,000 strip-mine lakes, steep-sided hills and dense vegetation. Unmined areas consist of mature bottomland woodland and small crop fields. The strip-mine lakes vary in size from 1/4 acre to 50 acres with depths to 60 feet.
Native grass and some cool-season grasses dominate 4,000 acres of the property. The remaining 9,000 acres of land is comprised of bur oak, pin oak, walnut, hickory and hackberry with a thick understory of dogwood, green briar, honeysuckle, poison ivy and black berry.
Primary terrestrial use on the property includes hunting, hiking, camping, wildlife viewing and mushroom/berry picking.
Species hunted include whitetail deer, eastern turkey, mourning dove, bobwhite quail, fox squirrel, cottontails and waterfowl.

One KDWP area office located on unit 21 is a 30-acre Canada goose restoration pen. The geese can be viewed year-round. Many species of dabbling and diving ducks, as well as osprey, can be seen during spring and fall migrations.

In winter bald eagles are occasionally sighted around the lakes. Northern harriers are commonly seen over the grasslands. Several species of water turtles, beaver, muskrats, and raccoons are abundant around the pits throughout the year. The woodlands hold squirrels, owls, wild turkeys, and many songbirds. Watch in the evening and early morning for foxes, coyotes, bobcats, bobwhite quail, cottontail rabbits, and white-tailed deer.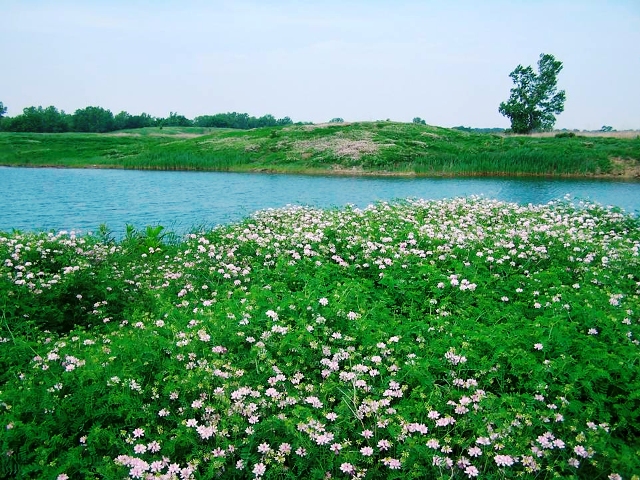 Photo courtesy KDWP
HOW DID THE COAL FORM IN THIS AREA?
Source:

naturalkansas.org

During the early Pennsylvanian age (300

million years ago

), shallow seas oscillated over Kansas, leaving at different times both sandy and muddy deltas, as well as "stinking swamps." The Mined Land area is located in the Cherokee Lowlands physiographic region and contain beds of sandstone, shale, and coal which attest to that past.


A DRIVING TOUR OF "STRIP PIT ALLEY"
Taken from
Kansas Guidebook for Explorers
At K-47 and U.S. 69 in Crawford County, go 1 mile south of Franklin, then east 4 1/2 miles on 620 Avenue to the Missouri line, then 3 miles north to Mulberry, continue 6 miles north to Arcadia, and 4 miles back west to U.S. 69.
Along the way you'll pass signage or vestiges of old coal-mining camps. In the 1930s strip mining once again became the preferred method of mining coal in southeastern Kansas, and massive coal shovels ripped into the earth (some to a depth of 100 feet) leaving treeless barren areas and piles of bog (discarded coal waste) in their wake.
But now you'll see strip pit after strip pit in all their restored glory brimming with water and sporting a wooded environment that attracts birds, wildlife, hunters, and fishermen.