Walter "Big Train" Johnson's record-setting performances as a pitcher from 1907-1927 with the Washington Senators made him one of the first five players to be inducted into the Baseball Hall of Fame in 1936. 1887-1946.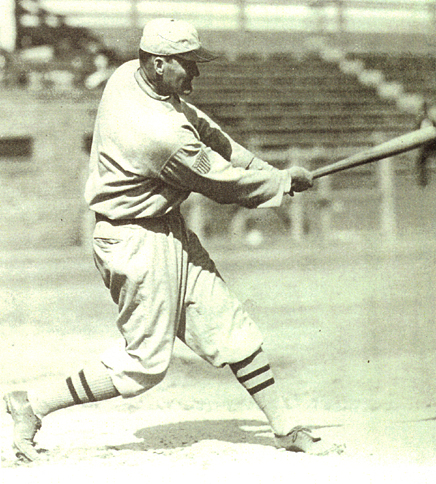 Johnson was used as a pinch-hitter 110 times in his career, and his .433 batting average in 1925 is still the record for pitchers. Courtesy Roland Thompson


Born November 6, 1887 near Humboldt, Kansas.


Walter Perry "Big Train" Johnson played for the Washington Senators from 1907-1927.


There were no sophisticated measuring devices in the early 1900s, but Walter Johnson's fastball was considered to be in a class by itself. Using a sweeping sidearm delivery, "The Big Train" fanned 3,508 over a brilliant 21-year career with the Washington Senators, and his 110 shutouts are more than any pitcher. Despite hurling for losing teams most of his career, he won 417 games, second only to Cy Young on the all-time list, and enjoyed ten successive seasons of 20 or more victories.




SOME STATISTICS:

3,509 strikeouts

All-time major league leader in shutouts (110)

Two-time American League Most Valuable Player (1913, 1924)

World Series Champion (1924)

Pinch hit 110 times

.433 batting average in 1925 (a record for pitchers)

Most innings pitched without allowing a home run (371 in 1916)

Twelve 20-win seasons, including ten in a row.
Twice he topped thirty wins (33 in 1912, 36 in 1913)
Sources:baseballhall.org/hof/johnson-walter and en.wikipedia.org/wiki/Walter_Johnson

Walter Johnson's best season: 1913.
It ranks as one of the greatest seasons by a pitcher ever. Johnson won the triple crown of pitching (36 wins, 243 strikeouts, and 1.14 ERA). His ERA, adjusted to the league, is the fifth best in history. Opponents batted .187 and had a .217 OBP (sixth lowest all-time). He tossed 11 shutouts, completed 29 games, and threw 346 innings - all league bests. Perhaps most amazing is the fact that the rest of the Senators were 54-57. In 1913, Walter Johnson carried Washington to a second place finish on his back.
Source:www.thebaseballpage.com/players/johnswa01.php

Johnson died of a brain tumor December 10, 1946, Washington, District of Columbia
"Walter Johnson, more than any other ballplayer, probably more than any other athlete, professional or amateur, became the symbol of gentlemanly conduct in the heat of battle." Shirley Povich, Washington Post, Dec 12,1946 - 2 days after Johnsons death



Monument located at the birthplace of Walter Johnson. KSF

SEE POINTS OF INTEREST ABOUT WALTER JOHNSON IN KANSAS




HUMBOLDT
Walter Johnson's birthplace monument.

Take U.S. 169 to exit road 224. Go 1mile west to dead-end at 1100 Road, also marked Old Highway 169. Turn right. Go north 2 miles to a hanging sign at Iowa Road and 1100 Road. Turn left at Iowa. Go west 2 miles to the intersection of Iowa and 900 Road. You will see Walter Johnson's monument and plaque on the northwest corner of a field on his birthplace farm.
Signage.

Bold signage at both north and south town entrances announce that Humboldt is the birthplace of Walter Johnson, the Big Train.
Humboldt Historical Museum,

2nd and Neosho

. Johnson's birth bed is upstairs in an 1867 stone house. Across the street in Annex 5, you will find Johnson articles and pictures.
Walter Johnson Athletic Field,

6th and Pine

. Dedicated October 26, 1921. Walter Johnson pitched the first ball, which was placed in the cornerstone of Humboldt High School, 1011 Bridge Street. This was the last of eight trips to Humboldt made by Walter Johnson for exhibition games.
COFFEYVILLE
Dalton

Defenders Museum

,

113 E. 8th.

620.251.1194. Daily 10 a.m.-4 p.m.Display about Johnson.
Walter

Johnson Park, from U.S. 169 turn east on 8th. Behind the backstop is a plaque honoring Johnson.
Walter Johnson mural

, 223 W. 9th.The mural is by Don Sprague.