The small town of Independence had a profound influence on the young Inge, and he would later attribute his understanding of human behavior to growing up in this environment. Inge would later use this knowledge of small town life in many of his plays, most of which revolve around characters who are clearly products of Midwestern towns.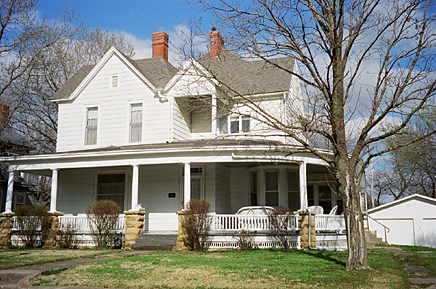 William Inge house. Courtesy William inge Center for the Arts

Inge earned a degree in Speech and Drama from the University of Kansas in 1935. He did physical labor, was a radio announcer in Wichita, a high school teacher in Columbus, and, eventually got a Masters degree at Peabody College in Nashville. When he became a drama and music critic for the St. Louis Times, he met Tennessee Williams. One evening he accompanied Williams to a production of The Glass Menagerie, which so inspired Inge that he decided to become a playwright.
It took several years of hard work, but Inge went on to win many awards and acclaim. It began with Come Back, Little Sheba in 1950, which opened on Broadway and won Tony Awards for Shirley Booth and Sidney Blackmer. The film adaptation aired in 1952, starring Booth and Burt Lancaster.
Picnic is likely his best-known work. It opened in 1953 and won the Pulitzer Prize for Drama and many other awards. In 1956, Columbia Pictures released the film version of Picnic starring William Holden, Kim Novak and Rosalind Russell. Picnic was filmed in many Kansas cities including Halstead, Hutchinson, Nickerson, Salina, and Sterling.
In 1955 he wrote the bittersweet comedy Bus Stop. Marilyn Monroe starred in the film version, released the next year. In 1957 he wrote The Dark at the Top of the Stairs, a somewhat autobiographical drama and considered his finest work. In 1960, Dark was released as a film starring Dorothy McGuire, Robert Preston, Shirley Knight, Eve Arden, and Angela Lansbury.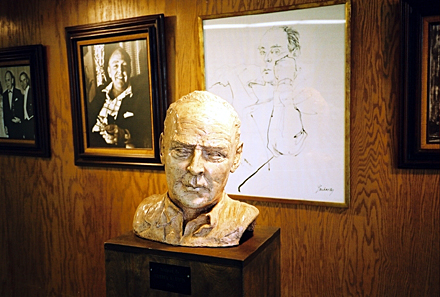 Bust of Inge at the William Inge Center for the Arts


With four straight Broadway hits that were each turned into a motion picture with the biggest stars of the time, Inge was hailed as another Tennessee Williams. However, several works were thereafter met with poor reviews. His only commercial success during this time was his first screenplay Splendor in the Grass (1960). It starred Natalie Wood, Pat Hingle and Warren Beatty. For this, he won an Academy Award for Best Screenplay.

Inge continued to write several full-length plays, two novels, screenplays, a pilot for a television series, and a number of one-act plays. None, however, received widespread success. Believing he could no longer write, he fell into a serious depression and in 1973, at his home in Hollywood Hills, took his own life.

He is buried in Independence; his gravestone epitaph reads simply "Playwright."