One of the 8 Wonders of Kansas Customs

The Custom:
Commemorating Veterans Day.
What makes this a unique custom in Kansas? Emporia is the Founding City of Veterans Day as an Emporia man changed Armistice Day into Veteran's Day.
THE BEGINNING OF VETERANS DAY
Emporia shoe repairman, Alvin J. (Al) King, and his wife Gertrude, helped raise a nephew, John E. Cooper, who was serving as part of the Third U.S. Army in Germany when he was killed in action on December 20, 1944.
Grief over the young man's death started King looking for a way to honor not only his nephew but all veterans who fight during wars and serve during peace.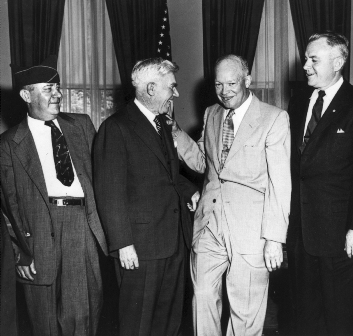 King began his campaign to change an existing national holiday, Armistice Day, to Veterans Day. He gained support from U.S. Representative Ed Rees of Emporia who agreed to take King's idea to Washington, D.C. The bill passed the House and Senate and President Eisenhower signed the bill to establish Veterans Day as a national holiday.
The nation held its first Veterans Day on November 11, 1954.
Photo courtesy Emporia CVB
EMPORIA
: THE FOUNDING CITY
Fifty years later, the city was declared the Official Founding City of Veterans Day by Congress on October 31, 2003. Former Convention & Visitors Bureau director Liz Martell and the All Veterans Tribute committee did the bulk of the work to gain Emporia this designation.

It's now part of school curriculum to have students participate in a Veterans Day essay and poster contest. Local veterans present educational programs in area schools. The designation brings more visitors to Emporia and has raised the level of pride by citizens.

Note: The city is in process of mounting brand new signs at the four main entrances to Emporia that will say "Founding City of Veterans Day".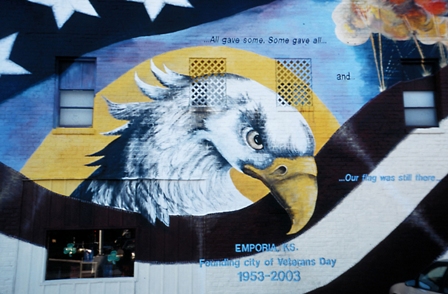 Mural painted on side of business in Emporia to commemorate the
50th Anniversary the Founding City of Veterans Day. Photo KSF

LYON COUNTY MUSEUM, 118 E. 6th
Open Tuesday-Saturday 1-5 p.m.
A display at the local museum tells about the effort to change Armistice Day to Veterans Day.
VETERANS MEMORIALS
All Veterans Memorial
933 S. Commercial St.
Dedicated on May 26, 1991, the first Memorial in the nation to honor all Veterans from all Wars. Features a World War II Sherman Army Tank, Memorial to Emporian Sgt. Grant Timmerman, Vietnam Veterans Memorial with a Huey Helicopter, Purple Heart Memorial and the ships bell from the USS Emporia. In November of 2003, a monument was dedicated to recognize the latest wars, Operation Enduring Freedom and Operation Iraqi Freedom.
Civil War Veterans Monument


Fremont

Park

, 4th Ave. and Union St.


The Memorial is located on Union just north of the railroad tracks. Wording on the monument includes, "Lest We Forget, Erected by W.R.G. No. 70 and Citizens of Emporia, To Our Silent Victors, In Memory Of Our Nation's Heroes."
Civil War Veterans Monument
Maplewood & Memorial Lawn Cemeteries
2000 Prairie St.


This memorial featuring two cannons on each side of a flagstaff was dedicated on Memorial Day in 1918 by the Grand Army of the Republic.
Hispanic American World War II Veterans Memorial


St.

Catherine's Church, 205 S. Lawrence St.


This memorial rededicated in 2005 for the Mexican American veterans who fought and died in World War II. Plans are underway for landscaping, flags and an additional monument with the names of the veterans.
Spanish-American
War Memorial
Peter
Pan Park
, S. Neosho St. and Kansas Ave.


This Memorial is located west of the Flint Hills Optimist's ball diamond parking lot at S. Congress., and Aspen Drive. The wording on the monument is "In Memory of the United Spanish War Veterans." The Memorial is nestled among the trees and flanked by two rock benches.
Veterans Hall of Honor
Emporia State University
,
Memorial Student Union
Monday-Friday 8 a.m.-8 p.m.; Saturday-Sunday 12-6 p.m.
www.emporia.edu/memunion


The ESU Memorial Union stands in tribute to students and alumni who fought and/or died in armed conflicts throughout the world. The Veterans Hall of Honor, on the second floor, serves to honor and respect the various branches of the service.



Source: Emporia Convention & Visitors Bureau visitors guide and Susan Rathke