One of the 8 Wonders of Kansas Customs



The custom
:
Displaying an ethnic handicraft
Great example of this custom:
Lindsborg! See how they display traditional and pop-art Dala Horses!
Seldom is a local custom so alive, boldly displayed and nationally acknowledged as the Dala (pronounced daw/-luh) horses in the Swedish-immigrant-founded town of Lindsborg.
THE SWEDISH HANDICRAFT SYMBOL
The Dala horse, long the symbol of Swedish handicraft, is found all over Lindsborg, a town of 3,300. Dala horse plaques with family names hang from many front porches. The symbol is used on coffee cups and city trucks.
WHAT IS A DALA HORSE?
The Dala Horse is a wooden tail-less, stubby horse with origins that date back to early Swedish loggers and miners that whittled this horse for their children during long cold Scandinavian nights. The design derives its name from the Dalarna Province of Sweden, where the wooden horses, colorfully and decoratively painted, were popularized in the 1800s.
In fact, Dala horses were believed to have been brought to Lindsborg with the Swedish settlers who founded Lindsborg in 1869. As Lindsborg began to celebrate its Swedish heritage with a greater emphasis in the 1960s, they adopted the red-coated Dala horse as a welcome symbol and community identity icon.
By the 1990s, the traditional Dala horse symbol -- orange in color decorated with white flowing kurbits (squash vines, a Swedish symbol of blessings found in folk painting in the Dalarna Province) -- had been adapted in hundreds of daily uses, large and small in Lindsborg. In 2000, the community came up with a pop-art twist on the traditional handicraft. The name for the pop-art Dala horses? Wild Dala Horses!
WHAT IS A WILD DALA HORSE?
Why are these Dalas wild? They are most decidedly unconventional. To begin, they are pony sized and made of fiberglass. In the pop art tradition that started in the U.S. with the cows on Chicago's Michigan Avenue, each of the Wild Dalas of Lindsborg are decorated by local artists. Each is publicly displayed, primarily outdoors, and available to be toured and photographed. Each has a distinctive pun-filled name, from the sheer play on words like Dalallama Telecomma to the horse honoring the town's summer outdoor theater, Hello Dala!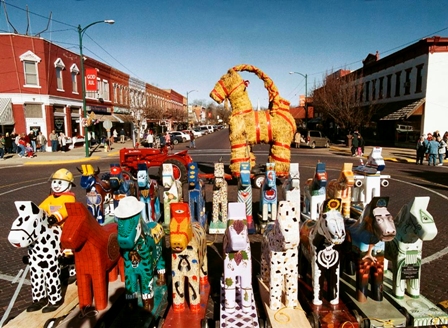 Photo courtesy Jim Richardson
A free map is offered so that visitors can find each and every horse. Further, the Wild Dala horses have created opportunities for local humor and public song. Each horse was unveiled with a short piece of readers theater and a parody song which gave a tip of the hat to the town's performing arts heritage.
Always fun, never too serious, the Wild Dalas established themselves as the new twist on an established custom. From 2000 to today, the Willd Dalas of Lindsborg have grown to a herd of 30. Hailed by publications ranging from
Dagens Nyheter
in Sweden to
USA Today
, the Wild Dalas continue to attract visitors who gleefully mug with the horses for photographs. With ongoing community efforts to maintain the current herd and expand it in 2010 and beyond, the Wild Dala horses join with the traditional Swedish Dala horse to explain, in a quirky sort of shorthand, a complex set of ideas and customs called Lindsborg.
Source: Kathy Richardson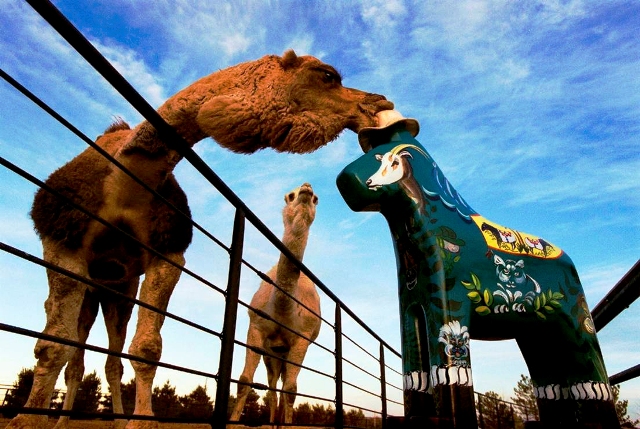 Photo courtesy Jim Richardson