Ameila Earhart is one of the 8 Wonders of Kansas People because she was the first aviatrix to fly solo across the Atlantic and to set many other aviation records. 1897-1937.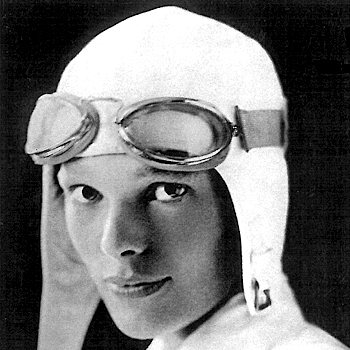 Photo courtesy Amelia Earhart Birthplace Museum


Amelia Mary Earhart, one of the most well-known Kansans, was born in Atchison on July 24, 1897. The Earhart girls lived with their wealthy grandparents in Atchison and attended a private school until 1908 when the family moved to Des Moines.

While working as a social worker in Boston in the early 1920s, Earhart learned to fly. She bought her first airplane, a Kinner Airster, in 1921 and broke women's altitude record the following year. The 1928 trans-Atlantic flight of the Fokker Friendship launched Earhart's career and established her name. As a passenger on the flight, she became the first woman to cross the Atlantic Ocean by air.

Because she had not piloted the Friendship flight, Earhart wanted to prove herself and prepared for a solo flight across the Atlantic. Aboard her Lockheed Vega, Earhart broke records with her 14-hour-56-minute flight from Newfoundland to Ireland in May 1932. For being the first female aviator to cross the Atlantic, she received the Distinguished Flying Cross presented by President Herbert Hoover.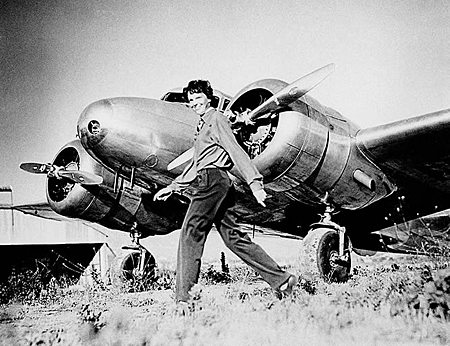 Amelia with her Lockheed L-10 Electra Airplane. Photo courtesy Amelia Earhart Birthplace Museum

That year Earhart was elected president of the Ninety-Nines, an organization of women pilots. In the following years she continued to set records including being the first woman to fly solo nonstop coast to coast and the first person to solo over the Pacific from Honolulu, Hawaii, to Oakland, California.

Purdue University helped finance Earhart's next plane, the Lockheed Electra, and she began planning her 29,000-mile flight around the equator. On March 17, 1937, Earhart and a crew of three others--Fred Noonan, Harry Manning, and Paul Mantz, departed from Oakland, California, headed west on the first leg of the flight. After a layover of three days in Honolulu, Hawaii, Earhart had difficulty during takeoff the the Electra sustained heavy damage. The plane was returned to the Lockheed facility in California for repairs.

On June 1, 1937, Earhart and Noonan departed from Miami, Florida, and headed east. Putnam was planning a celebration for the team's return on July 4 in Oakland. At approximately 22,000 miles into the flight, they landed on June 29, 1937, in Lae, New Guinea. On July 2 they departed for their 2,556-mile flight to Howland Island, in the middle of the Pacific. The U.S. Coast Guard cutter, Itasca, was assigned to track the plane during this leg of the flight. The last transmission received was a 8:43 a.m. and the Electra was lost.

Numerous searches were conducted to learn the fate of Earhart and Noonan, but no conclusive evidence has been found. Some say the plane ran out of fuel and was ditched in the ocean. Others theorize that Earhart crash landed on one of the tiny islands in the Pacific. The mystery of Earhart's disappearance continues to inspire books, motion pictures, memorial activities, and archeological investigations.


Much more than a pilot, Amelia was also an author, a clothing designer, a teacher and one of the biggest product endorsers of the time.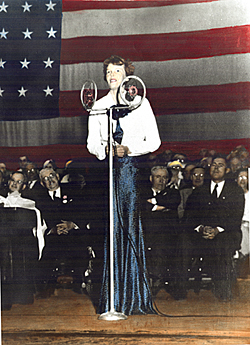 Earhart in her hometown of Atchison, 1935. Photo courtesy Amelia Earhart Birthplace Museum





Source: www.kshs.org/portraits/earhart_amelia.htm
POINTS OF INTEREST ABOUT AMELIA EARHART IN KANSAS


ATCHISON
Amelia

Earhart Birthplace Museum

,

223 N. Terrace. 913.367.4217. Open Monday-Friday 9 a.m.-4 p.m.; Saturday 10 a.m.-4 p.m.; Sunday 1-4 p.m. Tour the home of Amelia's grandparents where she spent much time as a child. Find many artifacts here and interpretive signage about Amelia's life.
Atchison

County Historical Society Museum,

200 S. 10th. 913.367.6238.Open Monday-Friday 8 a.m.-5 p.m.; Saturday 10 a.m.-4 p.m.; Sunday 12-4 p.m. More Amelia Earhart displays here.
Amelia Earhart Earthwork by Stan Herd and statue. Located at the International Forest of Friendship, From K-7 south, turn right on Patriot, then immediately left on Price. Price veers west and becomes 278th Road. Go 1/4 mile south on 278th Road, then 1/2 mile west on 274th to Warnock Lake entrance. See the 1997 earthwork from a viewing stand and find the life-sized bronze statue at the Forest of Friendship.
Amelia Earhart Festival.

Each year Atchison honors Amelia with a festival

in her honor!
HISTORICAL PORTRAYAL OF AMELIA EARHART

Ann Birney of Admire does a historical portrayal of Amelia Earhart.