John Brown's abolitionist crusade in Kansas had a dramatic impact on both state and national history and kept slavery in the forefront of political discussion which sparked the Civil War. 1800-1859.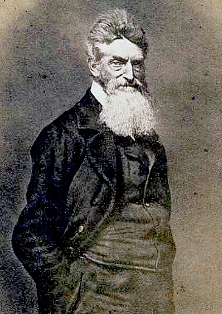 John Brown an abolitionist who used violence
to end slavery lead several antislavery attacks during the territorial period of Kansas. Photo taken between 1850 and 1859, courtesy Kansas Historical Society

Since his early childhood in Ohio, Brown had taken to heart the doctrine that all of "God's" creations should be free. He used his home to hide runaway slaves and often spoke openly for the abolition of slavery. He followed five of his sons to Kansas Territory in October 1855 and soon made his presence known as a religious man and a military leader.

John Brown led Free State Forces at the Battle of Black Jack on May 2, 1856. Though he was outnumbered four to one, won the battle against pro-slavery forces.

It was later in May 1856 that his most noted adventure in Kansas occurred. After the sacking of Lawrence by pro-slavery forces Brown sought revenge by leading a raid against proslavery activists during which five pro-slavery activists were killed. However, Brown spared the lives of two men, and one young pro-slavery activist during the raid, which became known as the Pottawatomie Massacre. This action was denounced by both the free-staters and pro-slavery forces.

John Brown's identity as a Kansan was firmly established at the Battle of Osawatomie on August 30, 1856. This was the largest armed conflict of Bleeding Kansas, during which John Brown and approximately 30 others attempted to protect the town of Osawatomie against approximately 250 pro-slavery forces. Although Brown lost the battle, from that point on he was known as "Osawatomie Brown of Kansas."

He left Kansas Territory never to return in early 1859. His plan to capture the armory at Harper's Ferry in Virginia and ignite a slave insurrection failed. Brown was tried for treason and executed by hanging on December 2, 1859. His stirring speeches at his trial and brave composure while being executed, made Brown a martyr for the abolitionists. Poems, ballads and songs were written in his honor and his legend grew in popularity through the Civil War.

He was called a "misguided fanatic" by Abraham Lincoln, a "blood-thirsty murderer" by Jefferson Davis and considered a 19th-century "Christ" by intellectuals like Emerson and Thoreau.

Sources: www.kshs.org/portraits/brown_john.htm and Grady Atwater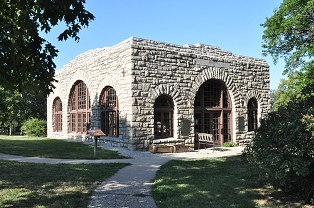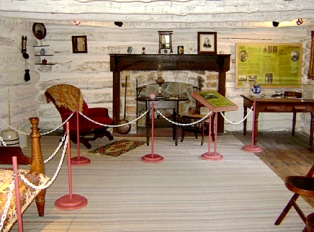 Adair Cabin, located at the John Brown Museum State Historic Site. Exterior photo courtesy Travis Perry; Interior photo courtesy Dr. Doug McGovern.
POINTS OF INTEREST ABOUT JOHN BROWN IN KANSAS

Osawatomie
John

Brown Museum State Historic Site, 10th and Main.

913.755.4384. Open Tuesday-Saturday 10 a.m.-5 p.m., Sunday 1-5 p.m., or by appointment A stone pergola encloses the Adair Cabin, which was John Brown's headquarters during "Bleeding Kansas." The Adair Cabin was owned by John Brown's half Sister Florella Adair and her husband, Reverend Samuel Adair.
John

Brown Park, 10th and Main. The Battle of Osawatomie was fought on this site on August 30, 1856.
John Brown statue

, 10th and Main. A life-sized statue of John Brown, sculpted by George Fite Waters, stands near the park entrance.
Soldiers' Monument

, 9th and Main. Five town defenders killed during the Battle of Osawatomie, including John Brown's son Frederick, are buried here.
Osawatomie

Museum, 628 Main. 913.755.6781. Open Tuesday-Sunday 1-4 p.m. In a reconstructed Missouri Pacific depot, are many railroad and local history displays, including a display about John Brown.
TOPEKA
Kansas State Capitol

, 300 S.W. 10th. See John Steuart Curry's mural

Tragic Prelude

, featuring John Brown.