The Cooper Barn is one of the 8 Wonders of Kansas Architecture because it is purported to be the largest barn in Kansas and because it was one of the finest show cattle barns of its time.
The grand barn is 66 feet wide, 114 feet long, and 48 feet high with a gambrel roof. It was built at Breton, sixteen miles northeast of Colby, in 1936 by northwest Kansas men. It is 15,048 square foot in size.
The imposing cattle show barn was part of the Foster Farms owned by Benjamin Foster of Kansas City, Missouri, and housed as many as 75 head of Foster Farm's prize-winning registered Hereford cattle. Their goal was to have a show and breeding herd equal to the best.
Premium lumber, purchased in the late 1920s from the Foster Lumber Company, was placed in storage until construction could begin. An auditor for Foster Lumber Company, Harold Mangus, had a natural architectural ability and helped with the impressive barn design. Diagonal under-sheeting was used for increased support and insulation and house siding was used on the exterior for its attractiveness and as advertising for Foster Lumber Company. The cathedral-like loft was used for hay storage. Four openings in the loft floor allowed hay to be pushed down to the runway below for distribution. The three, six foot tall metal cupolas, provided ventilation for the haymow.
Gary Cooper and his sister, Mary Cooper Pawlus, generously donated the Cooper Barn to the Prairie Museum of Art & History. On May 15, 1992, after months of fundraising and planning, the barn made the epic 16-mile journey to its present location at the museum in Colby.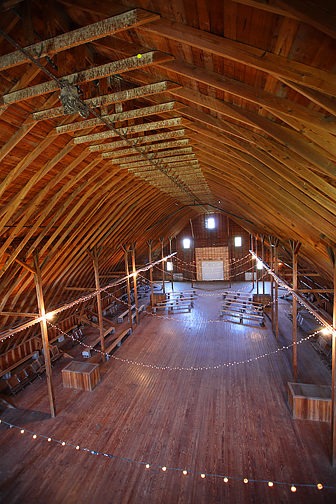 An outstanding agricultural exhibit is located in the barn and anyone visiting the museum may tour the barn. It is also currently used for dances, weddings and other memorable community celebrations. At its present location adjacent to I-70, the enormous Cooper Barn stands today as a well-recognized landmark and as a lasting tribute to the enduring prairie spirit.
Open: See website for hours.