The Lebold Mansion was voted one of the 8 Wonders of Kansas Architecture because it is a rare surviving example of the architectural style known as"Italianate Tuscan Villa
Most villas built in the United States were constructed of wood in an "L" shape floor plan. The much rarer villa style common in Italy but not here in the U.S. is made of stone and cube shaped, thus making the Lebold Mansion a rare architectural specimen not only to Kansas but to the entire United States.
One of the most interesting features of the Lebold Mansion is the architects re-use of the Hersey stone dugout. When the mansion was built, architects used the stone dugout that had been there for 23 years as the foundation to support the weight of a 65-foot tall
stone tower. The Herseys were the founding settlers of Abilene in 1857. The dugout can still be seen in the basement of the mansion.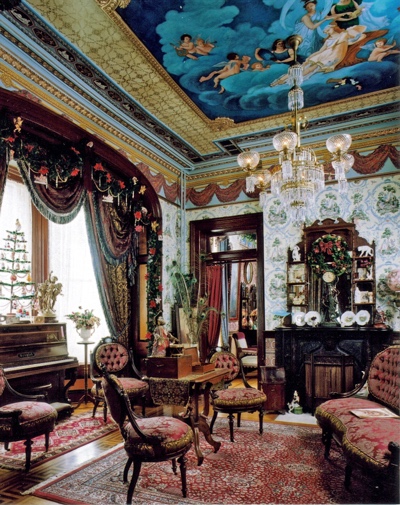 Listed on the National Register of Historic Places in 1973, the Lebold Mansion was constructed of native Kansas limestone. The brownish color face stones were quarried in Russell County, 100 miles away. The corner quoin blocks and lintels over doors and windows were quarried from white limestone in Ellis County. The color of the Russell limestone is of interest to note, as that brownish yellow hue can only be found in Kansas.
In 1880 Kansas newspapers reported "the finest house west of Topeka was to be constructed in Abilene by banker C.H. Lebold." In many ways the Lebold Mansion some 128 years later is still true to that claim, but for far different reasons than originally stated.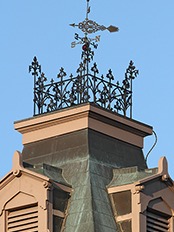 Lebold Mansion has played a key role in the evolution of Abilene in many respects. It served as a fine residence to the original builder C.H. Lebold and second owner G.C. Sterl a local merchant. Then, in the 1920s, it was purchased by C.L. Brown of the United Telephone Company and became a residence for single telephone operator girls. In the 1930s, during the Great Depression, it was used for a very worthy and charitable cause by C.L. Brown as a children's orphanage.
During World War II it became a boarding house for soldiers. It then served as an apartment building in the 1940s-60s as a place for local families to start their lives anew after the war.
Today Lebold Mansion is considered to be one of the finest Victorian Decorative Art Museums in the Midwest.