The St. Joseph's Catholic Church in Damar is a finalist for the 8 Wonders of Kansas Architecture because it is one of the best examples of a Romanesque Revival style church in Kansas and has a stunning interior.
It has several unique construction features, including cast concrete pillars and arches on the exterior and interior columns decorated with scagliola to look like polished marble (a process used in the Kansas State Capitol Building and other public structures in the state, of which St. Joseph's is the only church in the state with such extensive scagliola interior decoration). The building is 128-feet long, 55-feet wide at the transepts, and 90 feet to the top of the cross on the bell towers. The twin symmetrical square bell towers are a feature and can be seen for miles.
The building construction utilized twenty train car loads of Lucas limestone quarried near Waldo for the outside walls, one hundred and thirty cords of native rock from a quarry eight miles west of Damar for the inside walls, four thousand concrete blocks for the basement and foundation, plus, twenty four hundred sacks of concrete and two thousand loads of sand.

Construction of the present church, designed by architect Henry Brinkman of Emporia, began in 1912 under direction of Father S. F. Guillaume, with F. A. Rothenberger as head stone mason and Cidney Browne as head carpenter. Most of the labor was donated by parishioners. It was completed in stages at a cost of nearly $30,000, and the first mass was celebrated here in 1917. Improvements, including the beautiful stained-glass windows, interior decorating, and copper roof were added in later years.
Restoration work on the church was completed in 2007, and today the structure is in immaculate condition. The double-spires draw many visitors to view this magnificent architecture.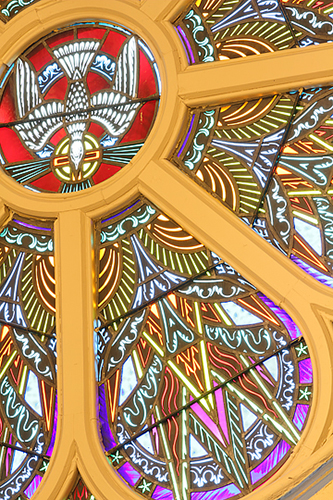 Damar is a French-Canadian settlement established in the 1880s.
E-mail: benoitt@ruraltel.net
Open during daylight hours