The Tiffany Windows in the First Presbyterian Church in Topeka are an 8 Wonders of Kansas Art finalist because the 10 picture windows are Louis Comfort Tiffany originals installed in 1911 and because of how Tiffany created color to be inherent in the glass.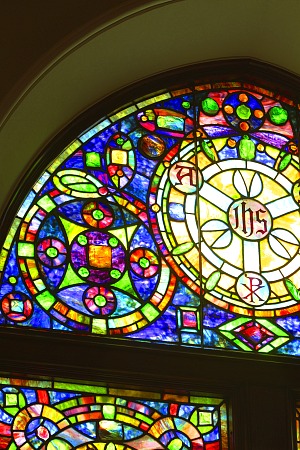 Louis Tiffany coined the word "favrile," and later had it established as a trademark of the Tiffany Studios, to apply to the special glass he created. Tiffany discovered that to create glass, where color is inherent within the glass rather than applied, it was essential to have his own glassworks to control chemical experiments and glass productions. He established a new glassworks factory at Corona, Long Island in 1892. In these furnaces was made a pot-metal glass which was forced into folds and wrinkles while in a molten condition. These folds were adaptable to many forms of drapery. The development of iridescent colors and all the varied hues and shades in Favrile glass called for a great chemical knowledge on the part of Louis Tiffany. To achieve these colors he added cobalt, manganese, gold, and other metal oxides.
Master Artisan Tiffany came to Topeka to see the First Presbyterian Church before drawing any sketches and planned the color scheme for the walls and sky lights to harmonize with the completed windows. He later sent watercolor sketches for approval. During construction, the windows were under his constant supervision.
Wishing to perpetuate the name of her husband, Jonathan Thomas, Mrs. Josephine Brooks Thomas, his widow, presented the Thomas Memorial (Tiffany) Windows to the church in 1911.
Mrs. Thomas worked closely with Mr. Tiffany to get things right. About this same time, Mrs. Jane Stormont left a legacy for a Tiffany window at the east end of the church. These two sets of windows were planned to make one harmonious scheme in design and coloring.
Source: The Tiffany Windows booklet, First Presbyterian Church, Topeka Kansas
E-mail: vbrenden@fpctopeka.org

Hours: Monday-Friday 8:30 a.m.-4 p.m.
Admission charge: No fee.