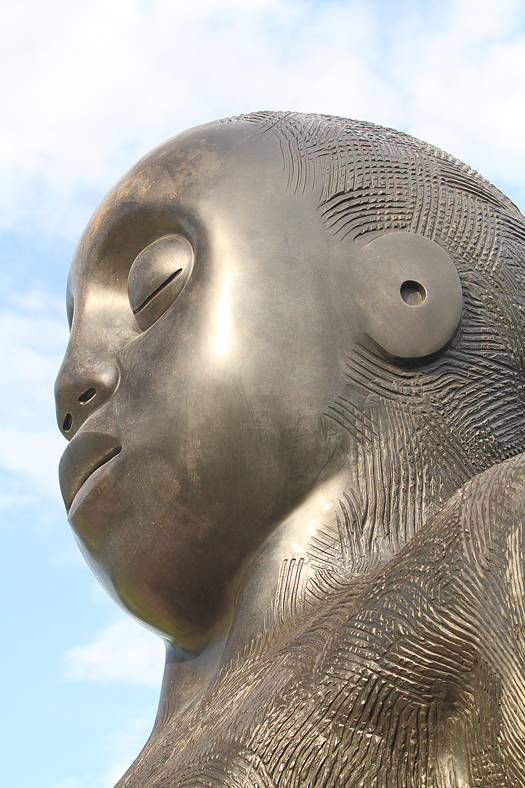 The monumental bronze sculpture Dreamers Awake is an 8 Wonders of Kansas Art finalist because sculptor Tom Otterness is now internationally acclaimed and because it balances Tom's disarming sense of humor with his desire to stimulate public dialogue about our basic structures of life and society.
This outdoor sculpture is located on the southeast side of the museum. To fully see and appreciate this sculpture one must walk up to it and around it.
Dreamers Awake offers a tableau of two giant figures whose broken and fragmented bodies are overcome - like pharonic ruins by grave robbers - by a swarm of chubby little cartoon characters. One of the giant figures, a female, stands approximately fifteen feet tall and is missing one arm. Her companion, a male figure, lies at her feet in eight pieces (head, hands, feet, heart, leg fragment, and footprint), the sum of which, mysteriously enough, does not add up to a complete body.

The composition evokes a cinematic scene of the discovery of two dilapidated human colossi from some lost civilization as a lively group of seven half-human, half-Pillsbury Doughboy Lilliputians explore the heroic remains. One peers into the male giant's ear. Another points to the giant like a tourist showing off to his friends. Then, wasting no time on romantic nostalgia, the little creatures greedily commandeer some archaeological loot and cart off a large bronze footprint made by the giant.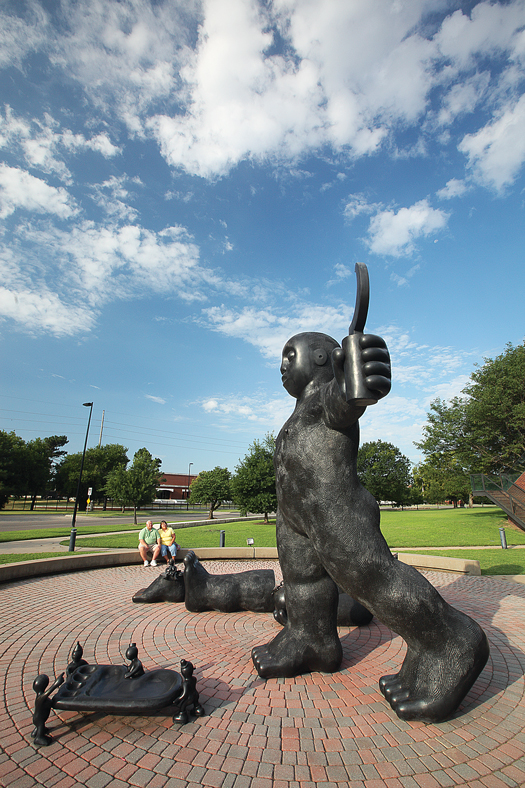 Samuel P. Dinsmoor's Garden of Eden in Lucas was one of numerous visionary or folk art sites visited by Otterness on road trips taken from the late 1970s through the mid 1980s. As an artist intent upon making art about life's messy predicaments in defiance of modernist purity, Otterness identified strongly with the so-called "outsider" artists and with Dinsmoor in particular.
Otterness' multiple references to popular art engage viewers of all ages at some level, from the purely sensory to the intellectual. As a public audience, we are enticed by familiar signs and by narrative details, but we are ultimately held by the challenge to fashion our own answers to the eternal dilemmas of the human condition.
Tom Otterness was born in Wichita in 1952. He started commissioned work in 1991 and completed Dreamers Awake in 1995. Perhaps this commission gave his career a boost. He started doing commissioned work in numerous states across the nation as well as in several foreign countries. He has created a sensation with his many New York projects, especially those in Times Square, Battery Park, and the 14th Street Subway.
Source: courtesy of the Wichita Art Museum
E-mail: gleissners@wichitaartmuseum.org
Open: Sunday noon-5 p.m.; Tuesday-Saturday 10 a.m.-5 p.m.

Admission charge: Adults $5; Seniors $4; Youth 2-17 $2. Free admission on Saturday.
To see more of Otterness's work including lots of fun sculptures go to: