Wichita High School North is an 8 Wonders of Kansas Art finalist because of Kansan Bruce Moore's colorful bas-relief sculptures and decorative panels that adorn the exterior of the high school.


In 1928 fifteen acres were purchased at Thirteenth and Rochester and Wichita High School North was begun.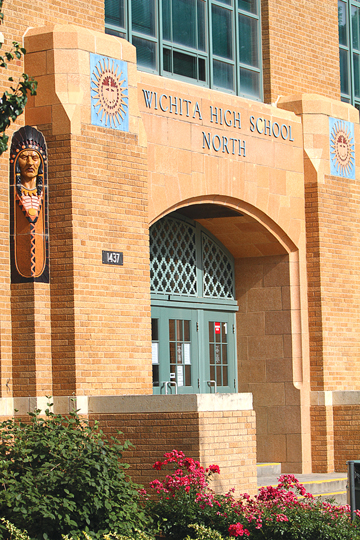 When the plans for North were being developed, three sketches were submitted to the board of Education. These plans were Romanesque, Gothic, and American. The Board unanimously chose the modern American style of architecture, and Glen H. Thomas was designated the architect. The idea for the Indian and Pioneer theme which is expressed on the exterior of the building was drawn up in the original plans. Lawrence W. Byers was instrumental in this part of the designing.

Bruce Moore

, a native Kansan, constructed the small scale plaster models of the figures which were to be used. The models were carefully studied, and color was applied to them so that the architects could study the actual effect in sunlight and shadow and the actual proportions and harmony. The final full-size figures were developed form the small models by the Terra Cotta Ornamental Works.
The decorations of the building are not of meaningless carvings of stone but are arranged to tell a story of yesteryear. The tower is the central point of interest. In the panel above the arched entrance was placed the pioneer plowman with his yoke of oxen in the foreground, the setting sun and distant hills in the background, typical of the labor and plodding determination that were required to overcome and conquer the hardships of frontier days. The Indian chief was placed back in the corners near each entrance, watching with immobile countenance the tedious progress of the white man. Rising above all else atop the pylons and on all eight corners of the towers were placed the Indian scout and the eagle. Their duty is to watch, and in watching position they seem to gaze with interest and wonder on the activities of an advancing city and country. In a panel, also at the top of the tower, was placed the Indian hunter engaged in the hazardous pastime of shooting down with bow and arrow the lumbering, bellowing, and stampeding buffalo.
Capping the pylons at the entrances to the gymnasium and the auditorium are placed the buffalo, basking peacefully in the sun of the western day. At all entrances an American sun design, a spot of color and light to cheer those who enter or leave, was placed. The frieze, patterned after an Indian rug design, was formed to permit the use of the lonely Indian tepee, the Kansas sunflower, and here and there the buffalo again, in full silhouette against the deep blue western sky.
Source: Courtesy of Wichita High School North
Internationally-known sculptor Bruce Moore was born in Bern Kansas in 1905.
Location: 13th and Rochester Streets, Wichita
E-mail: vjohnson1@usd259.net