Crawford County Fried Chicken restaurants, as a group, are one of the 8 Wonders of Kansas Cuisine because
these six chicken restaurants have made Crawford County legendary for fried chicken dating back to the 1930s.
In chronological order:
Chicken Annie's Original,
1143 E. 600th, 620.231.9460, Pittsburg, KS 66762.
Tuesday-Friday 4-8:30 p.m.; Saturday 4 p.m.-9 p.m.; Sunday 11 a.m.-8 p.m.




Chicken Mary's,

1133 E. 600th, Pittsburg, KS 66762. 620.231.9510.




Tuesday-Friday 4-8:30 p.m.; Saturday 4-9 p.m.; Sunday 11 a.m.-8 p.m.



Gebhardt's Chicken and Dinners,
124 N. 260th Road, Mulberry, KS 66756. 620.764.3451, 620.249.9575. Friday-Saturday 4-9 p.m.; Sunday 11 a.m.-7 p.m.; Monday 4-8 p.m.


Barto's Idle Hour
,

210 S. Santa Fe, Frontenac, KS 66763. 620.232.9834.
Tuesday-Saturday 4-10 p.m. Longer hours for the lounge.
Chicken Annie's Pichler's

, 1271 S. 220th, 620.232.9260, Pittsburg 66762.

Tuesday-Friday 4-8:30 p.m.; Saturday 4-9 p.m.; Sunday 11 a.m.-8 p.m.


Chicken Annie's Girard
,

498 E. K-47, Girard, KS 66743. 620.724.4090.
Wednesday-Thursday 4-8:30 p.m.; Friday-Saturday 4-9 p.m.; Sunday 11 a.m.-8 p.m.
A SUMMARY OF EACH PLACE


Chicken Annie's Original, Pittsburg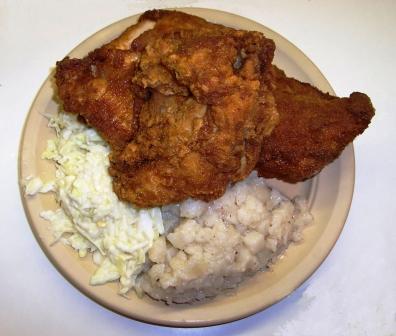 Ann Frances Rehak met Charlie Pichler in 1914, when she left home to do the
housework at the Pichler's. In the early 1900's the only work available to young ladies was housework. Ann and Charles were married on April 28, 1917.
They started their married life in a three-room house in Yale, a mining camp called No. 13, five miles north of Pittsburg and 3 1/2 miles east. Charley was a miner and worked in several of the area mines. Out of this union, four children were born: Ann Irene, Wilma, Carl, and Louella.

Charley was in a mine accident in March 1933 at 24 Western. He was severely injured, one leg was crushed and the other had to be amputated below the knee. It was now up to Annie to become the breadwinner of the family. For a short while she worked as a seamstress for the WPA, which was a government project during the depression. Then she started selling ham and veal cutlet sandwiches for 15 cents and home-brew. This was during prohibition days and many of the foreigners made their own wine, whiskey, and home-brew.
Ann started serving chicken dinners in a small way in 1934. In the beginning she raised her own chicken, but as the demand became greater, she purchased chickens from neighboring farms. She also raised peppers and pickled them. Her chicken dinners consisted of three pieces of chicken, German potato salad, Cole slaw, a strip of pickled pepper, a slice of tomato, and bread, all for 75 cents. All of the preparation of the food was done by hand -- the chickens were slaughtered, dressed, and breaded. While Anne took care of the purchasing, cooking, finances, etc., Charley did some of the preparing of the food and was also the bartender and cashier.
In 1963, Annie and Charlie decided to retire and let their children take over the operation. A new building in 1972 with increased seating, and an enlarged menu was added to better serve the customers. What began in 1934 continues today with Annie's children and grandchildren.
Saturday nights were quite lively as the customers not only enjoyed their meal, but also could drink beer and dance to the jukebox. As the business grew the little three-room house had to be remodeled and several rooms were added. People would come out and had to wait, with the picnic tables and big yard, they didn't mind.
In 1961, Annie and Charley retired, passing the business on to their daughter, Louella, and her husband Louis Lipoglav, and their son, Carl and his wife, Rosemary. By 1972, the country home was no longer adequate for the prospering business. A new building was built down the street from the old Pichler house.

On May 10, 1978, Charley died and Annie passed away on September 25, 1991, leaving the family tradition to their children and grandchildren.
Chicken Mary's, Pittsburg

Joe and Mary Zerngast started Chicken Mary's in the early 1940s. Joe, a German immigrant, found work in the coal mines in Pittsburg. However, due to poor health, he was no longer able to work in the mines. In order to help support the family, Mary turned to what she knew best, cooking. She prided herself in the fried chicken, German potato salad, and Cole slaw and enjoyed preparing hot meals for Joe's friends.


In the beginning, the Joe's help, Mary served customers in their home, seating them at the kitchen table. The Zerngasts had no set operating hours, so whenever Mary heard a knock on the door, no matter how early or late, she was ready and willing to prepare her fabulous chicken. Soon, word spread about the great food and it became impossible to seat everyone in the Zerngast home. Consequently in 1945 Joe and Mary purchased the Foxtown Mining Camp Pool Hall and moved it to a location just west of the current Chicken Mary's.
The new restaurant, originally named "Joe's Place," boasted ten tables, a potbellied stove and an outdoor toilet. Mary took pride in her new place. Even though she worked extremely long hours, she was never too tired for her customers when it came to engaging in lively conversation. Soon Zig and Mickey, their children, were recruited to help out on weekends.
In 1961, Joe died, but Mary with the help of her son, Zig, and he wife Tootie, continued to run the restaurant. In that same year, Mary suffered a stroke and the business closed for six months. With her guidance, Zig and Tootie re-opened on weekends only.
In 1966, the current restaurant was built and opened full-time. Tootie and Zig were joined by their son, Larry, and his wife, Karen. Mary helped in a limited capacity until her death in 1980.
The present generation maintains close ties to Mary's original business. Zig and Tootie's daughter, Donna, and her husband, Anthony Pichler, own and operate Pichler's Chicken Annie's.
After a lengthy illness, Zig died in May 1990. Tootie, Larry and Karen continue. Their loyal and capable manager Laura Brooks, a member of their restaurant family for over 35 years, her husband, Harold, and assistant managers Joyce and Lori Lloyd, now share the helm with the Zerngasts to ensure the fine heritage of Chicken Mary's.
Source: Chicken Mary's menu
Gebhardt's Chicken and Dinners, Mulberry

(Crawford County Convention & Visitors Bu
reau director Craig Hull interviewed Meg Gephardt, the daughter of the late Ted Gephardt and her mother Maycle Gephardt, for the following information).
Upon receiving his honorable discharge from the United State Army in 1942 in Kansas City, Ted Gebhardt married Maycle and they decided to move back to Ted's home near Mulberry and run the family farm (where the present day restaurant is located in rural Crawford County three miles west of the Highway 47 and Highway 69 junction). Ted and Maycle purchased "The Little Honky Tonk" bar, a small watering hole located next to the farm and operated it until 1946. After that, Ted and Maycle decided a "honky tonk" was not the best atmosphere to raise kids in, so they opened the restaurant on Sept. 16, 1946. Meg's Aunt Tessie Goodman and her Grandmother Margaret Gephardt started putting recipes together and through trial and error, they came up with a menu that featured fried chicken. Meg said it was her Dad's signature dinner and still is today. She said the Gebhardt recipe doesn't include as much garlic in the batter similar to Chicken Annie's and Chicken Mary's, but people still enjoyed it, and they also offered the German Slaw (with garlic) and German Potato Salad (also with garlic). She said they also offer a skinless chicken they can prepare with garlic.
The restaurant was open seven days a week and was run by Maycle, Tessie and Margaret while Ted farmed seven days a week.

Ted Gephardt was killed in an auto accident in 1999 and Meg said her mother was determined to close the doors at that time. Meg stepped up immediately and took over all operations since she was practically raised in the restaurant.
Barto's Idle Hour

, Frontenac


Craig Hull, Crawford County CVB director, interviewed Barbara Barto whose husband Doug and his family established the business in the early 1950's.
Ray Barto opened Barto's Idle Hour in the early 1950's to satisfy the need for what he deemed "a place to provide weekend entertainment." Barto's signature was the plethora of polka bands that performed there every Friday and Saturday night.
In 1965, Ray opened a chicken restaurant right next door to the bar despite the presence of three other established chicken restaurants in the county -- Chicken Annie's, Chicken Mary's and Gephardt's.
The popularity of the place grew because it offered a little of something for everyone -- food from the descendants found in Frontenac including the strong Italian presence, German influence and Slavic, polka music, and a social spot for all ages.
Ray's approach to his fried chicken recipe (the batter) was discovered on trial and error, but it is most definitely a different taste than the other tastes found in Crawford County. He also serves German Slaw, German Potato Salad, baked or fried potatoes and Frontenac Bread.
A variety of local polka musicians have performed and continue to perform live every Friday Saturday night including Cotton Westhoff, Bob Stewart, Jimmy Karlinger, Joe Nepote and Johnny Ziebert.
Barto's is still located in its original location established in the early 1950's.

Chicken Annie's of Girard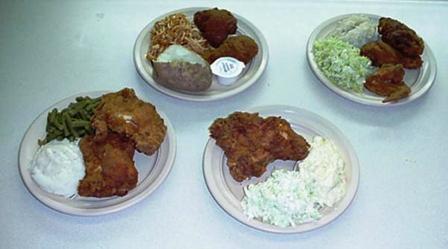 Established in 1971, Louis and Louella Lipoglav (Louella was the daughter of the original Chicken Annie's) purchased the old "Sunflower Tavern and Chicken Dinners" on Highway 47 heading into Girard from Louis's mother, Mary Pistornik and opened Chicken Annie's of Girard. The chicken here is cooked to order so it may take a bit longer, but it comes straight from the fryer.
Source:
Chicken Annie's of Girard web site
Pichler's Chicken Annie's, Pittsburg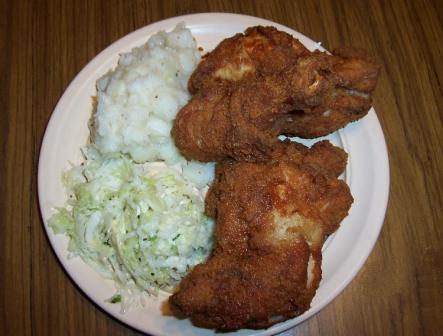 Anthony Pichler, the grandson of the
original Chicken Annie (Annie Pichler and her husband Charley), married Donna Zerngast, the granddaughter of the original Chicken Mary (Mary Zerngast and her husband Joe). On February 5, 1970 they opened their own restaurant south of Pittsburg near the busy intersection of U.S. Highway 400 and U.S. Highway 69.
ADDITIONAL INFORMATION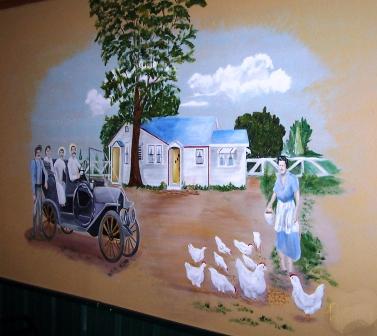 It should also be noted all six friend chi
cken restaurants serve Frontenac Bread, which was selected as one of the 8 Wonders of Kansas Commerce recently.