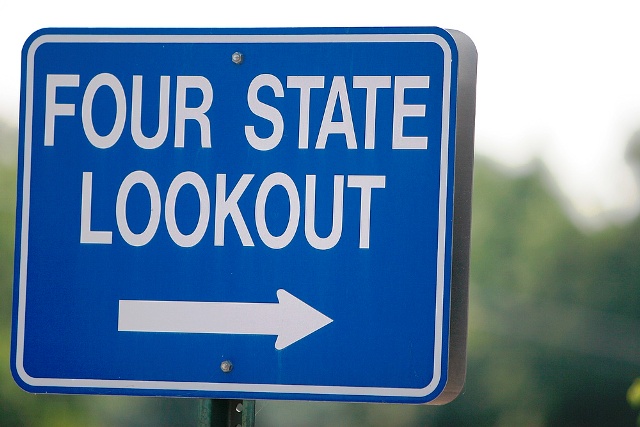 Four-State Lookout is one of the 8 Wonders of Kansas Geography because...of the spectacular view of Kansas, Missouri, Nebraska, and Iowa from a platform atop the rolling loess hills of the glacial hills region with the Missouri River rolling through the foreground.
Directions: From Main in White Cloud, turn north across from the commu
nity park at the Four State Lookout sign and go up the hill.
For decades, folks have been going to that hilltop to see the river below and the four states.
In the 1930s three concrete pillars were placed at the site of what is now known as the Four-State Lookout. The anchors were used to hold cables, since removed, that cr
ossed the river.
In the early 2000s as the White Cloud Tourism Committee was preparing for their role in the 2004 bicentennial celebration of the Lewis & Clark Expedition. It was decided to add a 16-foot by 24-foot platform with concrete ramp to the hilltop above the trees. An interpretive sign was placed to explain the Lewis and Clark Expedition in this area.

The pillars act as signage. "Four State Lookout White Cloud" is painted on one of the three white concrete pillars. "Nebraska" and "Iowa" are on the north pillar. "Missouri" and "Kansas" are painted on the south pillar. This is the only guide to which direction to look to see each state.
Nebraska is just three miles north of the lookout with Iowa about 60 miles north. Missouri is to the south. Sections of farmland are as much a part of the view as the river.
It's not the ramp that is the wonder but the spectacular view of four states, one river, and the loess hills in the glacial hills area of Kansas.


The four-state lookout is a good place to view both the river and its broad floodplain.
WHAT ARE THE GLACIAL HILLS & LOESS HILLS?
More than 600,000 years ago, glaciers came rolling down from what is now southeastern South Dakota area stretching over northeastern Kansas, including Doniphan County, then receding leaving behind a beautiful landscape of steep, wooded river bluffs and sprawling hills. The loess bluffs, north of Sparks, compose some of the steepest hills in the state.

Loess hills are located in eastern Kansas, western Iowa, eastern Nebraska, and western Missouri. The hills are composed of yellow, brown, buff, and tan loess soil overlaying older debris left from the last ice age. Loess soil is characterized by its ability to form a really steep face, the kind you see on roadcuts along I-70, in the Kansas City area for example. While the loess covers glacial debris in places, in some places the loess lies directly atop much older Pennsylvanian bedrock.

The pinkish boulders often seen in the fields of the Glacial Hills physiographic region of Kansas are quartzite, a very hard and erosion-resistant type of rock.