Kaw Point Park is a finalist because...
the area, recently developed as a public park, commemorates the Lewis and Clark Expedition that stopped here in 1804, and because it provides a mesmerizing view of the confluence of the Kansas and Missouri Rivers and the Kansas City skyline.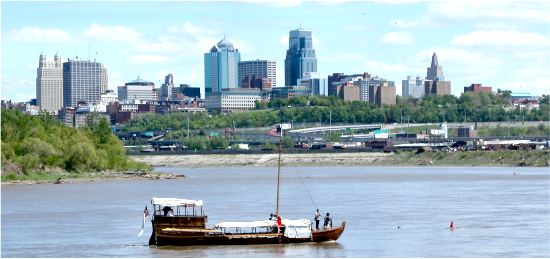 Photo courtesy Friends of Kaw Point



THE KANSAS RIVER


Source:

kansasriver.org/



The Kansas River (which is also called the Kaw) begins at the confluence of the Republican and Smoky Hill Rivers near Junction City and flows 171 miles to Kansas City, where it joins the Missouri River. The Kaw drains almost the entire northern half of Kansas, as well as part of Nebraska and Colorado (53,000 square miles in all), and is the longest prairie based river in the world.
To see an excellent aerial picture of the confluence,
click here
.



THE MISSOURI RIVER


The Missouri River is 2,533 miles long, making it the longest river in North America (about 200 miles longer than the Mississippi River).

LEWIS & CLARK EXPEDITION

Source:
lewisandclarkwyco.org/
On May 14, 1804, President Jefferson sent Captain Meriwether Lewis and Lt. William Clark, along with 41 men "to trace the Missouri to its source, to cross the Highlands, and follow the best water communication which offered itself from thence to the Pacific Ocean."
The expedition arrived at Kaw's Point on June 26, 1804. Kaw's Point is where the Kansas River runs into the Missouri River. Kaw's Point, in 1804, was about 1/4 mile up the Missouri river from its current location.
Lewis and Clark halted at the mouth of the Kansas for three days. Lewis weighed the water of the two rivers and found the Missouri's to be heavier, meaning it carried more mud. Still, Clark found "the waters of the Kansas is verry disigreeably tasted to me."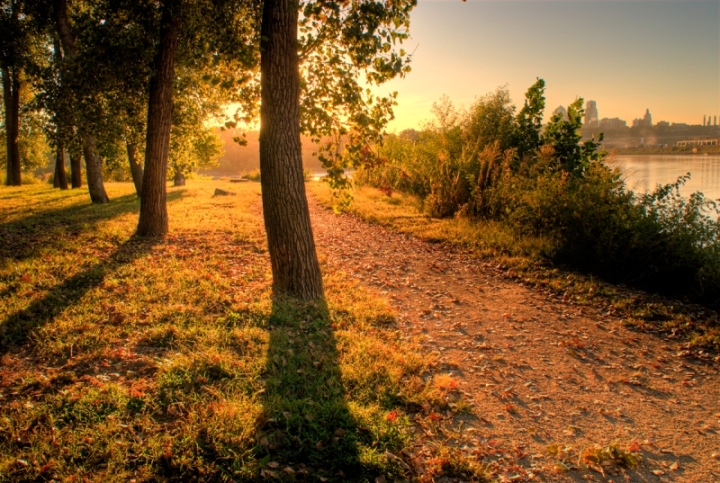 Photo courtesy Friends of Kaw Point




KAW POINT PARK
The Lewis and Clark Historic Park at Kaw Point, a portion of the Lewis and Clark Trail, has been preserved and enhanced through trail enhancement, infrastructure
restoration, signage, historical interpretation, and visitor support services. Kaw Point provides recreational and educational opportunities to residents of the Kansas City metro area, and Lewis and Clark enthusiasts who travel the trail.


DIRECTIONS
I-70 East to 3rd Street/James Street exit 423B, then 3rd to Fairfax Trafficway following the Lewis and Clark signs to the Kaw Point sign at 1401 Fairfax Trafficway. Turn right at the truck driving school parking lot to the river.

Contact: Jennifer Tarwater, jtarwa51599@yahoo.com.