Mount Sunflower is a finalist because...
the U.S. Geological Survey recognized it as the spot with the highest elevation in Kansas (4,039 feet above sea level), it provides vistas of the High Plains and the short-grass prairie, and because the Harold family has so effectively commemorated this site.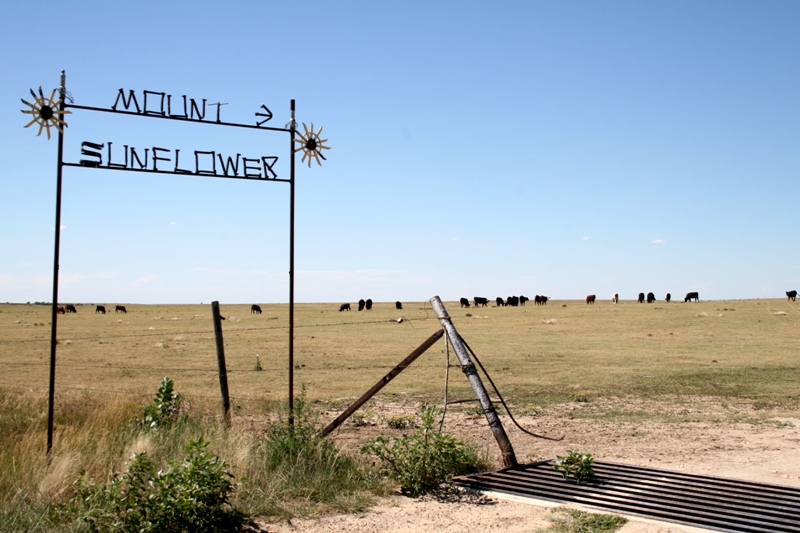 Part of the fun of getting to Mt. Sunflower is crossing the cattle guard at the Harold pasture. Cattle have the right-of-way! Photo KSF


Mount Sunflower was designated as Kansas' highest point by a United States Geological Survey in 1961.


In the late 1970s Ed Harold decided to commemorate this site, homesteaded by his grandparents in 1906. The most famous attraction at the site is the sunflower sculpture made from railroad spikes and welded together. The other sunflower that runs through the heart of the Kansas frame was designed and created by Kelley Sommerfeld and financed by the Wallace County Chamber of Commerce. A stone memorial gives a few details about the grandparents, Edward and Elizabeth Harold. There is a covered picnic area and a register in a mailbox.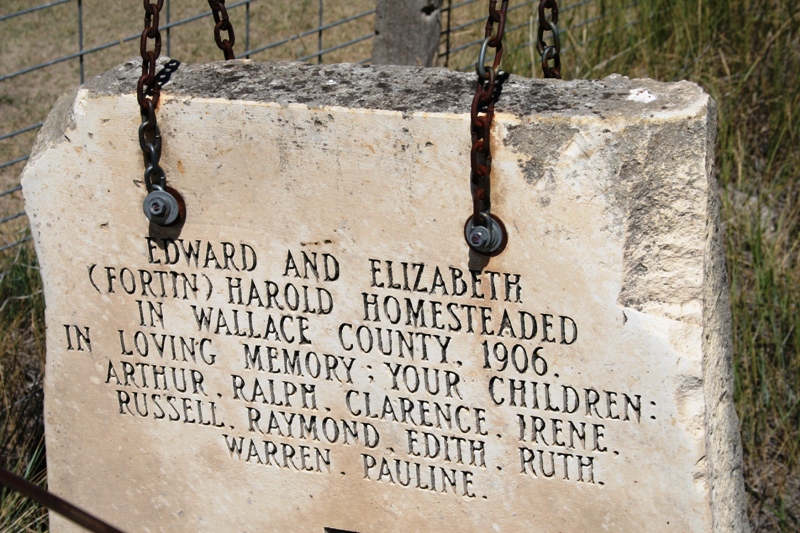 The Harold Stone Memorial. Photo KSF
IT'S OFFICIAL
Source:
Kansas Geo Survey
At 4,039 feet above sea level, Mount Sunflower is the highest point in Kansas. Located in Wallace County, just east of the Kansas-Colorado border, Mount Sunflower is more than 3,300 feet above the state's topographic low point in Montgomery County in southeastern Kansas. Much of Mount Sunflower's elevation is due to the uplift of the Rocky Mountains to the west. Mount Sunflower is on private property, but the landowners accommodate visitors who want to conquer its lofty summit and gaze at a typical High Plains, shortgrass prairie landscape.


The Wallace County
website
adds some description to Mount Sunflower
Mount Sunflower is surrounded by a typical western Kansas pasture.

During the summer months, the yucca plant blooms with all their glory, and many types of Kansas wildflowers dot the native buffalo grass.

The smell of sagebrush assures you that you are indeed in Kansas.

Wildlife is abundant on the "mountainside".

Antelope, deer, prairie dogs, coyotes, jack rabbits and foxes make this spot their home.

Many types of birds spend the summer months raising their young on the prairie.

Hawks, owls pheasants, swallows, and larks are common.
A herd of cattle also preside in the pasture.


DIRECTIONS:
From Goodland

. To reach Mt. Sunflower, take K-27 south from Goodland or north from Sharon Springs. Turn west on BB Road for 12 miles, south on 6 Road for four miles, west on X Road for three miles, one mile south on 3 Road, then one and one-tenth mile west. Finally, turn north about three-tenths of a mile to Mount Sunflower. Or, from the town of Kanorado, go 22 miles south on 3 Road, then one and one-tenth mile west and three-tenths mile north.
From Weskan

. Three miles west of Weskan in Wallace County on U.S. 40, then 11 miles north, and one mile west. Cross a cattle guard and continue north on a pasture driveway and head toward the tall dead branch planted in the High Plains soil.