The Kansas Underground Salt Museum is one of The 8 Wonders of Kansas because it showcases the natural treasure, salt, that exists hundreds of feet below the Kansas plains!
Hutchinson seized the unique opportunity to provide a destination attraction for the citizens of Kansas, the United States, and the world to explore an exotic environ carved from salt deposits formed 280 million years ago, 650 feet below the surface.
In the United States there are 16 salt mines but Hutchinson is the only one, in fact the only one in the Western Hemisphere, that has an underground museum open to tourists. There are only two other underground salt museums in the world and they are in Poland and Austria. People from throughout the country have clamored for an opportunity to visit the Hutchinson salt mine.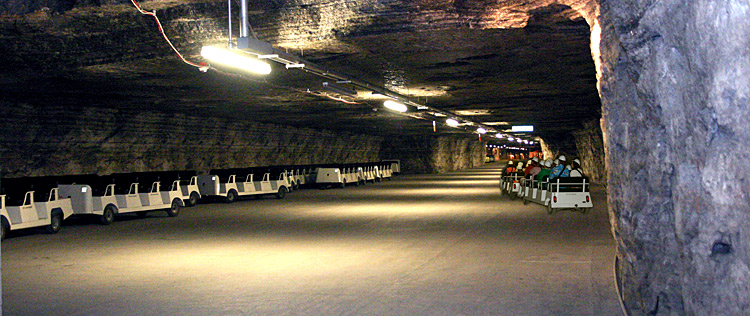 Now, Hutchinson and the Reno County Historical Society have boldly made these visits possible. The simple elegance of a descent into a subterranean world of mystery is a powerful lure for potential visitors. The dream of an underground tourist destination is now a reality.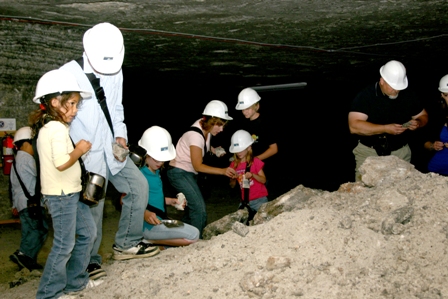 The adventure at the Kansas Underground Salt Museum begins on board a double-decked elevator that takes visitors to the salt deposit 650 feet down. Upon arriving underground, they board a tram that takes them into mined out areas where they will see naturally occurring geologic formations and artifacts left behind by miners over a period of 85 years. They then have the opportunity to wander through exhibits that tell the story of salt mining, the geological history of the area and how these vast salt caverns under Hutchinson have been used to store over seven million documents.
Location: 3504 East Avenue G off of Airport Road in the east side of Hutchinson. Go north from U.S. 50 and Yoder Road.
Hours and admission charge: Check with
underkansas.org
for ticket prices and times

Photos left column courtesy KUSM