Cyrus K. Holliday, one of the founders of Topeka, organized the Atchison, Topeka and Santa Fe Railroad in 1859 and remained director until his death in 1900. 1826-1900.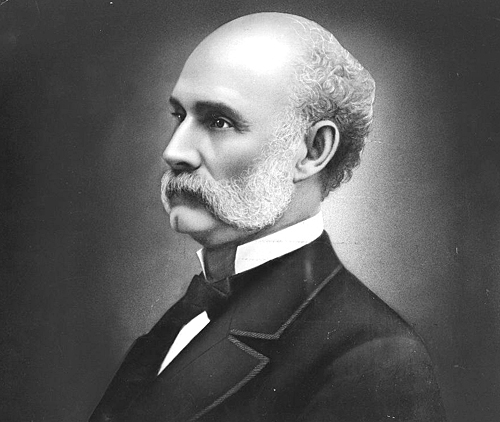 Cyrus Kurtz Holliday, a Kansas pioneer and businessman. He came to the Kansas Territory as an agent for the New England Aid Company. Photo taken between 1880 and 1890. Photo courtesy kansasmemory.org (KSHS)


Cyrus Kurtz Holliday, a distinguished Kansas pioneer, a founder of Topeka, successful businessman (railroads and banks), and a public spirited citizen, was born on April 3, 1826, to David and Mary (Kennedy) Holliday, near Carlisle, Pennsylvania. He attended Allegheny College, in Meadville, graduating in 1852, with the intention of entering law, but soon entered into a variety of business enterprises. He and Mary Dillon Jones were married in 1854, and after making a handsome profit on a short line railroad venture in his native state, Holliday joined the throng of westward migrants and was among Kansas Territory's first settlers. Mary Holliday permanently joined her husband in Kansas after the birth of their children, Lillie and Charles King.

Holliday settled first at Lawrence in October 1854. But not long after his arrival, he became convinced that the territory would ultimately enter the Union as a free state and that he should establish another enclave of free state citizens further up the Kansas River. Accordingly, Holliday organized a party to establish the Topeka Town Association in late December 1854, and marked off the town's streets and boundaries.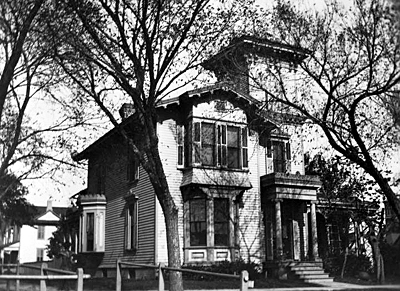 This is a photograph of the Cyrus Kurtz Holliday home located on the corner of Sixth and Monroe in Topeka, Kansas. The home is no longer standing. Photo courtesy Kansas Historical Society

Holliday was elected as association's first and only president, and he would soon play a principal role in the founding of the Free State Party. During the Wyandotte Constitutional convention of July 1859, Holliday served as Topeka's delegate and succeeded in having his city officially designated as the future state capital. That year he was also elected to the first of many terms as mayor of Topeka. Holliday also would help found the Kansas Republican Party and serve in both the territorial and state legislatures.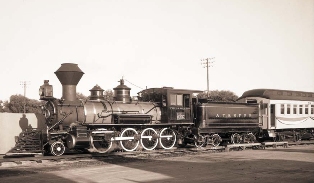 The Cyrus K. Holliday, Atchison, Topeka & Santa Fe Railway steam engine pulling coal and passenger cars. In 1984, the steam engine was donated to the Kansas State Historical Society. Photo taken between 1950 and 1965. Photo courtesy kansasmemory.org (KSHS)

During the 1859 territorial legislature, Holliday began plans for the construction of a railroad to run from Atchison, Kansas, along the Santa Fe Trail--his most notable business venture, the Atchison, Topeka and Santa Fe Railroad. To accomplish this he wrote and secured passage of a bill through the Territorial Council creating the railroad. This, along with a land grant from the federal government permitting the purchase of territorial land at one dollar an acre, enabled the new railroad to begin construction. By 1863, he succeeded in securing land grants authorized by Congress, and the ground breaking for this enterprise took place in 1868. Holliday served as ATSF director until his death in 1900.

He also donated land in the center of Topeka for the state capitol grounds and helped design the Capitol building.

Source: www.territorialkansasonline.org/~imlskto/cgi-bin/index.php?SCREEN=bio_sketches/holliday_cyrus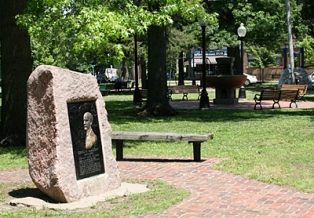 Plaque in Historic Holliday Park, Topeka


POINTS OF INTEREST TO LEARN ABOUT CYRUS K. HOLLIDAY

Topeka
Kansas Museum of History, 6425 SW 6th, I-70 exit 356. 785.272.8681. Open Tuesday-Saturday 9 a.m.-5 p.m.; Sunday 1-5 p.m. The Santa Fe locomotive number 132, a steam locomotive, is on display here and was named in Cyrus K. Holliday's honor.
Plaque in Historic Holliday Park North, SW 12th and SW Western Avenue. Find a bronze plaque describing Holliday's importance to Topeka.

Gravestone.

Holliday is buried in Topeka Cemetery, 1601 S.E. 10th.
Atchison

Atchison County Historical Society Museum and Rail Museum, 200 S. 10th. 913.367.6238. Open Monday-Friday 9 a.m-5 p.m.; Saturday 10 a.m.-4 p.m.; Sunday 12-4 p.m. A display provides some information about Holliday and the Atchison, Topeka, and Santa Fe Railroad.