George Washington Carver, an agri-scientist, botanist, educator, humanitarian, and inventor, was best known for discovering hundreds of uses for peanuts, soybean, sweet potatoes, and pecans and for developing crop-rotation methods. 1864-1943.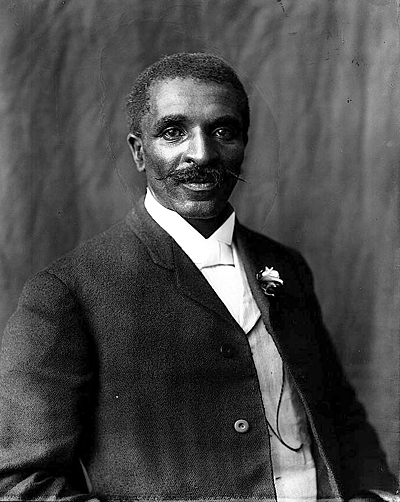 Picture of George Washington Carver (1864-1943) taken by Frances Benjamin Johnston in 1906.

George Washington Carver devoted his life to research projects connected primarily with southern agriculture. The products he derived from the peanut and the soybean revolutionized the economy of the South by liberating it from an excessive dependence on cotton. Carver developed crop-rotation methods for conserving nutrients in soil and discovered hundreds of new uses for crops which created new markets for farmers.

George was born of slave parents on July 12, 1864 near Diamond Grove, Missouri. A sickly child at birth he would remain frail for most of his childhood. One night a band of raiders attacked his family and stole George, his sister and his mother. Days later, George was found unharmed, but ill, by neighbors and was traded back to his owners in exchange for a race horse. Because of his frailty, George was not suited for work in the fields but he did possess a great interest in plants and was very eager to learn more about them.


George went to school in Minneapolis from 1880-1884.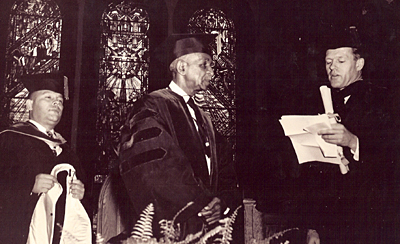 Receiving an honorary degree from the University of Rochester, Tuskogee Institute, in 1941. Photo courtesy Ottawa County Historical Society.


Though denied admission to Highland University (Kansas) because of his race, Carver gained acceptance to Simpson College in Indianola, Iowa, in 1890. He became well respected for his artistic talent. Carver's interests, however, lay more in science and he transferred from Simpson to Iowa Agricultural College (which is now known as Iowa State University.) He distinguished himself so much that upon graduation in 1894 he was offered a position on the school's faculty, the first Black accorded the honor. Carver was allowed great freedom in working in agriculture and botany in the University's greenhouses. In 1896 he received his master's degree in agriculture. Later that year Booker T. Washington, founder of the Tuskegee Institute, convinced Carver to come south and serve as the school's director of agriculture.
Henry Ford and Thomas Edison were just a few to consult with Carver.

He was truly a pioneer in his field and has become one of the most respected and honored inventors of his time.
Source: www.ideafinder.com/history/inventors/carver.htm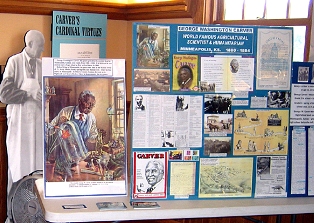 View of a display from the Ottawa County Museum on loan at the George W. Carver National Birthplace Monument, near Diamond, Missouri, in July 2009. Photo courtesy Ottawa County Museum


POINTS OF INTEREST ABOUT GEORGE WASHINGTON CARVER IN KANSAS


MINNEAPOLIS