Haskell Indian Nations University was established in 1884 as a government boarding school to try to eliminate Native culture. Today it has evolved into a university for Native students emphasizing Native culture, sovereignty, and self-determination. 1884-present.
Although it originally started as an assimilation school like other government-run Indian boarding schools, Haskell's destiny was different than that of other schools. At present, Haskell is the only government boarding school that has evolved into a four-year university for Native students. It is also the only inter-tribal college accepting students from all federally recognized tribes.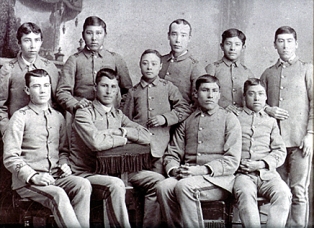 Nineteen young Haskell students, representing 10
different tribes, submitted a petition questioning the number of student deaths at Haskell and asking the superintendent to investigate. May, 1988.
Photo courtesy Haskell Indian Nations University.
In 1884 a government boarding school was established in Lawrence called the U.S. Indian Industrial Training School. The school opened in September 31 with students from the Ponca, Sac and Fox, Shawnee, Kiowa, Comanche, and Chippewa Muncee tribes. This government boarding school was part of the federal government's assimilation policy. This policy removed Indian children from their families, sometimes forcibly, and placing them in schools far from their homes for a period of up to four years to give them training in domestic and farming skills. The assimilation policy was put in place to remove all connections to the tribes and cultural influences to "assimilate" the students into the dominant culture. This policy was very traumatic for Native families, and the effects of this boarding school era are still affecting families today.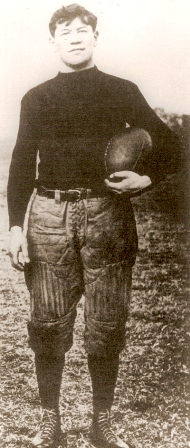 Jim Thorpe was a Sac and Fox/Potawatomi man born in Indian Territory in Oklahoma. Jim attended Haskell as a student from 1898-1900 where he was introduced to the fundamentals of football by fellow student and mentor Chauncey Archiquette. He later attended Carlisle Indian Industrial school in Pennsylvania where he became a legendary football and track athlete. He was a member of coach Pop Warner's All-American team at Carlisle. Jim later went on to win two gold medals at the 1912 Olympic Games held in Stockholm, Sweden. He was the only athlete in history to win both the Decathlon and Pentathlon. He is considered by some to be the greatest athlete of all time. Photo courtesy Haskell Indian Nations University
In the beginning years Haskell was run as a military school where the students made their own uniforms and grew and preserved their own food. The rules were very strict -- no speaking a tribal language, no conversing with siblings, no practicing of tribal customs and traditions. Their traditional clothing and personal items were removed, their hair was cut, and they were forced to march to classes and to church. In those beginning years, the children were taught to speak English and classes were at an elementary school level.
By the end of the first school year, there were 400 students coming from tribes from all around the country. Eventually the level of education was increased and went up to the high school level. A Commercial Department taught business classes, including the first typing class in Kansas in 1895. A Normal School prepared students to become teachers.
By 1933, Haskell got the first Native superintendent, Dr. Henry Roe Cloud. Dr. Roe Cloud was a progressive educator and the first Native person to graduate from Yale University. During his time at Haskell, Dr. Roe Cloud reversed the assimilation style emphasis on the curriculum and actually changed the curriculum to emphasize Native culture.
As students got their education at Haskell, they stayed on as staff and faculty. One notable individual, George Shawnee, got his degree at Haskell and stayed on as staff for 40 years, and saw 9,000 students go through Haskell. As these staff and faculty stayed at Haskell, they slowly turned the school around. By the 1930s, people who came to Haskell loved the school and learned trades such as printing, nursing, business, and other vocational-technical trades such as electricity and refrigeration, as well as receiving high school diplomas.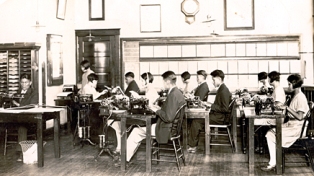 The first typing class in Kansas was taught at Haskell in 1896. This photo shows the Haskell typing class as part of the Commercial Department, c. 1920. Photo courtesy Haskell Indian Nations University.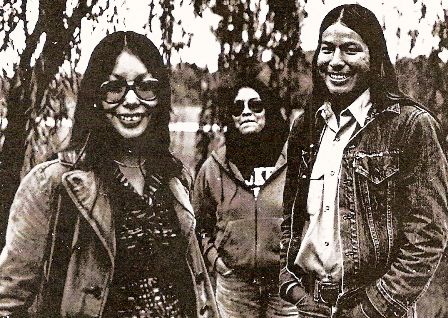 Group of Haskell students, 1968

.

Photo courtesy Haskell Indian Nations University



In 1970, the level of education increased to that of a junior college and the name was changed to
Haskell
Indian
Junior
College

. And in 1993, Haskell introduced the first four-year baccalaureate degree program in elementary teacher education and the name was changed to

Haskell Indian Nations University.
Today there are four four-year degree programs--elementary teacher education, business, environmental science, and American Indian Studies. There are several two-year associate degrees offered. There are an average of 950 students each semester, coming from approximately 130 different tribes, and from about 35 different states. Almost all of the faculty are Native and all classes are taught from a Native perspective.

Stephen Prue, Public Information Officer, Haskell Indian Nations University
Bobbi Rahder, Museum Curator, Haskell Cultural Center and Museum
---
LEARN MORE ABOUT HASKELL INDIAN NATIONS UNIVERSITY
LAWRENCE
Haskell Cultural Center and Museum,
Indian Avenue and Barker
.
785.832.6686.
Open Monday-Friday 9 a.m.- 4:30 p.m.
Established in 2002, the cultural center and museum was begun to truthfully tell the story of Haskell. The gallery space currently offers the exhibition called

Honoring Our Children Through Seasons of Sacrifice, Survival, Change, and Celebration

. This exhibit honors the first students of Haskell and the sacrifices they made so that all Native students can study at the present day university. It celebrates the strength and resilience of students and their contributions to what Haskell has become today.

The museum is a living center, celebrating living Native culture. The vision of the

Haskell Cultural Center and Museum is to serve as a steward of living American Indian materials and traditions. The museum provides present day and historical information regarding American Indian culture through art, exhibitions, educational programs, and research, and serves as a teaching facility.

The

Haskell

Cultural

Center

is a place of healing from the trauma of the boarding school era that the first students endured, so a healing garden surrounds the outside of the

Cultural Center

.
One of the main features of the permanent gallery space is the replica of the Haskell Medicine Wheel. The real Medicine Wheel is an earthwork south of the campus created in 1992 by elders, students, and faculty to honor all Native nations. This sacred place was where some of the early Haskell students ran to get away from the strict climate at the school, and it is still used by current Haskell students as a place of worship and prayer.

The

Honoring Our Native Veterans

Wall recognizes the contributions of the many Haskell veterans who have served in all of the wars in high numbers, including 415 soldiers who served in WW I as well as the present day soldiers serving in

Afghanistan

and

Iraq

. The War Mother Memorial in front of the

Cultural Center features plaques from each of the four branches of the military as well as the sculpture by Barry Coffin who represents the mother of all the soldiers who have served from Haskell.

The archives includes paper documents, administrative records, history books, student rosters, theatre and music programs, photographs, films, and videotapes of Haskell events, as well as the student-run

newspapers and yearbooks since 1897.

In addition to the archives, the

Cultural Center

and Museum houses over 2,000 items such as traditional clothing and headdresses, jewelry, baskets, pottery, beadwork, and art.
The Haskell Arch and Stadium, Haskell campus.

Dedicated in 1926, the construction cost was $166,000 and was entirely paid for by funds donated by Native Americans. The stadium was the first lighted stadium in the midwest.
American Indian Athlete Hall of Fame, Coffin Sports Complex

. A collection of plaques honors such American Indian athletes as Olympians Jim Thorpe and Billy Mills and major league baseball pitcher Allie Reynolds.
Haskell Cemetery, southeast side of Haskell campus, past the American Horse Hall

. Neatly lined in rows, the simple grave markers list the anglicized names, dates of birth, and tribal affiliations (37 tribes represented) of the children buried here. Half of these children died with the in first five years of Haskell's existence.

Ask for a self-guided walking tour brochure to see more landmark locations.