Martin and Osa Johnson were pioneering wildlife filmmakers, photographers, authors, and explorers who traveled to the exotic realms of Africa, Borneo, and the South Seas, recording cultures (that have ceased to exist) and presenting them back in the U.S. 1884-1937; 1894-1953.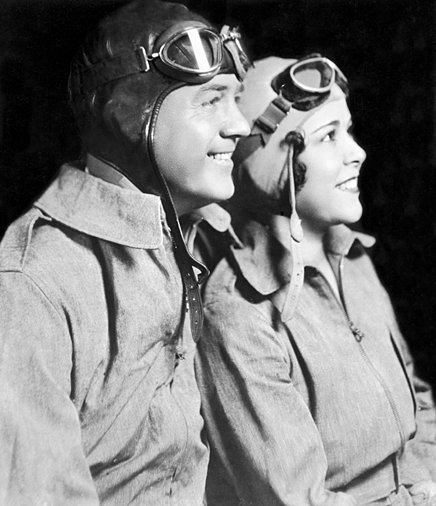 Martin and Osa Johnson in pilot gear during African Flying Safari, 1934-1935.
Photo courtesy the Martin and Osa Johnson Safari Museum,
www.SafariMuseum.com
.
When the young adventurers left their home in Kansas to explore and photograph other lands, they did not realize they would provide the world with a photographic record of unimagined magnitude and beauty. From 1917 to 1936, the Johnsons set up camp in some of the most remote areas of the globe and provided an unmatched photographic record of the wildernesses of Kenya, the Congo, Borneo and the Solomon and New Hebrides Islands. Their equipment was the most advanced motion picture apparatus of the day. In 1931, they produced the first sound movie ever made in the heart of Africa.
Their photographs represent one of the great contributions to the pictorial history of the globe providing important ethnological and zoological material. Their legacy is a record of the peoples and animals of remote areas of the world that have long since vanished.
Martin was brave, daring, sincere and epitomized the Kansas values of hard work and resourcefulness. He was a master filmmaker who pioneered wildlife cinematography in some of the most untamed regions of the world. He was also a showman who knew how to fill theaters with audiences eager to see films of his latest adventures.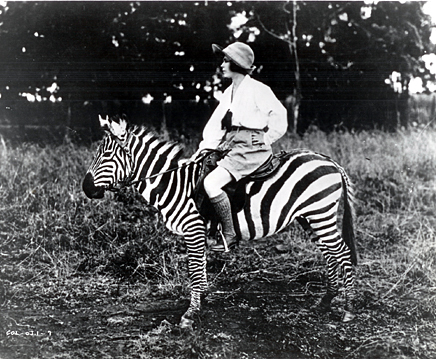 Osa Johnson riding a zebra, 1924.
Photo courtesy the Martin and Osa Johnson Safari Museum,
www.SafariMuseum.com
.
Osa was beautiful, photogenic, charming, a crack shot and enjoyed high adventure. She had no equal when it came to tracking wildlife and organizing complex safaris. Yet she was no tomboy. Her elegant wardrobe and great stage presence earned her the title of one of the best dressed women in America.
Together, Martin and Osa Johnson were acclaimed filmmakers, photographers and explorers. They authored 20 books, published over 100 articles and produced 35 films.They were Kansas heroes who brought the adventure and fascination of Africa and the South Pacific into the homes of millions of Americans.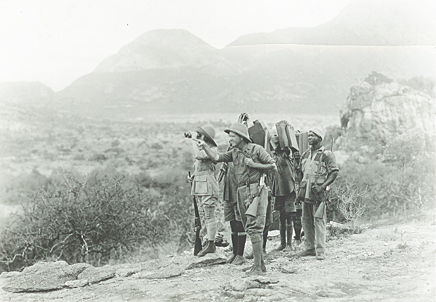 Martin and Osa Johnson near Ndoto Mountains enroute to Lake Paradise via camel caravan.
Photo courtesy the Martin and Osa Johnson Safari Museum, www.SafariMuseum.com.
In January 1937, the commercial flight Martin and Osa booked from Salt Lake City to Burbank crashed into a mountainside. Martin Johnson died as a result of the crash. Osa was gravely injured but recovered.
Osa continued to write books and produce films until her death from heart disease in January of 1953. She was the first person to produce a wildlife series on television. Her Big Game Hunt premiered eight years before Mutual of Omaha's Wild Kingdom. She also designed a cutting-edge sports fashion line called Osafari.
The Johnsons are buried in Chanute.
Source: www.safarimuseum.com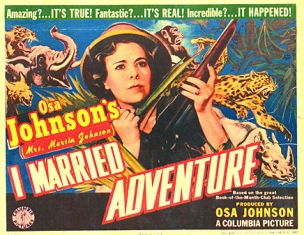 Lobby poster for Osa Johnson's 1940 Columbia Pictures film
I MARRIED ADVENTURE.
Photo courtesy the Martin and Osa
Johnson Safari Museum,
www.SafariMuseum.com
.
POINTS OF INTEREST ABOUT MARTIN & OSA JOHNSON IN KANSAS

CHANUTE
Safari

Museum, 111 N. Lincoln. 620.431.2730. Open Tuesday-Saturday 10 a.m.-5 p.m. In a restored 1903 Santa Fe depot,

visitors can watch Johnsons' films, see displays about the people that Martin and Osa filmed, and artifacts from the regions they explored.
Elmwood

Cemetery

, between E. 10th and E. 14th and S. Malcom and S. Katy. Martin and Osa Johnson are buried on Section 175, block 03, lot 009.