Olive Ann Beech was the first woman to head a major aircraft company and was the most successful female executive in aviation history. Her efforts led Beech to become a powerhouse aviation company. 1904-1993.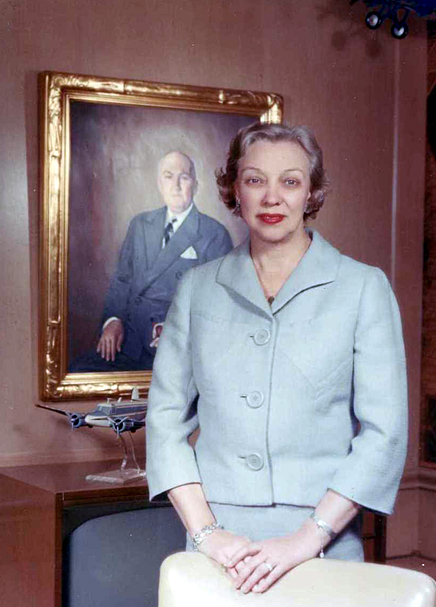 Olive Ann Beech standing in front of a portrait of her husband, Walter. Photo courtesy Wichita-Sedgwick Co. Historical Museum.

Olive Ann Beech was an American aviation pioneer who served as president (1950-68), chairman of the board (1950-82) and co-founder of Beech Aircraft. Olive Ann Beech was the first woman to head a major aircraft company. She was the wife of aviation pioneer Walter Beech.
But Olive Ann Mellor Beech's aviation career started almost by chance. It was 1924. Miss Mellor, 21, born September 25, 1903, at Waverly in eastern
Kansas
, was looking for a job.
She applied for a bookkeeping job at
Travel Air Manufacturing Co
., a brand-new airplane-building company set up in
Wichita
by
Walter Beech
and
Lloyd Stearman
, joined a short time later by
Clyde Cessna
. She was hired.
As Travel Air grew, Stearman and Cessna split off to start their own companies which grew into Boeing Military Airplane Company and Cessna Aircraft Company. Miss Mellor advanced from bookkeeper to office manager to Mr. Beech's secretary. Eventually, she would oversee much of the company's business, marry Walter Beech and, in 1931, help him co-found Beech Aircraft Company.
In 1940, Walter Beech was struck by illness and hospitalized for nearly a year. Olive Ann Beech guided the company through the wartime production expansion by arranging several huge financial packages. In 1943, the New York Times picked her as one of the 12 most distinguished women in America.
When he died in 1950, she became president of Beech Aircraft and was responsible for Beech's diversification and teaming up with other aircraft companies to produce jet fighters, transports and helicopters.

The next year, she was named woman of the year in aviation by Women's National Aeronautical Association. In 1956, she appeared on the cover of Business Week magazine. In 1965, she was chosen Outstanding Woman in the Field of Business by Who's Who of American Women. In 1973, Fortune Magazine called her one of the 10 highest-ranking women executives in major corporations. In 1980, Olive Ann Beech was the first woman awarded the National Aeronautic Association's Wright Brothers Memorial Trophy, which has been called aviation's highest honor.
In 1980, she oversaw the merger with Raytheon and became a member of the Raytheon board of directors. She stepped down as chairman of Beech in 1982, two years after the company was merged into Raytheon Co.

Sources: Articles in the The Wichita Eagle by Beccy Tanner and Joe Earle's (Feb. 11, 1985). Earle's article was found in wingsoverkansas.com.



POINTS OF INTEREST ABOUT OLIVE ANN BEECH IN KANSAS
WICHITA

Wichita-Sedgwick

County Historical Museum, 204 S. Main.

316.265.9314.

Open Tuesday-Friday 11 a.m.-4 p.m.; Saturday-Sunday 1-5 p.m.

Watch a video and see a display about Olive Ann Beech.
WAVERLY
Historical marker

, city park at Pearson and First. Dedicated the summer of 2010.