William Allen White, known as the "Sage of Emporia," from defending the 1st
Amendment to fighting the Ku Klux Klan, the Pulitzer Prize-winning newspaper editor was the primary voice of the American heartland for almost five decades. 1868-1944.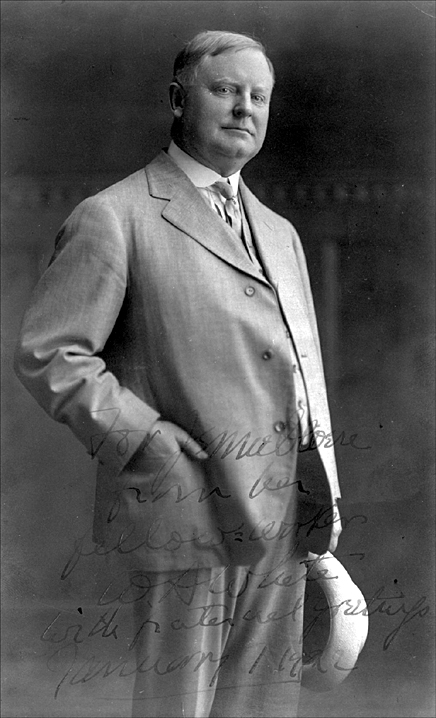 Portrait of William Allen White, editor of the Emporia Gazette, holding a hat, taken by Lystrom G. Alvord in 1922.
Courtesy Kansas Historical Society

Born in Emporia, White moved to El Dorado with his parents, Allen and Mary Ann Hatten White, where he spent the majority of his childhood.

On April 27, 1893, he married Miss Sallie Lindsay of Kansas City. The couple had two children, Mary and William Lindsay White. In 1895 White bought the Emporia Gazette for $3,000 and became its editor.

"Early in his second year as editor, White wrote the editorial that would make him famous nationwide. In an opinion piece finished hurriedly so he could catch a train to meet his wife in Colorado, White sarcastically voiced disgust at the political scene in Kansas. He handed it over to be set in type and headed out of town. By the time the editorial, entitled

What's the Matter with Kansas

? showed up in the

Gazette

on August 15, 1896, he was in Colorado. Upon his return, he found a fat stack of letters from all over the country, most of them filled with praise." 1


He won a 1923 Pulitzer Prize for his editorial To an Anxious Friend, published July 27, 1922, after being arrested in a dispute over free speech following objections to the way the state of Kansas handled the men who participated in the Great Railroad Strike of 1922.

In his novels and short stories, White developed his idea of the small town as a metaphor for understanding social change and for preaching the necessity of community. While he expressed his views in terms of the small town, he tailored his rhetoric to the needs and values of emerging urban America. He opposed chain stores and mail order firms as a threat to the business owner on Main Street. The Great Depression shook his faith in a cooperative, selfless, middle-class America.

White helped Roosevelt form the Progressive (Bull-Moose) Party in 1912 in opposition to the conservative forces surrounding incumbent Republican president William Howard Taft.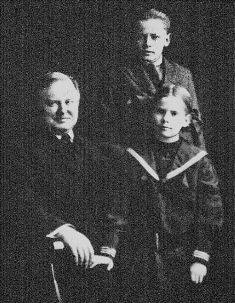 William Allen White with his children, Bill and Mary, standing by his side in 1914. Photo courtesy Kansas Historical Society


Tragedy struck the family in 1921 when, at age 16, his daughter Mary was killed when she was brushed from a horse by a low-hanging limb of a tree. White later poured out his grief in an editorial in the Gazette. This Mary White editorial was his most widely published article he ever wrote. She lived on in U.S. school text books for over twenty years after her death.


In 1924, angered by the emergence of the Ku Klux Klan in the state, he made an unsuccessful run for Kansas governor.

In 1930s he was an early supporter of the Republican presidential nominees, Alf Landon of Kansas in 1936 and Wendell Willkie in 1940. However, White was on the liberal wing of the GOP and wrote many editorials praising The New Deal of President Franklin D. Roosevelt.

The last quarter century of White's life was spent as an unofficial national spokesman for middle America. This led President Franklin Roosevelt to ask White to help generate public support for the Allies before America's entrance into World War II. White was fundamental in the formation of the Committee to Defend America by Aiding the Allies, sometimes known as the White Committee.

Sometimes referred to as the

S

age of Emporia

, he continued to write editorials for the

Gazette

until his death in 1944.



The William Allen White Children's Book Awards was a program founded by Ruth Garver Gagliardo in 1952 to honor White and to encourage children to read and enjoy good books.

1 - From Emporia by Beverley Buller


Sources: www.journalism.ku.edu/school/waw/bio/waw/WAWhitebio.html and en.wikipedia.org/wiki/William_Allen_White.



POINTS OF INTEREST ABOUT WILLIAM ALLEN WHITE
EMPORIA
William Allen White Memorial Drive

. The Memorial Drive was established in 1955 by the William Allen White Emporia Memorial Foundation. For more information contact the Emporia Convention & Visitors Bureau, 800.279.3730.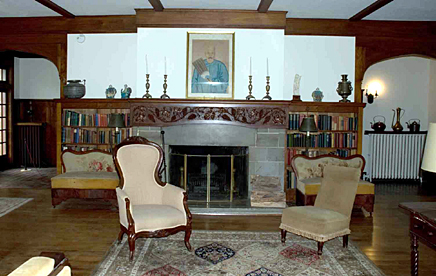 Interior of William Allen White house. Photo KSHS


William Allen White Red Rocks Home,

a state historic site

, 927 Exchange
St.
620.342.2800. Open Wednesday-Saturday 9:30 a.m.-5 p.m.; Sunday 1-5 p.m. The home in which the White family lived was built in 1889. The public called it "Red Rocks" because of the red
Colorado
sandstone used for the first floor exterior. A fire in 1920 destroyed the roof and top floor. A renovation plan by Frank Lloyd Wright was almost used but was deemed too modern.
White Memorial Park

,

6th Avenue and Merchant Street. This midtown park commemorates the contributions of not only William Allen White but also of his son, William Lindsay White. A bust of William Lindsay White (1900-1973) sculpted by Anne Darrow is the main featured of the park, which also includes selections of writings by the two men.
Emporia

Gazette

,

517 Merchant Street.

The newspaper remains a family-owned publication more than 100 years after William Allen White purchased it in 1895. It is now on its fourth generation of management. Great-grandson Christopher White Walker is editor and publisher.

The exterior of the building has been remodeled through the years, yet the character of the building and newspaper remain intact, and White's presence is still found within. Visitors are welcome to browse in a small museum of old newspaper printing equipment inside. Please call ahead, 620.342.4800.
William Allen White Bust and Memorial,

Peter Pan Park, south Rural Street and Kansas Avenue. The Whites gave this 52-acre park to the city in memory of their daughter. On the southeast edge of Peter Pan Lake is the memorial, which was dedicated on July 11, 1950, by former President Herbert Hoover. It features a bronze bust, sculpted by Jo Davidson, flanked by plaques engraved with White's famous, moving editorial eulogy,

Mary White

.
William Allen White Elementary School

, 902 Exchange Street.

A replacement for the Union School which Mary White attended, this building was constructed in 1950, after White's death, and named by its students. Its lobby contains several photographs of White and his family. Visitors are welcome.
WAW Sculpture,

Lyon County Fairgrounds at Business U.S. 50 and Industrial Road. Kansas Sculptors Association carved four Kansas figures here. One is William Allen White.
EL DORADO
A monument

in front of the post office (Vine and Central) pays tribute to William Allen White, who grew up in El Dorado.